Shorts
The Gigantic Change by Extinction Rebellion: A Bedtime Story With Two Very Different Endings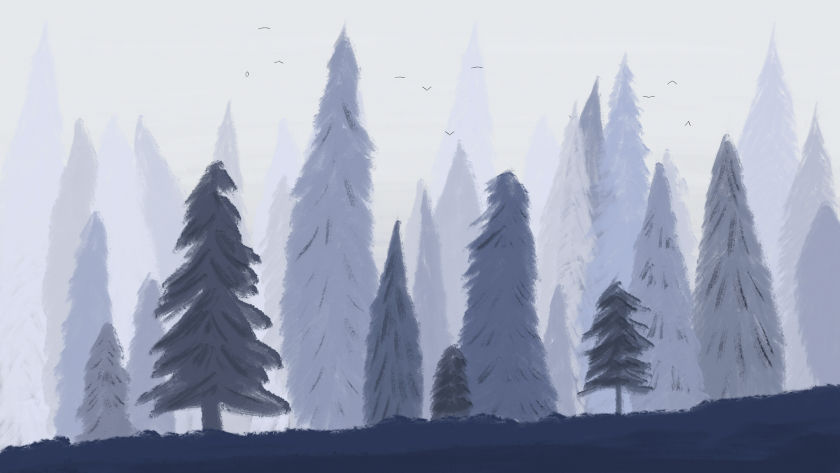 The Gigantic Change, Artwork © Nicola Jane Francis
On Friday 5/06/2020, Extinction Rebellion (XR) released a new animated short film, The Gigantic Change. The project was originally written by George Lewin, a London based artist who regularly works with XR on environmental activist projects, and who co-directed the animated film. Lewin wanted to make highly accessible work that highlighted the catastrophic present-day environmental/climate crisis, whilst communicating the possibility that there can be a positive future, where people live in harmony with nature, in contrast with our historic and current situation of anthropocentric mass-destruction.
Watch The Gigantic Change:
Lewin chose to set the story in 2050, as this is the date that has been specified by many countries as the point by which to reach net zero carbon emissions; however, Lewin points out that this target is not only insubstantial, but that we will not even be able to reach it by following our current trajectory of 'improvement'. Lewin had wanted to develop the film for some time but until then, had not found the right creative team. It was at this stage that he discovered the work of animator Nicola Jane Francis, through her MA Animation show at Central St Martins, UAL, London. Working as a team, they then approached TV producer Serena Schellenberg, who was also one of the original members of XR.
Set in a possible, dystopian future of 2050, this beautifully made film tells the story of how people may come together to save the planet from the climate crisis: a grandmother, played by Whoopi Goldberg, starts to read her granddaughter (Livia Nelson) a bedtime story about how humans almost destroyed the planet, through relentless pollution and destruction of the natural environment. A swirling river riddled with plastic packaging; smoke-belching factories; herds of animals facing extinction: the grimly lyrical aesthetic and grey landscape reveal a world at breaking point, a planet drawing its final breaths. However, in a wonderfully pro-activist narrative twist, the bedtime story then passes to the Granddaughter to be completed. The film evokes a sense of childhood sense of wonder through its structure as a bedtime story, and in its handmade aesthetic and tactile quality of movement.
The whole film was created using a hand-drawn animation technique, frame-by frame in Adobe software. The texture....comes from a very textured brush in Photoshop, which I used to colour the film. I made the decision to boil the colours on all the characters and moving parts as well, which I feel really helps to give that tactile quality - Nicola Jane Francis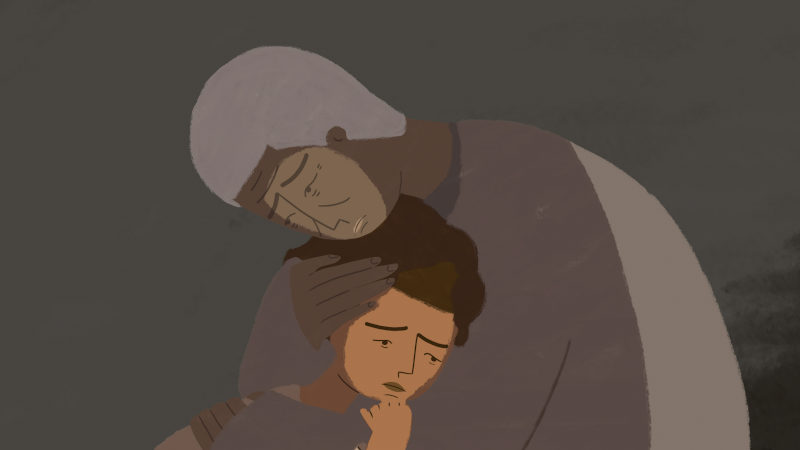 XR is an environmental activist organisation, that has been negatively misrepresented in the media as a hippy cult that aims to disrupt everyday existence; in truth, it aims to raise awareness of the urgent need for action on climate change. The film's website contains links to actions that individuals can take to help in the fight against climate crisis. The film embodies Extinction Rebellion's philosophy, that "it is a citizen's duty to rebel... Time has almost entirely run out to address the ecological crisis which is upon us." XR have been highly embracing of using visual arts and alternative media platforms to reach the public. In discussing XR's commitment to using creative culture and media platforms, Lewin and Francis explained that "visual arts have been a core part of Extinction Rebellion's DNA from day one. The use of bold, colourful graphics creates that much-needed consistency for a decentralised movement, whilst still allowing groups to pursue their own creative ideas. We recognise the importance of how we are portrayed in the media, and therefore to the public, which drives us to create powerful, visually striking communication pieces like The Gigantic Change."
And on the subject of the new possibilities offered by storytelling and animation for engaging the public in such difficult subject matter, they explained that "storytelling through animation allows us to create what is hopefully an engaging short film in its own right. This in turn can help us reach a wider audience outside of the echo-chamber of the climate movement. Our influences for the film included children's books in the hopes of reaching all age groups. We need the next generation to be educated as early as possible. Perhaps someone will watch this film purely to enjoy the visuals and storytelling, but in the end be moved to take a look through the website and learn more about how they can take action as an individual; if so, we'll have been successful in our goal."
The film was initially crowd funded in its early stages, then Passion Pictures got involved in its full production. The film deploys colour as a sign, of greyness as dirty, human-made pollution or vivid greens and orange to denote the vibrant fecundity of Nature, offering the viewer two juxtaposed possible futures. The film's aim was to communicate a universal message, of the need to take action and to face up to the reality of the climate crisis. In the current context of world in lockdown and wide unrest, it's both exciting and reassuring to see animation and storytelling deployed for such powerful and radical aims.

Contributed by: Joseph Norman
SIGN UP: Want to read more free articles like this? Sign up for Our Newsletter
Read More About: