Shorts
The Octopus by Tim Platt and Birgit Rathsmann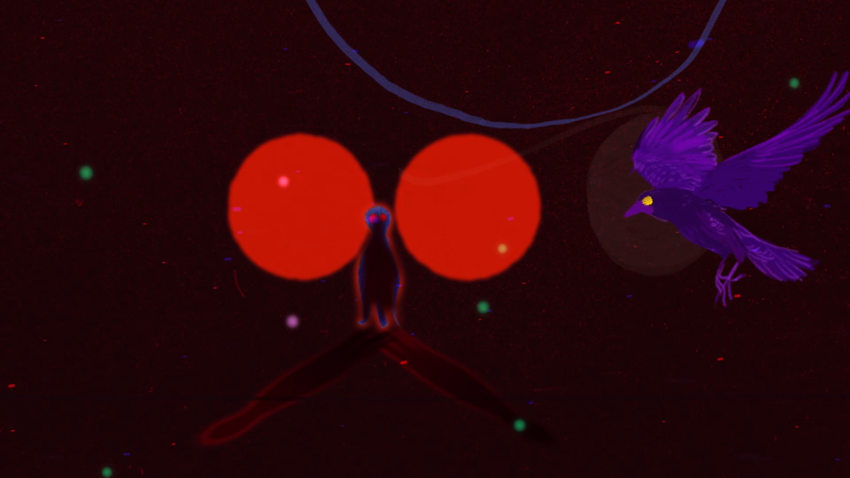 The story of an octopus who hates the ocean. This is a storyline of Octopus, one part of the short film I'm Not Tired! by Tim Platt and Birgit Rathsmann. The film is about a puppet that can't go to sleep so his Ike tells him three stories. All three stories were animated by Birgit Rathsmann (with the help of Kira Buro), based on a story by Tim Platt. As the directors state: "It's really our way of presenting an animation review with a singular voice".
Watch Octopus:
ZF: How did you come up with the idea and the text? Is an original one or based on a fairy tale?
TIM: I like to write a lot of pseudo fables about different animals. A fun place to start these stories is to isolate an interesting trait of an animal, and see what that inspires. I've always thought it was funny that octopuses have beaks so the phrase "beak to death" got stuck in my head. I was fooling around with the first chunk of text (ending with the pig's death) and posted it on twitter. As I was expanding the story, Birgit texted me with a little animation of the Octopus and said "I hope it's ok that I took the liberty of animating this!" and I obviously was super enthusiastic about what she had made. I showed her the rest of the story and we went from there!
Not based on any fairy tale, but I was reading a lot of Aesop's Fables and Grimm's Fairy Tales at the time so the rhythms and structures of those types of stories were definitely an influence.
ZF: How did you too two work together, and what was the biggest problems you both experienced?
TIM: Birgit is the main visual storyteller of the two of us so she made most of the visual choices. We would then meet and watch what she had made together a few times before talking over thoughts. Usually the changes were just about rhythm and pacing.
For The Octopus, I think there was the balance of darkness and light. It's a dark piece written playfully so we didn't want it to seem too self serious or macabre, but also didn't really want it to play as a insincere or ironic. Finding that tone was a continual discussion. 
BIRGIT: I didn't make storyboards, but instead improvised scene after scene, leaving the creative process open.  It was a very enjoyable way to work, and I was happy and relieved that Tim didn't get scared, because neither of us really ever knew what would happen next. The most rewarding part of making this piece was directing the performers together. Tim performs comedy, and has a great sense of how to create a character with a vocal performance, and all the performers were very generous and open to the process. The story is being told by a voice over narrator (Gary Richardson) who establishes the pace of the piece.
The conversation with Meade Bernard, the composer was very important and finding the right tone was an important concern. I'm very excited about the soundtrack and how it interacts with the voice performances. It does a lot of the heavy lifting!
ZF: Why is the octopus a female?
TIM: As I wrote the story it just became clear to me that she was a she.
ZF:  You use 2d animation, cut-outs and you superimpose images one on top of the other. Just tell us a little bit more about the process of making the film.
BIRGIT: When I created the octopus, I realized that she is scarier if you can't see her properly, which is why the octopus body is not clearly visible until the end. And then, right after we think we know what she looks like, there is a dramatic transformation.  The ending of the story is so shocking to me, it was important to find imagery that was as intense as the words.
For the design of the environment, I searched my memory for art and animation that had achieved a similar tone of light and dark, specifically "Swing You Sinners (1930) by Fleischer Brothers and many, many paintings by Paul Klee. I made each element in the style that felt appropriate, which means some parts started on paper, some were drawn digitally, there is one photo.  It's all held together by the relative minimalism of the design and the prominent animated grain and noise textures.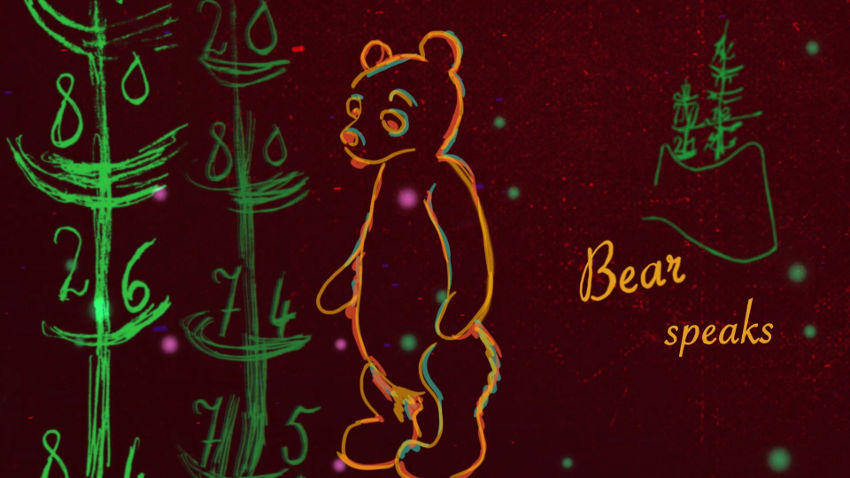 I made the shots sequentially, which allowed me to develop the internal logic of the mise-en-scene over time. A visual idea that's introduced in the beginning, for example the strange flowers in the second shot mutate into trees made out of numbers in the fifth shot. 
TIM: All I can say is that every new piece of work she showed me totally freaked me out and thrilled me!
Voice actors were Gary Richardson, Anna Drezen, and Ike Ufomadu, and as the directing duo states, the piece wouldn't be what it is without them.
Film Review (Vassilis Kroustallis):
It could have been called a mockumentary of fairy tales. The incisive dark satire of the text and the borderline experimental, old-fashioned-looking character of the visuals make Octopus a treat to watch. Moving from manifestations of individual liberty to a group domination, audiences soon realize that the eerie drawings and semi-transparent visuals are not a window to a soul, but the introduction of a beak ready to conquer the world. Timely in its narrative, and alluring in its visual approach, Octopus introduces long lost tales back to a less than happy human future.
About Birgit Rathsmann
Birgit Rathsmann grew up in Germany and Indonesia. She is a filmmaker, animator and artist. She has worked as a free-lance commercial motion designer for TV channels like USA, SyFy, NBC, CBC, WeTV, and has animated title sequence for several feature films.  Over the last few years, Birgit has created and directed animations in collaboration with a number of comedians including Lorelei Ramirez, Mary Houlihan, Tim Platt and Ikechukwu Ufomado. She directed a documentary film about women martial arts heroes and directors in films from Hong Kong. She created an exhibition from 22 artist responses to the 1977 jail death of the Baader Meinhof Group at a Chelsea (NYC) Gallery. "Malpaso", an exhibition she created with Alenjandro Almaza Pereda and Rick Karr investigates a submerged church in Chiapas, Mexico and was at The Clemente (NYC). She teaches at New York University and Pratt Institute.

About Tim Platt
Tim Platt is a comedian, musician, and actor who has appeared on the Late Show with Stephen Colbert, Masterclass with Steve Martin, and Comedy Central. He was selected as one of Comedy Central's 2019 Up Next Variety Comedians at Clusterfest and has written music for Sesame Street and the Story Pirates. He was a 2019 Kickstarter Creator-in-Resident and currently is a cast member on the popular D&D live play podcast Rude Tales of Magic. 
CREDITS:
Narrated by Gary Richardson | Octopus Anna Drezen | Crow Tim Platt | Bear Ikechukwu Ufomadu | Story by Tim Platt | Directed by Tim Platt and Birgit Rathsmann | Animated by Birgit Rathsmann | Sound Recording by Rick Karr | Music and Sound Design by Meade Bernard
SIGN UP: Want to read more free articles like this? Sign up for Our Newsletter
Read More About: