Shorts
The Procession by Pascal Blanchet and Rodolphe Saint-Gelais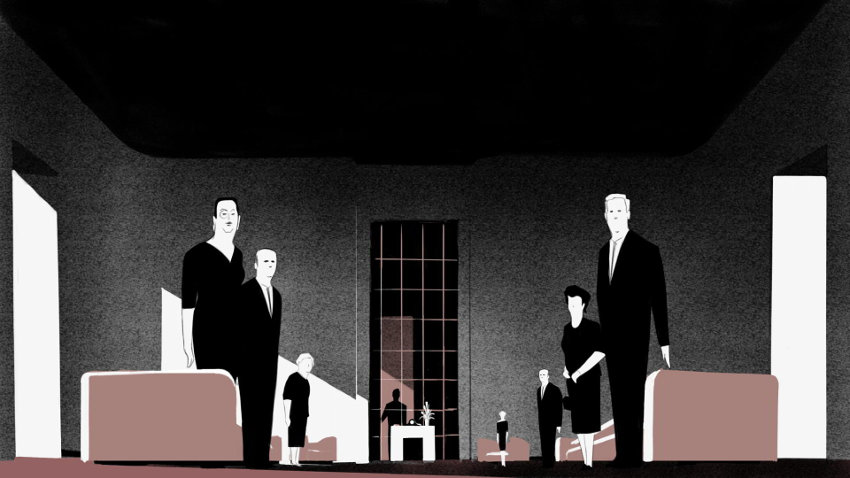 After Catherine's fatal car accident, she speaks from the beyond to her grieving husband, Philip, who must endure the family ritual of the funeral. The Procession is an elegant poem in black, white, and pink that shows us how, despite the pressure to keep up appearances, love finds a way - Film Synopsis
This highly elegant work merges black-and-white as well as subtle pink imagery with poetic narrative delivered in a form of post-mortem love confession. The world created by the illustrator Pascal Blanchet and animator Rodolphe Saint-Gelais, appears perfect: characters' silhouettes gently and beautifully blend with somewhat extravagant, nevertheless sophisticated, backgrounds. Interior of the spectacular mansion house witnessed 10 years of love, passion and pain shared by a married couple. Now it becomes an arena of a humiliating ritual of consolation performed by the widowed husband and his emotionless relatives. Sound design and use of two specific compositions (Shirley Bassey's "Don't Take the Lovers from the World" and Alexandr Gretchaninov's Berceuse, Op.1 No.5') elevates "classic" aura.
Certain elements of the graphic design not even symbolize, but rather reassure us that we observe well-recognized cinematic worlds. The visuals touch upon stylistics of film noir, as the lights and shadows perform brilliant game of hide-and-seek among the mansion's staircases, corridors and passages. Frames become infused with unimaginably long smokes coming out of slim cigarettes, and naturally, fit women's legs provocatively parade in every fetishisit's dreamed high-heels. At the same time, The Procession plays with rhetoric of melodrama through the lyrics of Bassey's popular song, but above all with the words spoken by dead voice-over.
The narrator, a charming, seductive and somewhat unstable woman. Marriage routine turns out to be a metaphor of blissful passion, life-time trap, as much desired as hated. All these could constitute a perfect graphic novel, but Blanchet and Saint-Gelais add something more, something specifically related to animated film medium, and that is the notion of speed. The wife dies in a car accident, this dramatic moment evokes spectacular and rapidly increasing danger, captured in spinning wheels and accelerating movement of the vehicle. Emotions boost along sharp editing and heart- breaking storytelling.
But when then closing credits are over, only naturally we ask ourselves: for what purpose actually this perfect chain of images has been created? For what reason this excellent reality has emerged? Was it only to play with a refined form... - perhaps, but how disappointing such an answer sounds or a critic... Outstanding pieces of cinema, regardless its animated or live-action form, require to be completed with an ambition of revealing some subconscious states of (collective) mind. The most exciting quality of cinema lies in film's ability to use moving images as mirrors that transgress, question, mock, explain and correct empiric reality. So what's more to The Procession than an elegant and postmodern game of forms? Definitely, it denounces superficiality of upper-class interactions and passionately calls for love despite of passing of time. Well, these somewhat obvious and simplified acknowledgments do not seem to give justice to Blanchet and Saint-Gelais' powerful imagination. Perhaps, then, an interesting meaning arises on the verge between earthly seriousness and cinematic frivolousness.
Another game played here for the viewer's pleasure, is related to two phenomena that simultaneously bring out tensions, emotions and sadness. In fact, this film provokes reflection on a crucial problem of interpersonal communication: i.e. having a last word. The plot begins with an argument which an angered woman attempts to conclude on her own terms. At the same time we recognize the narration as an imagined letter from an underworld, a record of possible last words uttered before death. It is the post-mortem female narrator who pronounces these two forms of discourse simultaneously (the film opens with a sentence: "I have surprised you, haven't I? I died").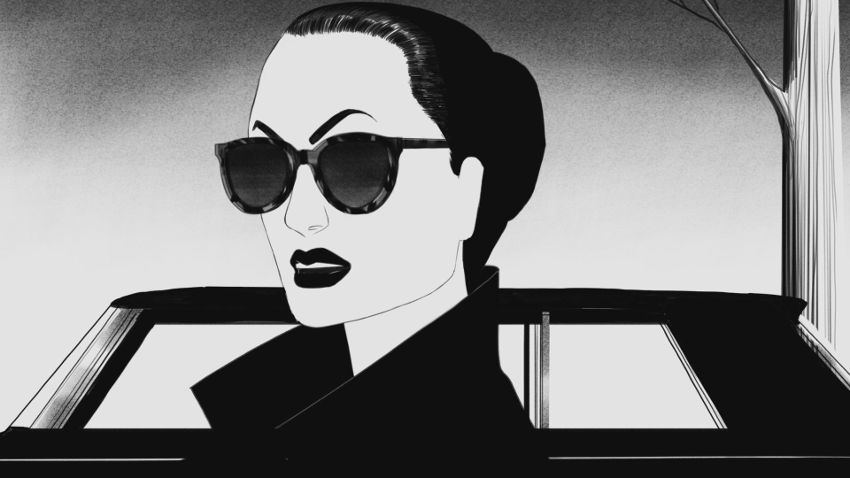 She keeps on continuing a quarrel with a husband by recalling sweet and sour memories of their love story only to transform this speech into memento, final farewell, testimony summarizing all sensual and spiritual experiences together. And along her speech we realize the strength of a tiny line delineating deep emotions from exaltation, devotion from passion, understanding of the significant other from accepting one own desires. I'd buy such an interpretation of The Procession, if not for any other reason, than for the sake of fulfilling my own private model of a perfect film that is visually coherent, potentially intertextual, and somewhat casually able to revise core problems of our life here. Filmmaking excellency may be valuated by success in stitching observations on social interactions with an impressive imagery through technical and artistic mastery. Animated film art created only for its own sake might be breathtaking but hardly ever enduring.
CREDITS:
The Procession 2019 | 11 min 23S, 2D Animation
A film by Pascal Blanchet and Rodolphe Saint-Gelais
Producer: Julie Roy (Office national du film du Canada /National Film Board of Canada)
Original Score: Pierre Lapointe, Philippe Brault
Script: Pascal Blanchet, Sylvain Charbonneau
Art Direction: Pascal Blanchet
Lead Animation: Rodolphe Saint-Gelais, Animation: Pascal Blanchet, Brenda Lopez Zepeda,
Nicolas Brault
Editing: Isabelle Malenfant, Michel Pelland
Pascal Blanchet
Born in Trois-Rivières, Pascal Blanchet is a self-taught illustrator whose interests include music, architecture and 20th-century design. His cartoon strips and graphic novels have received multiple awards over the last 15 years, including the Prix Bédélys Québec for graphic novel of the year (La fugue, 2005), the Grand-Prix Lux (Rapide-Blanc, 2007), and a Ragazzi Award at the Bologna Book Fair (Le Noël de Marguerite, written by India Desjardins and illustrated by Pascal, 2014). Pascal has created illustrations for several North American and European publications (The New Yorker, Le Figaro, Il Corriere della sera, The National Post) and publishers (Penguin Books, Alto, L'instant même). He has also collaborated as a designer and illustrator with composer and singer/songwriter Pierre Lapointe (La science du cœur, Paris tristesse) and filmmaker Wes Anderson (Isle of Dogs, The French Dispatch). His work has been shown in a number of museums, notably as part of an exhibition at the Montreal Museum of Fine Arts celebrating the 15th anniversary of La Pastèque Publishing House.
Rodolphe Saint-Gelais
Self-taught Montreal artist Rodolphe Saint-Gelais is an animator and illustrator whose work in one field fuels his work in the other. After designing, animating or directing a number of ads and TV productions, he ventured into the world of filmmaking with the feature-length Dédé à travers les brumes (2009), whose opening sequence he drew and animated. Over the last decade, Rodolphe has remained active on both fronts, designing the visuals for several animated series (Télé-Québec, Historia, TFO) in addition to pursuing a career as a painter. He's also known for his animated music videos, including Strongest Man Alive for The Franklin Electric, for illustrated stories such as the tales of "true love" created for Radio-Canada series Hubert et Fanny, and for a short film made for the MSO opera Chaakapesh, le périple du fripon. The Procession is his first film with the NFB.
SIGN UP: Want to read more free articles like this? Sign up for Our Newsletter
Read More About: