Shorts
The Wheel Turns by Sang Joon Kim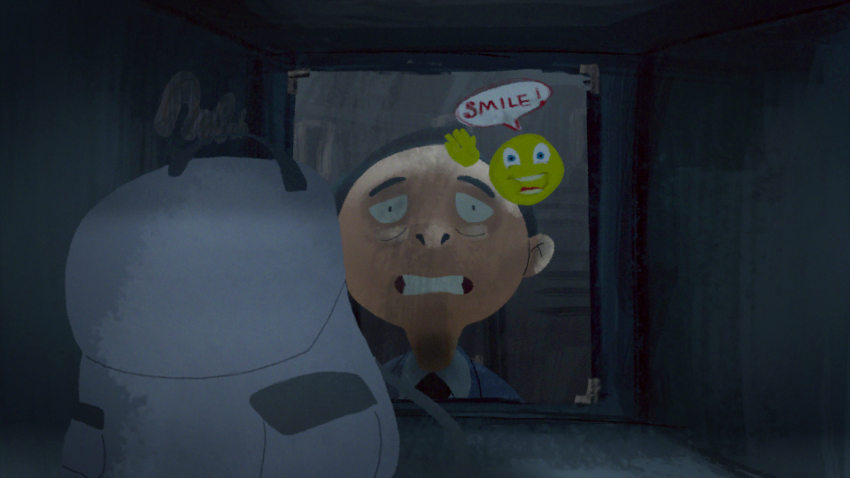 South Korean born, New York-based visual effects artist and filmmaker Sang Joon Kim makes his first professional film, The Wheel Turns, on a dystopia that is not unlike recent situation.
 A prosaic subway operator turned into a toad rediscovers himself in a dystopian world.
Watch The Wheel Turns:
Is the film a direct response to an environmental crisis?
SJK: That's an interesting interpretation! My intention behind the film was to talk about how easy it is for us to live in our daily life without realizing how repetitive it can be, and how easy it is to forget what we used to like and what we dreamt of.
SJK: I came up with the idea and the concept of the film on my way home, in a subway ride. I used to be a full-time staff at Framestore, NY as a digital compositor, and frequently had a few very late nights in a row. It was one of those same late-night days, except that I saw a reflection of myself on the subway window. It was a soul-less man. The night was a wake-up call for me and I started writing down a story on my bed, which became the core narrative of The Wheel Turns.
Boiling Frog Experiment and Narration
SJK: The idea of frogs was inspired by the Boiling Frog experiment, where frogs don't notice boiling water in a pot if the water temperature rises slowly. It was a perfect metaphor of the Soul-less man on the Subway Window and the train of people was an organic decision to include as commuting in a packed subway is one of the most repetitive routines we all do in urban life.
I used narration for it was always in my mind to start the film about the Boiling Frogs and to end the film how to escape the Boiling pot.  To enhance the impact of the two narrations, it was a natural decision to go almost dialogue-free in the middle part of the film.
Schedule & Alternate Takes
SJK: The film took about 3 1/2 years from start to finish. As it took a very long time, there were so many ideas that were omitted or completely changed during the process. At one point, I was originally going to have the Underground world more as a different universe. A world where used cans are valuable assets instead of money, and the general public of Toads is abused to collect them like a machine at a factory.
SJK: Since I come from the background of CGI, hyper-realistic 3D elements were what I was always surrounded by. I wanted to put myself at a distance from the hyper-realism to challenge myself, which lead me to do the film in 2D the most part of it. The train was the only 3D element and the rest was all done in 2D.
Color-palette wise, the cool blue hue was the core palette with the contrast of warm hue used in the Guitar man who is the only character in the film that has passion at what he does.
Sang Joon Kim now works in another 2D animated short film, Mehari (Korean for echo), based on his own childhood. He wants to portray what happened during the huge redevelopment boom period in Korea -and what they have lost during those times.
Film Review (Vassilis Kroustallis):
There is a sense of innocence lost in Sang Joon Kim's poignant short film about a dystopia created in the man's own image. Aligning itself with the environmental crisis (level of water rising), it makes frogs -an animal which can survive both in and out of the water- a nemesis for whatever attempt to integrate body and soul was ever tried. Using the central character as a worn-out train driver with a definite loss of self-purpose, Sang Joon Kim mixes reality and fantasy in a calculated manner:  the transition to the energy world is not really that different from the gloomy station -more lighted, perhaps. Energy being constantly reminded as the thing that is both precious and separable, The Wheel Turns is less of an image of a world going beserk; it comes more as a personal mirror image, with many shots and scenes in the film of just looking to yourself in the mirror or the others through a glass or watching camera footage. It only tells of what would have happened if we looked ourselves in the mirror or in the crystal clear waters for long enough. 
CREDITS:
The Wheel Turns, 2018
Production Company: Tadoh
Directed by, Written by, Produced by Sang Joon Kim
Executive Producers Heejong Kim, Seijun Jeong |  Production Coordinator Sumire Takamatsu | Art Director  Choong Nyung Yoon | Concept Artists Choong Nyung Yoon, Hyunjin Park, Daejin Kim |  Animators Kayoko Nagashima, Shunsuke Saito, Jaeil Son, Sang Joon Kim | 
Cast:  Gys de Villiers (Narration), Charles Hubbell (Subway Operator), Peter Bishop(Guitarman), Kelly Sung( TV Narration, Hoodie guys) | Music by Minwhee Lee Storyboard Artists Sang Joon Kim, Jaeil Son | BG Supervisor  Seogu Lee | BG Artist Sangwoong Jung |  CG Artists Michitaka Inoue, Hyungjin Ji |  Film Editor | Bongkeun Kwon | Screen Play Jeannie Yun |  Sound Design Jusuk Lee |  Recording by Terry Derkach |  Graphic Designer Kelly Sung
About Sang Joon Kim
Sang Joon Kim is a South Korean born, New York-based visual effect artist/filmmaker. After graduating from the School of Visual Arts majoring in BFA Computer Art, he worked at major visual effect studios like Framestore Inc, Method Studios, and Zoic Studios. He has always been intrigued in finding the beauty of storytelling and always seeks for creating something unique through different media. His first animated short film The Wheel Turns has won in multiple festivals including Sitges and was selected in many festivals.

SIGN UP: Want to read more free articles like this? Sign up for Our Newsletter
Read More About: