Shorts
Ula Bruno Presents Umbroscopy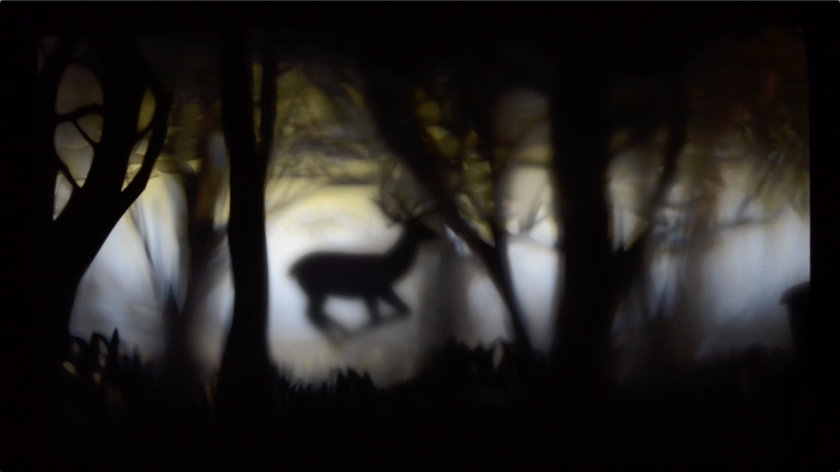 Polish animation artist Ula Bruno started with her first animation film Lexicon of Reflexions (watch it here). It was presented on the 'Coming Out! Best Diplomas of the Warsaw Fine Arts Academy 2016' exhibition – also screened at Premiers Plans Festival in Angers (France) and Polish Festiwal Dwa Brzegi. 
A few years ago, she created her own animation technique named 'umbroscopy' – it is based on creating the picture out of shades. In this technique, she made a short movie Przedświt. She also created  a short animation – the trailer of "Gdana" – a middle-length film she's planning to direct in the future.
Currently she's in pre-production of her short film Tree, to be animated with the same method. 
ZF: Is your willingness to do this technique associated with you r own need to be inventive?  Is there something creative you wish to do, apart from having a technical apparatus of your own?
UB: For me, one of the most important things in human life is to discover your potential and talent and to figure out what you're good at. And when you know it you have to develop these skills. I found out that I'm able to create something beautiful with umbroscopy. That is why I still want to improve its potential and create movies with more artistic merit.
ZF: I guess you still have to animate the characters, cut the puppets etc. and all the rest that comes with other forms of animation. So, umbroscopy is on top of that, if I understand correctly.

UB: The process is similar to most animations. The background and the animated objects are drawn on separate papers. After that I'm working in compositing or I'm recording everything at the same time (it depends of the shot). In umbroscopy creating a background and characters, as well as compositing itself,  are in an experimental phase. We are still looking for the best and the most effective solutions.
Watch Ula Bruno explaining her umbroscopy method:
ZF: You mention that nothing is predetermined with this method, so it probably ends up with moving images that you didn't have in your head before starting. Is that a way to describe the effect of this technique? Can this be a hindrance as well? 
UB: Of course, I create every shot with some initial plan – a movement of the camera, composition, and mood have to stick to animatic (that is the only way to create a movie). However, I can assess if a plan is feasible only after the initial model. Therefore, the structures themselves are a result of trial and error. Besides, in every shot occurs the effect of lights which I didn't anticipate or planned – spots of light, change in brightness and colors, etc. The fact that sometimes I'm recording during a day assumes some certain unpredictability. In my experiments, I'm trying to find all the possibilities this technique can offer, according to the laws of physics.
ZF: Is this technique suited for specific stories? I have in mind atmospheric, mystery stories but could you use it for something else as well?
UB: I'm also curious to see what kind of stories my technique will fit. For me, the umbroscopic image is a journey to the world on the verge of consciousness and dream. That is why in the first place I think of fantasy stories but also psychological stories reaching our unconscious, just like fairy tales and myths do. The final effect looks like if someone put a filter on reality and now it's a mysterious and murky atmosphere. But who knows, maybe by adding more colors and lights the story can be different and happier. It needs to be checked!
 ZF: You've made so far the Gdana trailer (for a middle-length film), and you have  your Tree film, currently in pre-production. Can you give us more details how you approach both works in terms of technique? 
UB: Thanks to a scholarship I created a trailer for "Gdana" last year. It was the first step towards adapting umbroscopy to film production. I created this animation with a team. In that project we were able to finish everything that was planned. So I can confirm that umbroscopy has great potential and is worth developing. "Gdana" is a medium-length movie with a rather complex plot and at the beginning, I just wanted to create a shorter form – entitled "Tree". Currently, we are working on animatic and sample materials to value the production and get funds. 


ZF: Is your technique fixed at the moment, or perhaps you think you have more things to develop?
UB: I think umbroscopy will never be 'ready'because the potential for experimentation with it is huge. As my priorities, I want to focus on improving the camerawork (imitation of camera movements) and to make the characters more detailed and more spacious.  Compositing itself, as I have already mentioned, is also in the experimental phase because there is no ready-made solution to create effects consistent with the principles of umbroscopy.

Ula Bruno's feel in her work looks interesting and intimate at the same time; we're eagerly awaiting for her completed film results.
About Ula Bruno
Ula Bruno – Polish 2D animator, YouTuber, inventor of her own animation technique – umbroscopy.
SIGN UP: Want to read more free articles like this? Sign up for Our Newsletter
Read More About: