Shorts
Uncle Thomas: Accounting For the Days by Regina Pessoa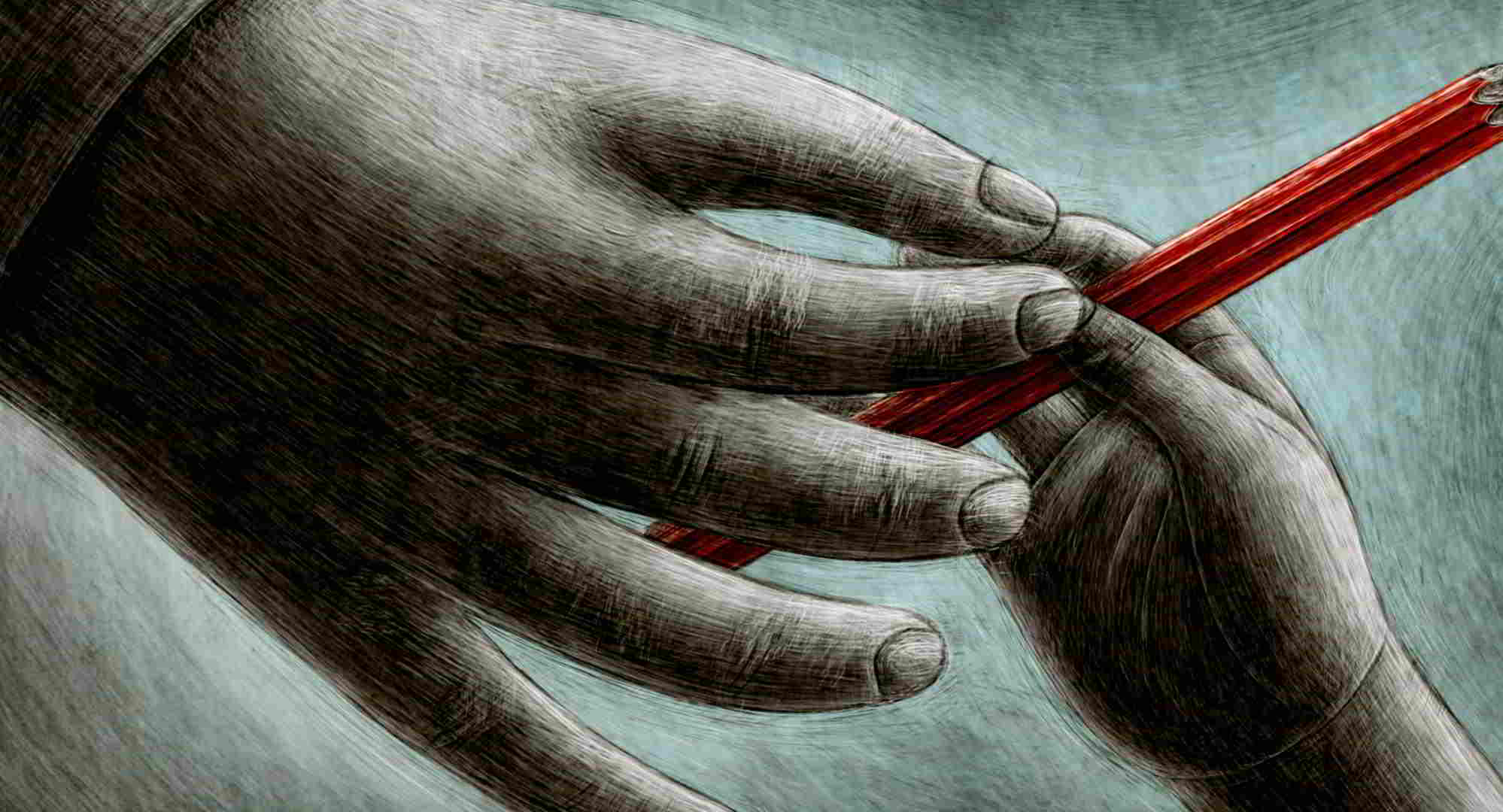 Jury Award's winner, Regina Pessoa's Uncle Thomas: Accounting for the Days stands out among the NFB productions showcased this year in the competition sections of Annecy 2019. In this atmospheric animated cinema piece, the Portuguese artist, once again revises her unique visual style and individual memory as direct sources of storytelling. Black and white images, this time enriched with red hue of a deep and seductive nature, evoke captivating closeness with the drawn characters and backgrounds as if we were at the same time enlivening their story and observing their actions from the distance.
Sensual motor ride across vast poppy fields, secret meetings of an uncle and a niece who draw portraits of the beloved ones from the memory on the walls only with the use of wooden sticks glowing with fire, neurotic accounting of numbers that are meaningless to everybody except for an eponymous uncle – step by step, the chain of such ambiguous interactions distill emotions to an extent of eruption. The characters themselves appear as truly mysterious and delicate individuals. Regina Pessoa reflects upon personal relationship with her uncle Thomas, a lyrical outsider living on the margins of the small local community. Whatever happened to Thomas, why an obsession of numbering appeared in his mind, what did cause an everlasting pain eased only by an act of secret drawing sessions? And what is going on in a little girl's life, why is she looking for tranquility in the shelter of uncle Thomas' peculiarity?
Watch Uncle Thomas Accounting for the Days
The answers will not be discovered neither by a little girl who accompanies a man in his retreat, nor by an observant viewer. Any resolution turns out one of many interpretations that can be only imagined by a matured artist intimately recalling her past and assumed by enchanted audiences. The greatest mystery unfolds around nature of a special bound between two lost souls that belong to each other even if they come from completely different universes and hardly share life experiences.
Storytelling progresses along the path charted by the transformations of Pessoa's unique visuals that combine painted textures, digitally drawn characters in motion, and objects animated in stop motion. Alluring imagery liberates narrative tensions, and as much as visuals absorb surreal quality, as much act of following the plot appears bizarre and intangible. Perception and cognition of this film refer to the same dreamy source material: personal memories and visions. Uncle Thomas... coherently adds up to Pessoa's previous achievements (The Night, 1999; Tragic Story with Happy Ending, 2005, Kali, the Little Vampire, 2012), artistically diversified works exploring the same never-ending subject of her interest: extraordinary individuals try to liberate themselves from internal anxieties and external pressures.
As we learn from Regina Pessoa, real events and authentic persons determined the story of this film, yet it is the unreal expression of past feelings, exploration of bygone fantasies and fears that remain a major theme of Uncle Thomas: Accounting for the Days.
Read Also: Integrating Universes: A Conversation With Regina Pessoa and Abi Feijó
The contrast between real and unreal manifests itself on formal level of Pessoa's film style. Since 1990s she has kept on developing a technique of animated engravings, a style she came up with after graduating from the academy of fine arts in Lisbon. Today the director is ready to challenge and redefine this specific style that became so closely associated with her artistic persona. Now engravings have been "translated" to CGI software and tools of creation, and furthermore enriched with aura of traditional stop motion techniques applied to real objects. In digital environment pieces of paper become quite symbolic artifacts of documentation, work of memory and transiency. Between two technological universes we find a gentle but meaningful debate on the attitudes one can take in life and art. Once real-life, authentic individual and personal memories, by the means of paints, engravings, textures, found objects and digital drawings, turn into symbolic vessels that convey and sublime universally sensed and understood fears and passions.
CREDITS:
Uncle Thomas: Accounting for the Days (2019 | 13 min)
Mixed media, digital drawing, stop-motion
Direction, concept and storyboard: Regina Pessoa
Music and Sound Design: Normand Roger
Script Advisor: Andreas Hykade
Animation: R. Pessoa, A. Marques, S. Naves, A. Braga, S. Trouvé, D. Hayward, M. Robinet, S. Najjarane, N. Delot
Voices: Regina Pessoa, Abi Feijó
Editing: Abi Feijó
Producers: Abi Feijó (Ciclope Filmes), Julie Roy (Office national du film du Canada /National Film
Board of Canada), Reginald de Guillebon Les Armateurs)
Regina Pessoa
Born in 1969 in Coimbra, Portugal, Regina Pessoa spent her childhood listening to family stories and watching her uncle draw pictures on the walls of her grandmother's house. It was her first step toward the world of animation. More practically, she studied various animation techniques during her studies at the Porto School of Fine Arts. At the Portuguese studio Filmógrafo, she worked on a number of films by Abi Feijó before producing her own first short film in 1999, entitled The Night. This delicate work was followed by Tragic Story with Happy Ending (2005) and Kali the Little Vampire (2012), two films that, along with the first, form a marvelous trilogy about childhood. The winner of numerous awards all over the world, Pessoa has reached new artistic heights with her masterful 2019 film, Uncle Thomas: Accounting for the Days.
SIGN UP: Want to read more free articles like this? Sign up for Our Newsletter
Read More About: