Awards & Prizes
16 Animated Features for the 2016 Oscar Race
Sixteen features have been submitted for consideration in the Animated Feature Film category for the 88th Academy Awards.
Films like Charie Kaufman's stop-motion Anomalisa, can also find their spot (hopefully) in the Best Picture Category, even though sometimes the Best Animation Feature category is a way to pigeonhole animation in a single space and category.
The Annecy-awarded symbolic tale of capitalist destruction Boy and the World by Alê Abreu (distributed by GKIDS)  has also entered the race.
Its nomination depends on its distributor's promotion to pass the message of a totally wordless animated feature.
Studio Ghibli is an always welcome candidate to the Oscar race; and its latest feature When Marnie was there by Hiromasa Yonebayashi (again distributed by GKIDS) could have a nomination spot.
But don't get misguided: the real frontrunner is Pixar's Inside Out this year, a film that critics and the audience loved [we didn't].
Kahlil Gibran's The Prophet is an uneven film, with talented Europan artists but a weak narrative to support a nomination.
Expect Disney with The Good Dinosaur, Dreamworks with Home to enter the nominees,  possibly Minions.
If Academy voters are a little daring, The Boy and the Beast anime by Mamoru Hosoda (Summer Wars) will have a place as well.
The submitted features, listed in alphabetical order, are:
"Anomalisa"
"The Boy and the Beast"
"Boy and the World"
"The Good Dinosaur"
"Home"
"Hotel Transylvania 2"
"Inside Out"
"Kahlil Gibran's The Prophet"
"The Laws of the Universe - Part 0"
"Minions"
"Moomins on the Riviera"
"The Peanuts Movie"
"Regular Show: The Movie"
"Shaun the Sheep Movie"
"The SpongeBob Movie: Sponge out of Water"
"When Marnie Was There"
At least eight eligible animated features must be theatrically released in Los Angeles County within the calendar year for this category to be activated. In any year in which 16 or more animated feature films are eligible, a maximum of five motion pictures may be nominated.
The 88th Academy Awards nominations will be announced live on Thursday, January 14, 2016, at 5:30 a.m. PT at the Academy's Samuel Goldwyn Theater in Beverly Hills.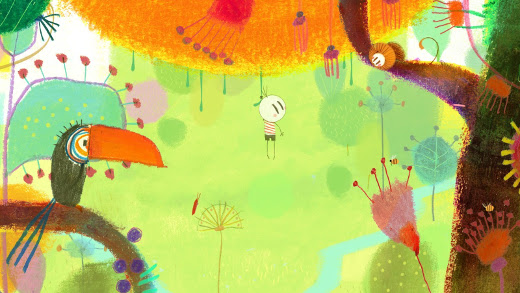 Boy and the World
The 88th Oscars® will be held on Sunday, February 28, 2016, at the Dolby Theatre® at Hollywood & Highland Center in Hollywood.
Read More About: