Reviews
A Jewish Girl in Shanghai: Sensitive Holocaust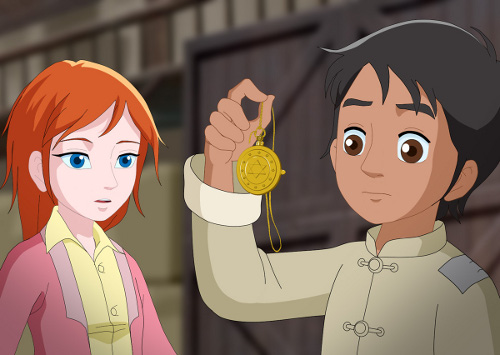 A Jewish Girl in Shanghai by Wang Genfa and Zhang Zhenhu has the distinction (and the burden) of being the first feature animated film to deal with the Holocaust - its contemporary short equivalent being Ann Marie Fleming's film I Was A Child of Holocaust Survivors.
 A Chinese commercial success in its 2010 release, the 80-minute animated feature produced by Shanghai Animation Film Studio is a more than welcome cinematic ambassador for bolstering Jewish-Chinese relations. It describes with sensitivity and caution the life of Shanghai Jews, who fled from Nazi Germany to find themselves in a 'stateless' zone within Japanese-occupied Shanghai.
 Set around the poor and badly lit (but superior in every respect to its European equivalents) Shanghai ghetto, A Jewish Girl in Shanghai is a tale of both heroism and social solidarity. Surfacing first as an 2008 graphic novel by Wu Lin (who also wrote the script),  the film tells the story of the tomboy Rina and her Chinese friend A-Gen and their small acts of heroism during the war.
The film fairly quickly establishes its division of the world into liberating pigeons of humanity and ominous ravens of a distant war. Rina is first seen at the 2005 Shanghai, reminiscing on her WWII experiences as a child. Her early acquaintance with A-Gen, who sells fried pancakes for a living, is revealing enough.
The redhead schoolgirl Rina is proud but also calculating, and wants to exchange her mother's necklase for a food offer she cannot afford. Rina and her protegée brother Michali easily mingle with the world of A-Gen, his mother and his uncle. Having only the Rabbi as her Jewish connection (and a brief Synagogue scene), the self-sacrificing and heroic Rina and her magnificent performing of the violin offer a lot of reasons for her to be constantly saved from danger.
Being a family-friendly film, A Jewish Girl in Shanghai shies away from describing both WWII atrocities and concentration camps logistics (who are only dealt with in brief, harrowing flashbacks).
Rina herself will be saved three times from imprisonment, and her adventures with A-Gen in the ghetto have an easy and quick resolution. Japanese soldiers are never menacing, but only hapless victims of the animal sidecicks of Rina and A-Gen (unlike the US animated tradition, dogs and monkeys in the film rarely talk with a human voice).
The series of small adventures culminates with a school performance, in which Rina will manage to exhibit courage and heroism, and confront the solidarity of the audience. Yet, the thread that ties the film together is not the war itself, but the absence of the mother.
Adults in A Jewish Girl in Shanghai are either absent, dead, helpless or simply mean. Rina's mother is an everlasting presence, though, to be found in Rina's clothing, jewelry and character. Even her own father (who manages to return to Shanghai from war-torn Europe) has only a small part to play. Thankfully, this longing for the mother will not permit a narrative miracle, and Rina will learn to grow up.
This warm-colored film which never loses its optimism is stronger in portraying model characters than in conveying narrative surprises or a real sense of danger. Its violin music by Shi Jiayang is divine, and its sense of cultural understanding well-shaped for the sensitive ages.
Vassilis Kroustallis