Animafest Scanner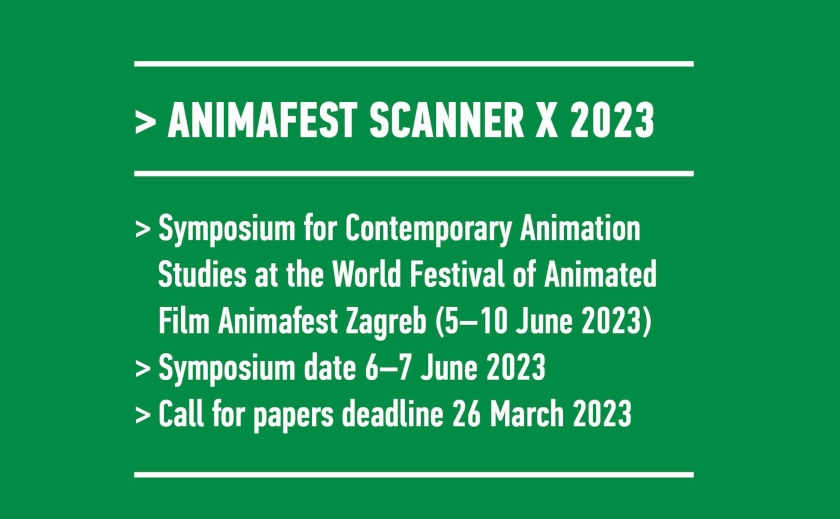 Deadline | Event Dates (period)
Email
This email address is being protected from spambots. You need JavaScript enabled to view it.
Final submission deadline
2023-03-26
Submission/Registration Fee
No
Event Description
With the aim of creating synergy between theoretical and practical discourse among filmmakers and scholars, the ninth Animafest Scanner IX 2022 international symposium takes place 7-8 June 2022, and international film and media researchers are invited to present the latest findings in the field of animation.
2022 Animafest Scanner Call for Abstracts
The 2023 symposium Animafest Scanner X is once more at the frontline of the discourse in animation studies. By focusing on topics of what does 'animation' mean now?, sci-fi in animation, animation assisting other art forms and digital technologies and originality (where we could include ai), Animafest Scanner invites international scholars to present and discuss new theoretical approaches and practical applications. Located at one of the most respected animation festivals in the world, it is a meeting point for many leading artists and professionals.
Topics for Animafest Scanner X 2023 international symposium:
TOPIC 1: WHAT DOES 'ANIMATION' MEAN NOW?
TOPIC 2: SCI-FI IN ANIMATION
TOPIC 3: ANIMATION ASSISTING OTHER ART FORMS
TOPIC 4: DIGITAL TECHNOLOGIES AND ORIGINALITY (WHERE WE COULD INCLUDE AI)

Submission requirements:
Submit an abstract in English for a twenty-minute academic presentation. All presentations must be thematically related to this year's symposium topics. For each proposal, the applicant is required to fill out a separate online entry form. Only correctly filled-out forms will be accepted. The entire conference will be held in English. 
Deadline:

21 March 

26 March 2023



NB: 2024 Event Dates are tentative
Event Dates
From

06/06/2024

to

07/06/2024