Festivals
7 Animation Features for OIAF 2022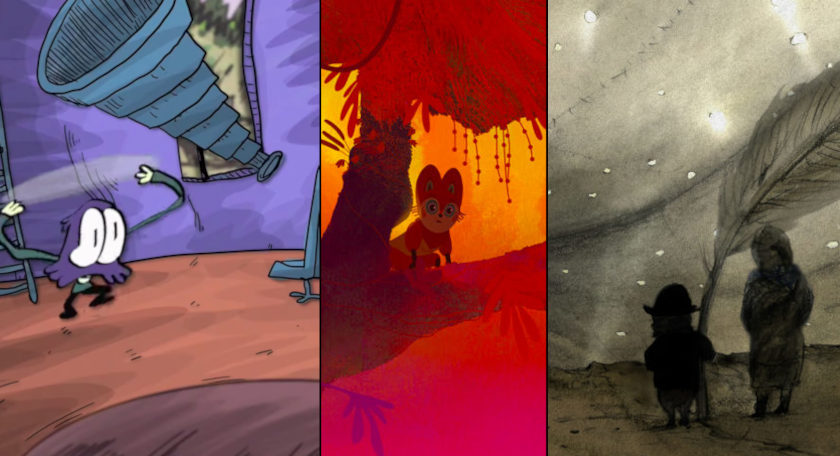 The selection for this year's Ottawa International Animation Festival seems as precisely geographically balanced as ever.  2 animation features from Europe (The Island, Unicorn Wars), one feature from Latin America (Perlimps), two features from Asia (Dozens of Norths, Silver Bird and Rainbow Fish), one from North America (Barber Westchester) and one from Africa (the Algerian feature The Well of Oblivion).
Auteurs predominate: Anca Damian, Koji Yamamura, Lei Lei and new auteurs like the Brazilian Alê Abreu fill in the selection slots, while grassroots indie filmmakers (Jonni Philips for 'Barber Westchester' is its debut feature) are also present.
Absent here are the two Portuguese features already screened at Annecy Festival: 'Naoyla' by José Miguel Ribeiro) and 'My Grandfather's Demons' by  Nuno Beato
The full lineup:
Barber Westchester (dir. Jonni Philips, United States)
Dozens of Norths (dir. Koji Yamamura, Japan)
North is everywhere solitary / Here is all North / This is a record of the people I met in these Norths / However, my memory is fragmented and does not get the point at all.

Khamsa - The Well of Oblivion (dir. Vynom Vynom, Algeria)
Down in a dark well, an amnesiac little boy called Adi regains consciousness. Accompanied by two strange creatures, he tries to get his memory back and realises that his quest is more complicated than it seems.

Perlimps (dir. Alê Abreu, Brazil)
Two secret agents from enemy kingdoms, Claé and Bruô, must overcome their differences and combine forces to face the dangerous Giants and save the Perlimps from the Green Slime that threatens to swamp the forest.
Silver Bird and Rainbow Fish (dir. Lei Lei, China, United States, Netherlands)
Through interviews with his father and his grandfather, Lei Lei looks back at a tragic family past marked by the Chinese Cultural Revolution and its ensuing violence

The Island (dir. Anca Damian, Romania, France, Belgium)
Discover a musical fable on the Robinson Crusoe myth: The Little Prince meets Monty Python. Robinson is a doctor and his solitude is voluntary in an island invaded by migrants, NGOs and guards. He saves Friday, a castaway, the only survivor of his illegal refugee boat.
During his journey on the island, Robinson encounters extraordinary beings and events. He will confront current affairs through visual poetry and symbolism in a world where everybody looks for its own paradise.

Unicorn Wars (dir. Alberto Váquez, Spain, France)
An army of bear cubs is training and indoctrinating young recruits for the war against the unicorns, which threatens the safety of the cubs. Brothers Bluet and Tubby, along with a group of inexperienced recruits, are sent on a dangerous mission to save the Magic Forest, where the unicorns live, and start a terrible battle.

This year's Features category films will compete for the Grand Prize for Feature Animation, which is decided by Features Jury members Pilar Newton-Katz, Marc Bertrand, and Hugo Covarrubias.
Ottawa International Animation Festival takes place 21-25 September 2022
SIGN UP: Want to read more free articles like this? Sign up for Our Newsletter
Read More About: