Festivals
Annecy 2018 Goes Brazil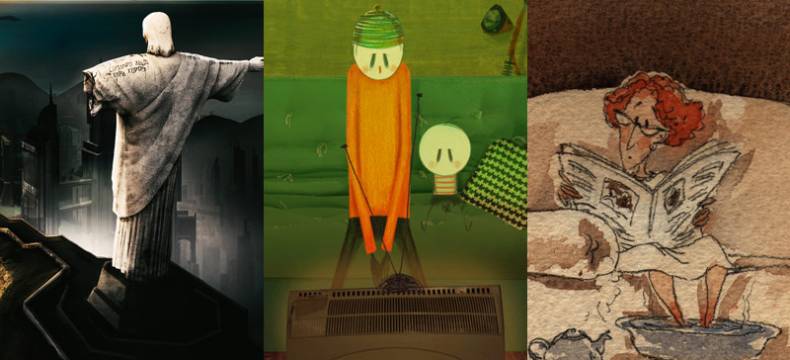 It had already been announced last year, but it is now made more conspicuous. The 2018 Annecy International Animation Film Festival focuses on Brazil, one of the reasons being the back-to-back victories of two celebrated Brazilian animation features:

In doing so we want to fete the emergence of a true cinematography, one which, over the past five years, has provided the Festival with two Cristals for feature films: Rio 2096: A Story of Love and Fury by Luiz Bolognesi in 2013 and The Boy and the World by Alê Abreu in 2014. And of course Rosana Urbes' short film Guida should not be forgotten, having earned the Jean-Luc Xiberras Award for a First Film and the Fipresci Jury Distinction in 2015 - Marcel Jean, Annecy Festival Artistic Director
The festival promises to show how Brazilian animators have drunk deep from these waters to establish an unusual and striking expression. The Brazlian animation tribute is jointly planned with Anima Mundi festival professionals. Expect more info in the future.
A separate tribute is scheduled for Music and Animated Movies, taking its inspiration from both the early (and innovative) examples of Viking Eggeling (Diagonal Symphonie) Hans Richter (Rythmus 21),  Oskar Fischinger (Hungarian Rhapsody, An Optical Poem), as well as the countless films which feature music as an essential element.
A small reminder: Ralph Bakshi's American Pop,  by Bruno Bozzetto's Allegro non troppo,  the mythical since near-invisible Rock Odyssey by Robert Taylor, or George Dunning's The Yellow Submarine.
Canadian composer Normand Roger and French Pierre Caillet have literally invested in music for animated films, whereas Arthur Honegger, Oscar Peterson, Ornette Coleman, John Williams, Hans Zimmer, Bruno Coulais, Alexandre Desplat, Danny Elfman, Gabriel Yared have written for animated films.
We want to let the composers speak for themselves, to endow them with a place of honor in our Festival programming, and to enable public and professionals alike to meet them - Marcel Jean
Screenings, concerts and music conferences are expected to be part of the 2018 festival programme.
The 2018 Annecy International Animation Film Festival takes place 11-16 June 2018 at Annecy, France.
Read More About: