Production
Submarine, Salvador Simó, Sola Media Win 2019 Cartoon Tribute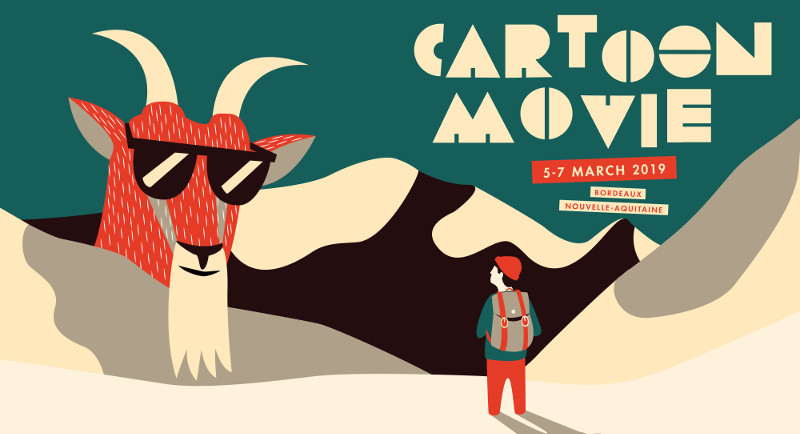 European animation professionals paid tribute to the protagonists of the year with the presentation of the Cartoon Tributes, the awards for outstanding contribution to the development of European Animation. Announced t Thursday 7 March, the winners in the three categories -European Director, Producer and Distributor of the Year- were voted by the more than 900 participants at Cartoon Movie, the pitching and co-pro forum for animated feature films held in Bordeaux between 5-7 March.
Created in 2001, the aim of the Cartoon Movie Tributes is to reward companies or personalities that have had a positive influence on the animation feature film industry.
This year's winners are:
PRODUCER OF THE YEAR: Submarine (the Netherlands)
Amsterdam's based Submarine is a production studio that develops and produces feature films, documentaries, animation and transmedia. The company is one of the most active at European level and is involved in four projects presented at Cartoon Movie: "In the Forest", "Where is Anne Frank?", "My Grandfather Used To Say He Saw Demons", and "Buñuel in The Labyrinth of The Turtles".
DIRECTOR OF THE YEAR: Salvador Simó for "Buñuel In The Labyrinth of the Turtles" (Spain/The Netherlands)
Salvador Simó is a director and scriptwriter who has worked in different animation studios in Los Angeles, London, Barcelona, and Asia. In 2016 he moves back to Spain to write and direct his debut "Buñuel in The Labyrinth of The Turtles", a film based on the 1932's "Land Without Bread", a controversial documentary at its time and now reckoned as one of the greatest films of Luis Buñuel. The film -which will be released in Spain (April 26) and France (June, 2019)- is a production of Sygnatia in co-production with Submarine (the Netherlands).
DISTRIBUTOR OF THE YEAR: Sola Media (Germany)
Foundend in Stuttgart in 2004, Sola Media is a world sales agent specializing in high-quality children's films and family entertainment with a strong focus on animation feature films for the big screen. Recent animation features include: "Rabbit School", "Coconut the Little Dragon", "Captain Morten and the Spider Queen", "Up & Away", "Manou the Swift" & "Latte and the Magic Waterstone".
 The rest of the nominees in each category were: Anca Damian for "Marona's Fantastic Tale" (Romania), Denis Do for "Funan" (France), and Anders Matthesen & Thorbjørn Christoffersen for "Chequered Ninja" (Denmark); Cinema Public Films (France) and SC Films International (United Kingdom); and Folivari / O2B Films / Doghouse Films / Kaïbou Production for "Pachamama" (France / Luxembourg / Canada), Les Films d'Ici / BAC Cinéma / Lunanime / ithinkasia for "Funan" (France / Luxembourg / Belgium / Cambodja), and Ulysses Filmproduktion / A. Film Production / Fabrique d'Images for "Luis and the Aliens" (Germany / Denmark / Luxembourg).
Since 1999, over 333 films pitched at Cartoon Movie, with a total budget of 2.2 billion Euros, have secured their financing and have been released thanks to this annual forum aimed at strengthening the production and distribution of animated feature films in Europe.
Cartoon Movie is organised by CARTOON with the support of Creative Europe - MEDIA, CNC (Centre National du Cinéma et de l'Image Animée), Nouvelle-Aquitaine Region, Bordeaux Metropole, INVEST Nouvelle-Aquitaine, the City of Bordeaux and le Pôle Image Magelis. The Cartoon Movie animated features pitching and co-pro event has announced the finalists for Cartoon Tributes 2019. The awards honor outstanding contribution to the development of European animation over the last year, in the categories of Director, Distributor and Producer of the Year. The nominees will be voted on by the 900 animation professionals attending the 21st edition of Cartoon Movie, being held in Bordeaux, France from March 5-7.



SIGN UP: Want to read more free articles like this? Sign up for Our Newsletter
Read More About: