Shorts
De Imperio by Alessandro Novelli: Film Review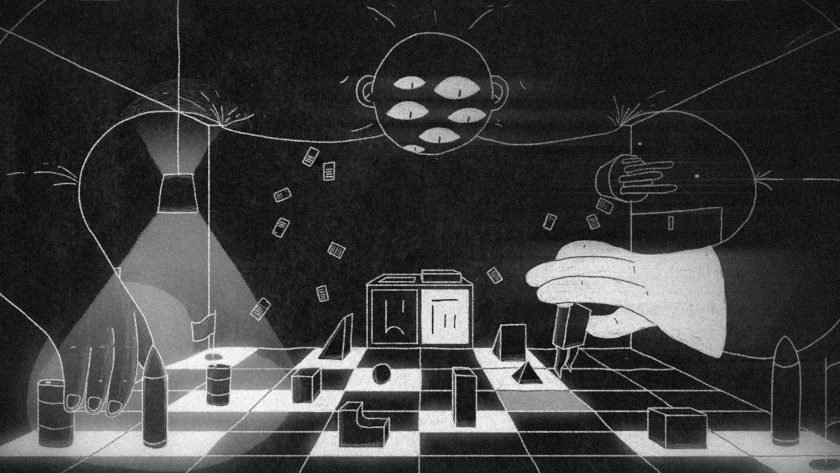 In the last part of the animation short trilogy ('The Guardian, 'Contact', 'De Imperio'), which investigates individuals and power in celestial space -a direct analog for earthly power, Italian director Alessandro Novelli exhibits in 'De Imperio' a formidable chase of power and the powerless.
Being the longest animation short of the trilogy, the 2D animation 'De Imperio' recalls to mind the famous eponymous Cicero speech (in favor of a free regal hand to General Pompey to defeat the rebels). In Novelli's work, this is translated into moving furniture, with tiny feet (the 'Fugitives'), having to navigate an always enclosed and marked black-and-white celestial space.
During a peaceful night, a group of fugitives tries to find its way to the centre of the building, where the entire resistance is gathering. Evading the surveillance they go through the rooms of the Giants and witness their macabre routines - Film Synopsis
Those moving objects can be either pawn in a chess game, obedient listeners to a Pied Piper's music, or simply disposable objects in terms of very different (and always bigger) masters in turn. These masters (the Giants) are tube-like, never solid, always flexible; it seems that they themselves need to get accommodated into this pressing environment as well; but they have the means to survive -and utter their own speeches  (in jibberish) in front of a TV screen.
Novelli cuts across the various scenes, and, as in his previous films, he always presents both the big and the small, the multitude and the single being. This is a film that overwhelms the spectator with set pieces that need a spatial escape clause. Handling of space is obviously fundamental to the whole trilogy, yet here it is much more controlled; no immersiveness (and bird's eye view shots are many here) and no quick bodily transformations. These geometrical objects and characters look as solid as if they here three-dimensional.
Music and sound design go from evocative to high-sounding, especially in the third part of the film, in which a big battle takes place. Music and sound seem to implement the purposedly frugal image (we only see a glimpse of a non-black-and-white world in a short sequence). Camera angles again here (as in 'Contact') do their own work to distance and bring nearer. But, ultimately, this is a film that does not want you to become obsessed with its characters; it simply wants you to get aware of their manipulation by an environment that does nobody good.
An arresting film and a fitting end to a trilogy of space and power relationships.
Vassilis Kroustallis
Watch the 'De Imperio' trailer:
'De Imperio' premiered at the 2023 Locarno Film Festival. The film was produced by by BAP Animation Studios (PT) and Co-produced by Studio Kimchi (ES).

Read More About: