Festivals
Portuguese Animation at Cinanima Festival 2020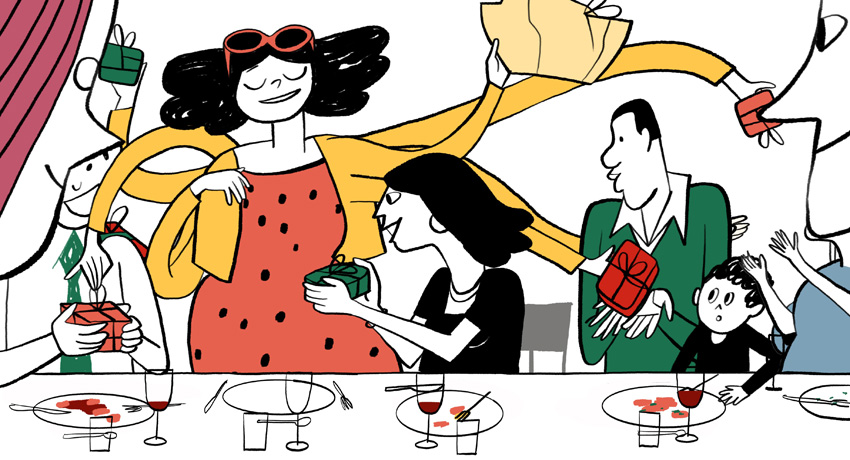 Table, João Fazenda
The 2020 edition of the Cinanima, International Animation Festival of Portugal, was surprised by the many government actions against the pandemic. Like it has happened all over the world since March. That is a situation of adaptation and resilience that everybody has been asking to be into. So, we should see the glass-half-full ;)!
We cannot now meet with each other, and we can neither meet in person the animation directors, and share our emotions in the movie theater; yet we can now see all sessions at home, on our sofas! So, I did exactly that and watched the Portuguese  competition session this year. For those who may not know, it is called António Gaio Award - National Competition for Portuguese shorts.
António Gaio was director of Cinanima for 35 years, changing it into the most prominent Portuguese animation festival . He wrote the most complete book about Portuguese animation (History of Portuguese Animation Cinema: Contributions, 2001); and I had the honor to know him, with my participation in the festival in 2005, 10 years before his death). So, I think that his name is perfect for the Portuguese session award of the festival.
The lineup of films from this year are:

Us, The Slow Ones, 5 min, by Jeanne Waltz, 2020.
"A visual essay-poem about our relationship with time".
The short shows a passage of time by sensations, calm in a minimalist way, with few drawings and elements.

September, 4 min, by Ricardo Mata, 2020.
"Lisbon invites you to get to know its lights, colors, and sounds. However, little by little every intimate detail of the city begins to change, adapting to a new reality and morphing into a new place"
.
The film questions the viewer about the urban limits of Lisbon, presenting the international demographic of the city. This is a critical and documentarian point of view.

Thorns and Fishbones, 10 min, by Natália Azevedo Andrade, 2020
"Three small children and their mother live in a peculiar, hostile house, which is both their shelter and their prison".
Natália's film is a kind of familiar drama: a mother and her three children closed in a house, with the film witnessing their attempt to escape. In some way, the short retreats the condition that we are living in nowadays. The aesthetic uses real images for the backgrounds and props in the house and drawings for its characters and the outside.

Rethink - Muhammad Munir, 4 min, 2020
"Muhammad is 13 years old and lives in Amadora. Like his father, he likes watching airplanes. He enjoys math, English, and playing with his friends. He gets along with everyone in school, but sometimes unexpected pranks take place".
Rethink - Mamadou Baldé, 3 min, 2020
"Mamadou is 13 years old. He came from Guinea-Bissau and now lives in Lisbon, Portugal. Mamadou loves football and basketball. For him, there are no barriers to forming a winning team".
These two productions have Pedro Serrazina as director. They were the result of a Rethink European project developed at Lusófona University. "Its general objective is to prevent vulnerable audiences from starting a process of radicalization by offering them resilience and critical thinking mechanisms, as well as convince those already engaged within a process of radicalization to abandon it or dissuade them from going further by providing an alternative narrative that deconstructs extremist rhetoric, to change violent behavior" 

The Community heroes, one of the seven categories of the Rethink project is related to religious discrimination. These shorts also have now acquired a meaningful contemporary place and resonance, and documentarian aspect. Mamadou Baldé uses cut-out and drawings, but both shorts show the children and their real selves doing (as children commonly do) a brief resume of their lives.

So but not so, 10 min, by Pedro Brito, 2019
"Encouraged by his father to not waste his time indoors playing video games, a young boy ventures outside to meet his neighbors".
With affable visuals through a few colors and drawings, this film lights up the need for the children to socially and emotionally interact with others and the real world - not just the virtual ones. The short shows us the positive consequences of this practice.

Solstice, 3 min, by Bruno Carnide, 2020
"When there was no longer a difference between day and night, and the air became almost unbreathable, a man walks with a mission."
The short presents a very interesting viewpoint, giving a lonely feeling with an intimate narrative point of view.

Tie 11 min, by Alexandra Ramires, 2020
"During twilight, two characters try to adapt to each other."
Alexandra leads us back to her visual traces and engraves to this short, as she had created in her short Drop by Drop (2017). However this time, the surreal look to construct the narrative is stronger. The short talks about life, death, and the balance of the opposites.

Table, 10 min, by João Fazenda, 2020
"A large group of people gathers around a table for a meal. We can't tell if they're family or friends. Food is served under a noisy, almost circus-like atmosphere."
This short uses a most collective focus; it presents what happens around a big table during a familiar meeting. This is a comical, descriptive, and a fine, critical visual narrative -also found in many others short from Portugal, such as Chicken Stew (Joana Toste, 2008), The Cardboard Head (Luís da Matta Almeida, Pedro Lino, 2011), and Cof Cof (Zepe, 2000). These shorts have a very different narrative and aesthetic form for their storytelling compared to Tie or Solstice, for instance.
Resuming my impressions: what called my attention in this session was a) the  four productions from  a single academic institution b) the social narratives present in five films of the competition em, and c)  the total predominance of the 2D visuals and drawings. I think all of these are very significant, as well as the importance of the Portuguese Animation schools (four shorts are from Lusófona University).
Another point that I do think deserves consideration is the influence in the construction of the narrative -and even the visuals- from Belgium, France, and Eastern European animation film. The heavy presence of animation documentaries needs to be noted as well. After Waltz With Bashir (Ari Folman, 2008), the "animadocs" narrative form has definitively achieved its place in animation festivals.
Trying to predict the awarded short is not an easy task;I think this is a balanced session. However, I could risk my chances and choose between Tie and Table, probably granting a Special Mention to one of the Serrazina's shorts or Ricardo Mota.
And remember: Everyone can watch this and other sessions of Cinanima, just need to get a pass. And from your sofa, you can appreciate the works of the monsters of international Animation, like Bronzit, Hykade, and Trnka. You can choose reading the catalogue as well.
contributed by: Eliane Gordeeff
SIGN UP: Want to read more free articles like this? Sign up for Our Newsletter