Interviews
'I Like Animation Projects That Go Deep Into the Subject': Interview with Saskia von Virág (Swiss Animation Portraits 2022)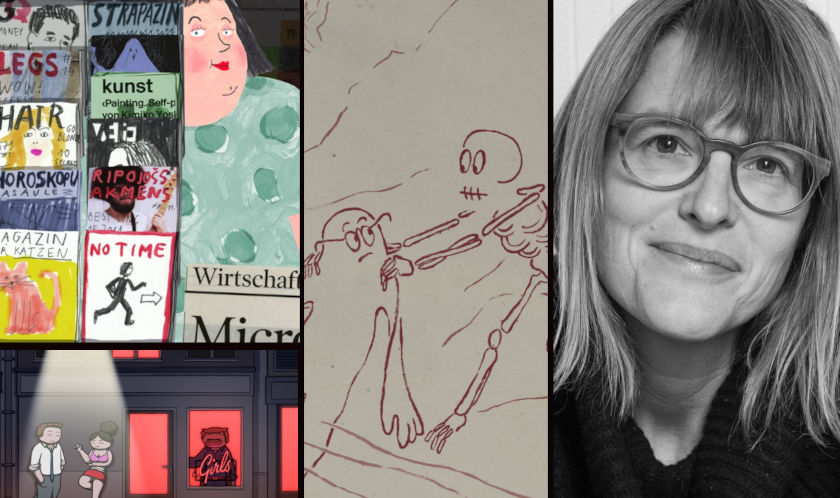 Zurich-based animation producer Saskia von Virág has a lot of indie successes in the animation festival circuit and is a member of the selection committee for the Fantoche Festival since 2013. Her background includes music and cultural management. She ran her own booking company with a focus on contemporary jazz and obtained a Master of Advanced Studies in Cultural Management at Lucerne University of Applied Sciences and Arts - HSLU.
Her track record as a producer with Virage Productions includes 'Signs' (dir. Dustin Rees), 'Analysis Paralysis' (dir. Anete Melece, 2016), 'The Kiosk' (dir. Anete Melece, 2013), 'DuoDrom' (dir. Basil Vogt, 2019), 'Lah Gah' (dir. Ceclie Brun, 2019), and 'Gipfel-Gig' (dir, Lukas Egger und Bernhard Bamert, 2011) -being also a board member of the GSFA – The Swiss Animation Association.
This is a highly eclectic record of films for a person whose trajectory has been a similar one. With a Hungarian origin, Virág means flower in Hungarian, but Saskia von Virág can't speak the language. She notes, though, that the word 'virage' in French means 'turn'; so, perhaps Virage Film productions are films that take an unexpected turn.
But this is not everything. 'My background is more in music. I come from a very musical family and I played double bass for half my life', Saskia tells Zippy Frames. 'I worked many years in the Artistic Administration Department of the Zurich Ballet Company at the Zurich Opera, but only part-time. During the rest of the time, I managed contemporary jazz bands'. Her animation career kicked off when one of the bands she managed wanted to make a music video';  Live-action films were thought to be expensive at the time, so why not make it in animation (presumably much cheaper)? The expectations of swift animation outcome combined with a smaller budget expectation were soon to be discredited, and the Swiss animation producer-to-be had learned her lesson. Yet, she continued to produce in the medium she already loved a lot.
The madcap claymation film 'Gipfel-Gig' (2011) by Lukas Egger and Bernhard Bamert was the first-produced film by Virage Film. Swiss Radio and Television SRF co-produced the film. When Saskia thinks back on her first film as a producer, she can still feel her adventurous and nonchalant spirit.
'We all learned everything from scratch', she mentions. 'The film funding is completely different from the jazz band management'. The red tape was increasing, and stop-motion also entered the equation. But the whole team being novices, it actually helped co-operation; and shows in the final output.
'Gipfel-Gig' and the SRF film executive (Catherine Ann Berger) made Saskia remain in the animation-producing world. 'She connected me with Anete Melece, who approached me with 'The Kiosk'; and 'The Kiosk' is still a "hit film", I had so much luck that this was the second film that came to me; it was really a great opportunity.'
Anete Melece's 7-minute 'The Kiosk' was a quite fast process for Saskia ('from the first contact with Anete to the premiere it only took 1.5 years, including the whole funding process. But of course, Anete had already worked on the idea for another 1.5 years during her studies'). The phenomenal success of the Latvian animation director's film (a children's book based on the film was released and translated into 20 languages and recently, there has even been an opera in Düsseldorf based on the Kiosk film!') put Virage Film on the map, solidified after the film won the Swiss Film Award (Best Animation) in 2014. Incidentally, it was the night of the Swiss Film Awards that the concept for Anete Melece's second film, 'Analysis Paralysis' was conceived - pressure sometimes works in creative ways.
'Producing animation is a long-term process', Saskia explains. 'I have to be very comfortable with the subject. And I have to have the will to really engage with this particular subject with this particular filmmaker. I have to go deep in and I have to be ready to do this. And it has to be the right project at the right moment and it should also fit in my filmography'.
Anete Melece approached Saskia von Virág with the storyboard for her graduation film 'The Kiosk' at HSLU ('it had a different ending back then', Saskia explains). The director pitched her project more than once until Saskia von Virág was finally persuaded to engage. 'Anete is such a great person, everyone loves her, it's a dream to work with her really. She has these good vibes and everything'.
Even though Virage Film welcomes all techniques, Saskia admits she has to be 'very picky' in selecting projects, simply because of the long gestation time it takes for animation projects from start to finish. At the same time, she tries not to micromanage things, even though she needs to take responsibility for the artistic outcome.
'I like when the core crew is not defined yet when a filmmaker approaches me with a project, that we talk about it. Music, for example, is always very important to me. And, of course, I have my experience with different people for key positions which I like or in the future would like to work with'. Yet Saskia von Virág sees her role mostly as an enabler and a facilitator rather than a full-time advisor. 'I try not to really give too much feedback and block the creative process; on the other hand, I collaborate with a network of great artists to get feedback for the projects, among others Michael Frei and Rafael Sommerhalder.'
Saskia von Virág has also some fine words to say about Basil Vogt, the director of the doppelganger quirky film 'Duodrom'. 'Basil is a wonderful person and a fantastic artist. On top of that, he's also structured and organized – a joy to work with.' (watch the film on VOD)
The collaboration with Dustin Rees ('Signs') started when the director approached her with a storyboard that looked completely different than the finished film, 'but liking the idea he pitched and knowing Dustin's previous projects I was convinced that he can make something out of the idea.' A filmmaker's earlier projects are important for Saskia, they give a reference to the person and their work and help her decide. 'It's a mix between the person, the project itself, and what I see from previous films; this all tells you the direction a project could take, and what the director could do with the idea. 'And Dustin is also a very passionate and committed filmmaker - and a full-blooded cineaste'.
The experience with Cécile Brun, the director of 'Lah Gah' was similar. 'Cécile was a first-time filmmaker and approached me with a rather experimental pitch. But I like projects that go deep into the subject and Cécile was really deep into this. It is very important for me that I feel the filmmakers' confrontation with their subject. The project was compelling for Cécile and she had a clear artistic vision – which I like a lot'.
It is no wonder that these artistic projects are a world apart from commissioned film projects. 'I never did a commissioned project; it's a different language which I don't speak - and they don't speak my language' Saskia von Virág continues. But in general, she's open to possibilities of artistic-driven commissioned projects.
This opens up the discussion on film funding. There are three major pillars for funding a short film: The national film funding provided through the  Federal Office of Culture, the regional funding, i.e. Zurich Film Fund, and Swiss Radio and Television SRF / SRG SSR. To finance a short film it's ideal to have all three of them. And obviously, they carry their own expectations ('i.e. if you ask for 10,000 Swiss Francs in Zurich, you have to spend 15,000 CHF in the process of making the film').
On the other side of the equation, a film's release is also important. Virage Film collaborates with distributors and world sales like Bonobostudio and Interfilm Berlin.  'The life of the film starts and I don't want to miss anything there', she insists. 'We cannot afford to miss an important festival because we missed the submission deadline'. At the same time, research for the right festival is important ('many of the festivals take a submission fee nowadays, and there are even fake festivals; it's a real jungle out there'). Questions regarding the longevity of the festival, the number of shorts they accept, the existence of a (separate) animation category, and the question of potential fitting in within the festival program. 'You have to do some research there, you cannot send it everywhere. That's important, or you will spend too much money otherwise'.
Virage Film has currently one animation short in production, ' Die graue March' [Working Title] by Charlotte Waltert and Alvaro Schoeck ('in full process'). And three films in development: 'Reiss dich mal zusammen' by Marion Täschler (in competition at Animafest Zagreb 2021 with her graduation film 'Alleswasichberühre', her latest financed for development), 'Canard & Choucroute' by Eloi Henriod ('waiting for financing') and the new film of Anete Melece, 'Tomorrow will by sunny', again in cut-out animation ('probably analog cut-out animation this time').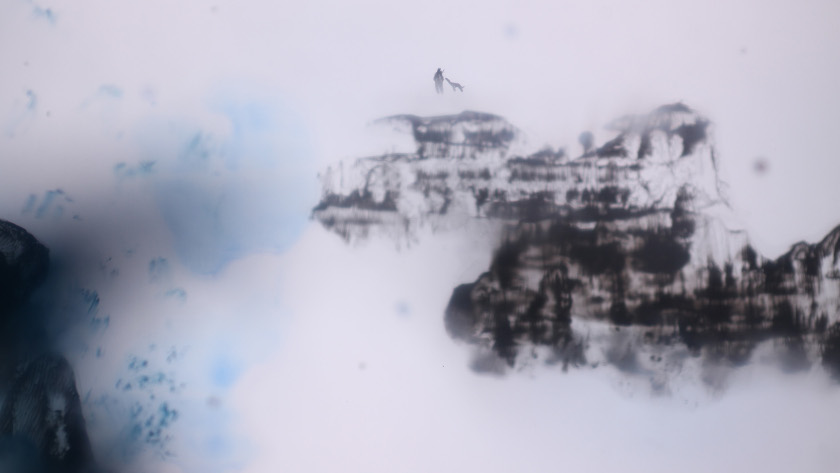 Die graue March Key Visual
Reiss dich mal zusammen
Saskia is also part of this year's Annecy Festival jury (Short Film Competition). 'The festival is incredible' she mentions. 'I love getting lost in the streets on my rent-a-bike, meeting people from all over the world, the lake, the city, the vibes, the parties, the various animation events, and of course watching films until my eyes flicker'. Annecy Festival has a special focus on Switzerland, and the jury duties are 'an honor, a responsibility and a challenge' for Saskia von Virág - still, one that she looks forward to.
Swiss Animation Portraits 2022 series is conducted in partnership with Swiss Films.
SIGN UP: Want to read more free articles like this? Sign up for Our Newsletter