Awards & Prizes
Song of the Sea Wins at European Film Awards
The Irish production of Cartoon Saloon  (co-produced withMélusine Productions, Big Farm, Super Productions, and Noerlum Studios) was the big winner in the Berlin cermony (12 December 2015) of an award which celebrates the best in European filmmaking.
 Song of the Sea tells the story of Ben and his little sister Saoirse – the last Seal-child – who embark on a fantastic journey across a fading world of ancient legend and magic in an attempt to return to their home by the sea.
The film takes inspiration from the mythological Selkies of Irish folklore, who live as seals in the sea but become humans on land. This is a very suitable bookend for a film which was nominated for an Academy Award in 2015 (Moore's second nomination after The Secret of Kells), and now goes on to win the big European prize for best European animated feature.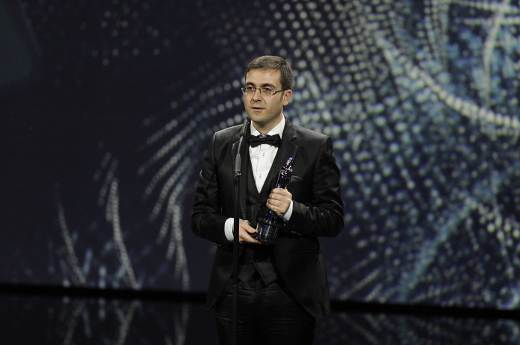 Tomm Moore at the 28th EFA (photo credits: EFA/API/Michael Tinnefeld)
 EFA Awards may not have the glamor of the Oscars, but at least pinpoint in animation achievements that their US counterpart tend to ignore, employing more than 3,000 European film professionals to the purpose.
The Italian The Art of Happiness (Alessandro Rak), Ari Folman's The Congress, the Czech noir Alois Nebel (Tomas Lunak dir.) have all been awarded the best animated feature.
In a backstage EFA interview, Moore goes strong for European sensibility:  I think European independent animation has a unique point of view stemming from our long history of visual arts and story telling that is very special to these countries. Our folklore and our visual sensibilities set us apart.
Song of the Sea won over the French Adama (Simon Rouby, 2015) and UK Aardman's Shaun the Sheep: The Movie (Richard Starzak, Mark Burton).
Read More About: