Festivals
Take Me Please, Egg in the Primanima Winners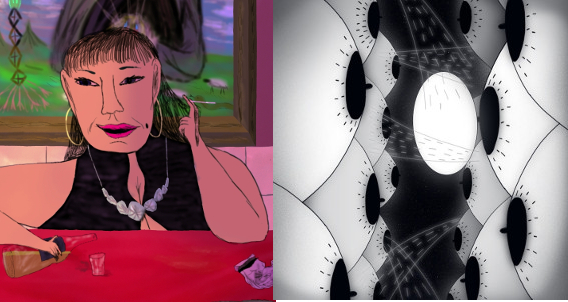 Grand Prix: Take me please. Hegyi Olivér (HUN)
The boy hesitates, but he isn't strong enough to break up. Finally the girl calls it quits, and when they meet again, the girl is with her new boyfriend. The boy is shocked, he wants to escape, so he tries to hitchhike. The surrealistic journey reflects his mood swings.
Jury Statement: An escape from the great questions of life in the direction of emptiness.
Best First Film: Egg. Martina Scarpelli (FRA/ DEN). Have you considered food as a choice rather than a requirement? Have you ever considered your home as the ideal place to be ill in total security? Have you ever felt sexual pleasure when eating something? I have.
Jury Statement: Through geometric forms the film gives an insight into the lonely struggles of a person with body dysmorphia
Best Graduation Film: Muteum. Äggie Pak Yee Lee (EST). A teacher takes a group of mischievous children on a tour of an art gallery.
How should we behave in a museum? Respectfully, being in silence, in reverential awe or just how we live our normal life? And please do not smoke in the restroom.
Best Student Film: Bless you. Paulina Ziółkowska (POL). Everyone gets sick of everyone. But things become really bad when you get sick of yourself.
Jury Statement: A tiny everyday psychological event evolves into a grandiose universal nightmare.
György Palos Special Mention: Off season. Láng Orsolya. Statement: An unexpected gulf gets two lonely people in the off season at the seaside. I award this film for its playful storytelling and for its the simple but expressive visual composition.
Kreet Paljas Special Mention: A blink of an eye. Kiana Naghshineh (GER). Statement:  For the impressive camerawork while depicting a street attack from three different points of view."
Tomek Ducki Special Mention: Unsafe Land. Szėnási Marcell (HUN). Statement: Film about a town, where everyday situations can have a tragic endings, and where the adorable adolescent aesthetics and rhythmics of the "rumpus" stays with the viewer for a long time
Georg Pal Prize (for the most promising work in Hungarian animation) : Not yet. Varga Timea. 
Jury Statement: The director invites the viewer into her own visual world.
PRIMASOUND MAIN AWARD
(best sound design: Lucia BULGHERONI:
Inanimate
(GBR) / Sound designer: Louise Patricia Burton
Special mention 1: Jelena OROZ:
Two for Two
(HRV) / Music and sound: Dinko Klobučar, David Lovrić
Special mention 2:  Morten TŠINAKOV, Lucija MRZLJAK: A Demonstration of Brilliance in Four Acts (EST) /  Sound designer: Horret Kuus

TIBOR CSERMÁK AWARD
(audience award for the most popular Hungarian children's film):  Kristóf JURIK: The Grickles −
Everyone Should Be a Grickle!
(HUN) and
István LUGOSI:
Crane Story from Hortobágy
(HUN)
MOST POPULAR INTERNATIONAL CHILDREN'S FILM audience award
: Johann ETRILLARD: It's Pressing! (BEL)
THE SPECIAL MENTION OF THE CHILDREN'S FILM JURY: Eva CVIJANOVIC: Hedgehog's Home (HRV/CAN):
A magical adaptation of a classic tale. The material is brought to life, the genres are mixed together in an organic way. The deep thought behind the film which gives a lot for adults too makes the film exceptional.
THE MAIN AWARD OF THE CHILDREN'S FILM JURY:
for the best children's film: Kateřina KARHÁNKOVÁ:
The Fruits of Cloud
s (CZE).
Statement:
We are giving the main award for a film, with adorable characters which speaks for children in an a lighthearted but also in a poetic manner about the fight against the
unknown, selflessness and about the service of others
.
THE PRIMALTER JURY'S  FAVOURITE FILM:
Maryna MILIUSHCHANKA:
Sowing
(GER)
THE STUDENT JURY'S FAVOURITE FILM
:  Eszter MOLNÁR:
Mercy
(HUN). They would like to mention also:
Samuel PATTHEY: Travelogue Tel Aviv (CHE) Samuel Patthey made Tel Aviv's atmosphere in a very special visual world, he used very well the opportunities offered by a road trip, and Capucine MULLER: Maikeulboudjan (BEL): The playfulness of the jazz and the tenderness of the animation are very impressive.
Audience award for the most popular Hungarian animation: Zsombor CSONT: Fatherfreakout (HUN)
MOST POPULAR INTERNATIONAL SHORT FILM audience award Veronica Solomon: Love Me, Fear Me (GER)
Reporting for @zippyframes by our ZF contributor, Kropka
The 7th Primanima World Festival of Animations took place between 24 and 27 of October 2018 in Budaörs.
SIGN UP: Want to read more free articles like this? Sign up for Our Newsletter
Read More About: