Animocje Festival: Selection Results 2023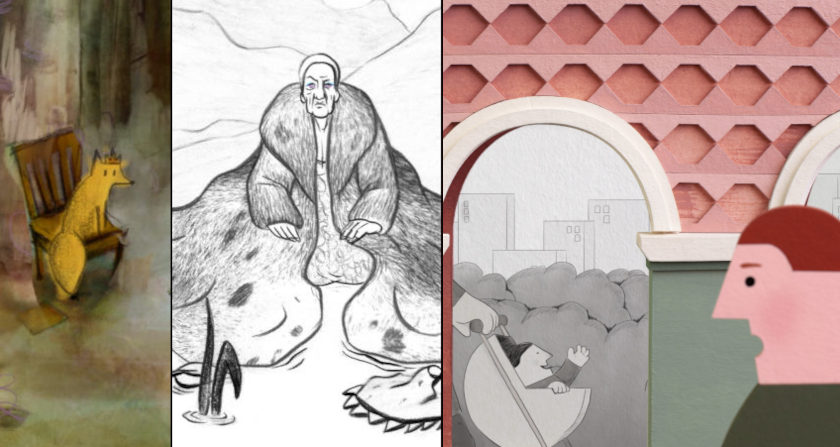 Animocje Festival  (its 12th edition in Bydgoszcz, Poland, 16-22 April 2023), has a tradition of acknowledging both the artistic and the media-relevant in animation. It includes 3 competition categories, the International Competition for the Bydgoszcz Award for the Best Animated Film (which gives the Grand Prix and Best Polish Film), the Films for Children and Young Adults Competition, and its Music Video Competition. 
The Play-Off programme includes films not in competition; yet, the audience has the option to select one film to be 'the wild card' that will enter the festival's competitive section.
Špela Čadež (Steakhouse), Marta Pajek (Impossible Figures and Other Stories I), Tal Kantor (Letter to A Pig), Diana Cam Van Nguyen (Love, Dad) are some of the strong names that feature in the Polish festival's international competition -which also has a strong children's section.
The full list:
International Competition for the Bydgoszcz Prize for the Best Animated Film
‍Wild & Woolly, Alan Jennings, USA
‍Small Hours, Marta Sniezek, Christian Spurling, Ireland
‍Very, Very, Tremendously, Guangli Liu, France
‍Louis I. King of the Sheep, Markus Wulf, Germany
‍Garrano, David Doutel & Vasco Sá, Portugal
Patient's Mind, Zhiheng Wang, China
‍One Last Wish, Based on "What, Of this Goldfish, Would You Wish?", Etgar Keret,     Galia Osmo, Israel
‍Mr. Xifro's morning, Marc Riba, Anna Solanas, Spain
‍Slow Light, Kijek/Adamski, Poland
‍Steakhouse, Špela Čadež, Slovenia, France, Germany
‍Love, Dad, Diana Cam Van Nguyen, Czech Republic
‍Letter to a Pig, Tal Kantor, Israel
‍Night of the Living Dread, Ida Melum
‍Miracasas, Raphaëlle Stolz, Switzerland
‍A brief history of us, Etgar Keret, Poland
‍3 geNARRATIONS, Paulina Ziółkowska, Poland
‍Impossible figures and other stories I, Marta Pajek, Poland Canada
‍Blooming brain, Edyta Adamczak, Poland
‍Half empty, Katarzyna Orłowska, Poland
‍Despera, Alicja Liss, Poland
‍Kate is Not Alone, Viktória Réka Szekér, Hungary
‍El After del Mundo, Florentina Gonzalez, Argentina
‍Above the clouds, Vivien Hárshegyi, Hungary
‍Spheres, Anais Scheeck, France
‍On the bottom of the laundry bag, Adele Razkövi, Austria
‍Juice, Mona Keil, Germany
‍Hot Buns, Calleen Koh, Singapore
‍Amok, Balázs Turai, Hungary
‍The square city, Ruth Lam, On Wa Chow, Ka Lok Liu, Hongkong
‍Whale's song, Adeline Faye, France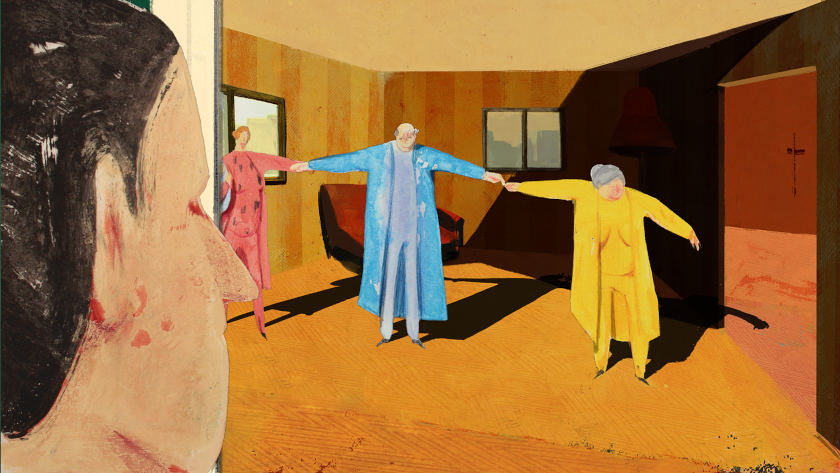 ‍3 geNARRATIONS
‍
Films for Children and Young Adults Competition 3+
‍Franzy's Soup-Kitchen, Ana Chubinidze, France
‍Luce and the Rock, Britt Raes, Belgium
‍Odo - Piosenka Dudzi (odc. 4), Mikołaj Pilchowski, Piotr Szczepanowicz, Poland
‍Spuffies, Jaka Ivanc, Slovenia
‍Little rain worms, Jitka Procházková, Czech Republic

5+
‍Giggle Wiggle – Hot Summer Day, Marzena Nehrebecka, Poland
‍Tankboy, Novella, Singapore
‍Toying Box, Vivek Prakash, India
‍Letters From the Edge of the Forest, Jelena Oroz, Croatia
‍I want to be a know-nothing-at-all- Petit T03, Bernardita Ojeda, Chile
‍I'm Not Afraid!, Marita Mayer, Norway
‍Lost Brain, Isabelle Favez, Switzerland

7+
‍The Queen of the Foxes, Marina Rosset, Switzerland
‍Snoozy the Badger, David Súkup, Czech Republic
‍The Turnip, Piret Sigus, Silja Saarepuu, Estonia
‍The Boy and the Elephant, Sonia Gerbeaud, France
‍Marea, Giulia Martinelli, Switzerland
‍Sister, Kasia K. Piróg, Poland
‍Death of The Gods, Leto Stojanovic Meade, UK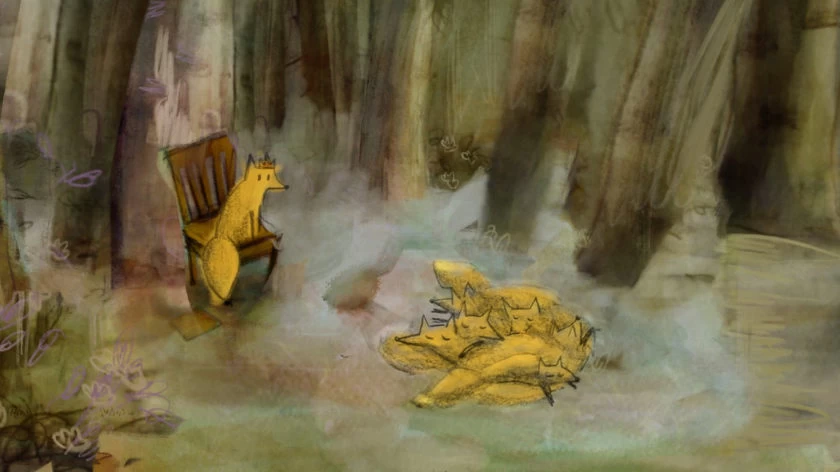 The Queen of the Foxes

12+
‍The Cave, Jinman Kim, South Korea
‍Home of the heart, Sarah Saidan, France
‍The Story of Chaos, Yu Qing Quek, Singapore
‍Black Slide, Uri Lotan, Israel
‍Old Gramophone's Ghostly Tones, Zuzana Čupová, Martina Tomková, Kryštof Ulbert, Czech Republic
‍Lovely Rita, Elena Madrid, Switzerland
‍Mr. T, Etienne HUSSON, France

15+
‍Death at the bus stop, Maja Kjellstad Aanonsen, Norway
‍Sierra, Sander Joon, Estonia
‍Holy Holocaust, Osi Wald, Noa Berman-Herzberg, Israel
‍How I Grew Up, Yufei Liu, Yike Cen, Jiawei Li, China
‍Cromosoma X, Lucia Bulgheroni, Italy
‍Oh So Convenient, Huei Jen Hung, Taiwan
‍Come On, Let's Live, Collective, Belgium
‍RISE, Nahuel Garcia, The Netherlands
‍The Garbage Man, Laura Gonçalves, Portugal
‍
Music Videos Competition
‍Transparent Black and Iron Rich Red, Mario Kreill Cirillo, Isabel Emily Wiegand, Italy
‍Fuites Cathodiques, Charlie Mars, France
‍Bullshit Assymetry Principle, Ugo Vittu, France
‍Mamour, Vladimir MAVOUNIA-KOUKA, France
‍Built To Spill - Gonna Lose, Jordan Minkoff, Lee McClure, Canada‍
Object of Life, Jack James Parry, Australia
‍El Huracán, César Pérez, Spain
‍GIVE ME RICE, Jin Woo,
‍Observatory, Wiesia Ruta, Poland
‍Cool Party, Simon Medard, Belgium
‍Zen for TV, Aga Jarząb, Maciek Bączyk, Poland
‍Day In My Dream . Pei-Hsin Cho, Taiwan
‍Estem estalvis – Picot, Daniel Pitarch, Spain
‍Hungry Ghost, Guido Devadder, Belgium
‍I Am Machine, Robbie Shilstone, USA
‍A Shaman's Tale, Jules Guérin, France
‍In Harmony, Markus Svendsen Øvre, UK
‍Water Lullaby, Piotr Kaźmierczak, Poland
‍Los colores del niño dios - Las monjas en celo, Santiago Pérez Rodríguez, Colombia
‍Be Gone, Sijia Luo, China
‍ECHT! - 500GR, Simon Breeveld, Belgium
‍Lame' – PowerSnap, Meital Ner, Israel
‍NADASÉ – Fuzzy Bumble, Łukasz Rusinek, Poland
‍
‍Play-off
Filmyzakwalifikowane do "Do-grywki" będą oceniane przez widzki i widzów.Animacja z największą procentowo ilością głosów wejdzie z dziką kartą doKonkursu Międzynarodowego.
‍Passenger, Juan Pablo Zaramella, Argentina,
‍Birds Whose Legs Break Off, Dirk Verschure, Germany
‍Seniors 3000, Julien David, France‍
A Goat's Spell, Gerhard Funk, Germany
‍Yugo, Carlos Gómez Salamanca, France
‍Sisters, Andrea Szelesová, Czech Republic
‍Salvation Has No Name, Joseph Wallace, UK
‍The Smile, Erik van Schaaik, The Netherlands ‍
A Film About a Pudding, Roel Van Beek, UK
‍Bear Hug , Margrethe Danielsen, France
‍The Pink Jacket, Mónica Santos, Portugal
‍An Evening With Father, Zachary Margolis, USA
‍Friday, Ramtin Serajpour, Islamic Republic od Iran
‍Woman Child Husband, Kushal Kishore, India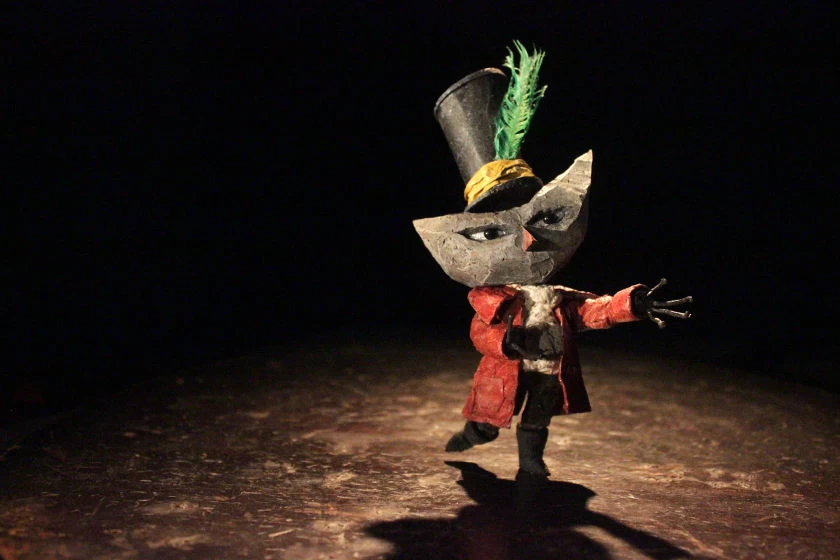 Salvation Has No Name
The 12th International Animation Film Festival Animocje will take place 16-22 April 2023 in Bydgoszcz, Poland.
SIGN UP: Want to read more free articles like this? Sign up for Our Newsletter
Read More About: