Reviews
The Wolf Children Ame and Yuki: Can't learn everything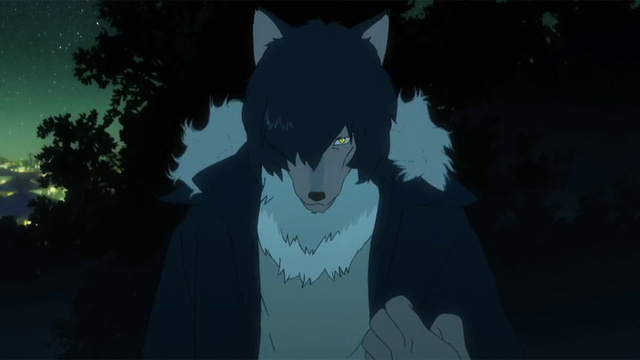 The opening and closing lines of Wolf Children, the new film by Mamoru Hosoda (Girl who leapt through time, Summer Wars) want to make evident that this is not a fairytale, but rather a story that may celebrate diversity.
Athenians failed to accept Socrates' diversity and condemned him, for he corrupted the youth. However, the young Hana who studies Classics in the college of an urban environment, and always has to smile, can fall in a love with a boy, who in reality is a wolf-man.
Everything seems to go as planned and, after a daring (but children-friendly) glimpse of a loving scene between a wolf and a human, two children are born in two years' time, Ame and Yuki.
The caring but genetically doomed Wolfman will leave too soon from Hosoda's film frame, and will never have the funeral a human person would enjoy.
From that moment on, Wolf Children is a painstaking exercise of how to raise two children by one's own efforts. Like a Japanese Sally Field in A Place in the Heart (1984), Hana has to raise her wolf-children in a rural environment, constantly preserving their common secret.
She studies a lot. She consults books on growing potatoes, books on living with wolves, and, instead of dramatic tensions, the film transfers Hana's angst to raise her children in the best possible way. She is to be helped by the initially grumpy, but predictably helpful neighbours. For a moment, Wolf Children embodies the utopian ideal of acceptance of individual difference inside a pre-capitalist society.
Unlike the germane Day of the Crows, no conflicts between individual and society will be faced here. Hana's social acceptance moves the focus to Ame and Yuki themselves.
 Both are adorable and cute, and Yuki is the most hyperkinetic of the two (who sometimes adopts Ponyo's gait). She's the one who has to be warned, whereas Ame is the weak one, who needs comfort. However, if they were not for the wolf ears suddenly appearing and disappearing, noone would mistake them for wolf children. Their identities were strictly attached to the human race - but to the child status.
That is why it is so incongruent that, when school worries arrive, things will change so much between the two siblings. Yuki is meant to have a boyfriend, and the shy Ame will no longer cater for his homework.
All Hosoda characters do not completely belong to their environment, but the problem with Ame and Yuki is that they alternatively try to hide that difference for too long in the film. This makes all dramatic confrontations that ensue rather delayed and forced. On the other hand, the poetic realist tone of the film seems to strangle its narrative rather than letting it express its peculiar theme. The only scene where a real visual joy between man and wolf ensues is the snow scene, with Hana and her children laughing instead of just smiling (not to mention the dramatic search for Ame that ensues).
The final storm scene brings Miyazaki into mind, but has nothing of the grandeur or the tension found in Studio Ghibli films, even though the yellow raincoat Hana wears is the most perspicuous outfit in the whole film.
Everything is settled from the start in Wolf Children; some things belong to wolves, and some things to humans. It is executed like a prescribed experiment: it delivers what it promises, but fails to excite.
Read More About: