Festivals
Toei Animation Brings Mazinger Z to Annecy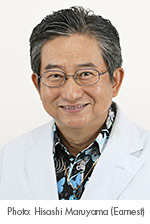 Toei Animation is producing a new opus of adventures for Japan's major manga Mazinger Z. 
 The manga  mwritten and illustrated by Go Nagai in the 70s was already adapted into an anime series, but this time it's hitting the big screen as a feature film in Europe and around the globe.
Go Nagai (b.  6.9.1945 in Wajima, Japan) is one of Japan's most famous manga artists.
Influenced by manga, film, popular Japanese folktales, and adventure novels, he became Shotaro Ishinomori's assistant and wrote his first manga Meakashi Porikichi in 1967. The following year he published a weekly manga, Harenchi Gakuen, which was a huge success that became a social phenomenon.
Some of his major works include Grendizer, Devilman, Mazinger Z, Great Mazinger, Violence Jack and Cutie Hone.
The film will add a new chapter to the adventures of the super robot.
45 years after its birth and 50 years since I started my career as a manga artist, this is truly a year to commemorate, the author comments.
Mazinger Z will be presented by Go Nagai on Wednesday 14th June from 4 to 5:15 pm, in the Grande salle at Bonlieu (Making of - Open to Meetings and Mifa badgeholders, by reservation).
Annecy International Animation Film Festival takes place 12-17 June 2017 in Annecy, France.
Read More About: