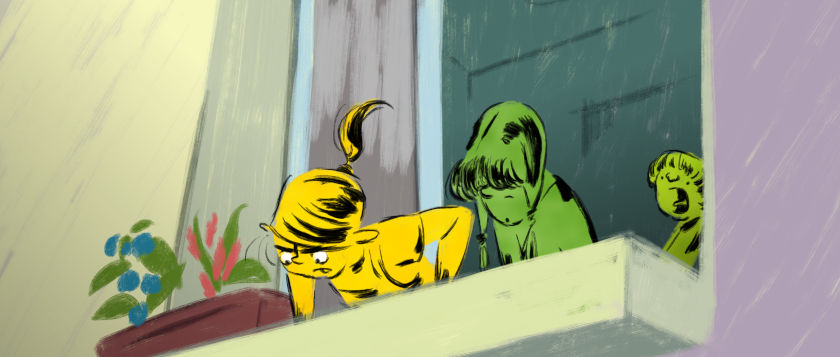 The new animation feature project by Sébastien Laudenbach is a comedy, co-directed with Chiara Malta. Here's the first look of Chicken for Linda!
In the small but rich independent animation world, the talk of the town after a successful animation film is always 'what happens next'. French animation director Sébastien Laudenbach, who penned the artistically successful  and fluidly designed Girl Without Hands (jury distinctions at Animafest Zagreb and Annecy Festivals, among others), returns with the comedy Chicken for Linda (Linda veut du poulet), here co-directed with Chiara Malta
Chicken for Linda! (production: Dolce Vita Films, MIYU Productions) was pitched during CARTOON Movie 2019 as a project in development with a culinary concept.
Paulette realizes she has unfairly punished her daughter Linda. To make up for it, she promises to cook her a chicken with peppers, even though she cannot cook at all. But where to find a chicken on a strike day, when all the shops are closed? - Film Synopsis
The follow-up to this problem is an animated comic adventure and a frantic chase which involves chicken, policemen, parents and children.
"The project started from a desire to make a film aimed at young audiences, which would be neither a tale nor a fantastic story" the directors tells Zippy Frames. " It all starts with an injustice, because it is something that concerns children a lot, that they experience very regularly. We want to make a film very close to them, which is itself like a child. A turbulent, not well-behaved child, the most disruptive for a class, a group, a society, but also the most touching one".
Watch the pilot trailer:
Visually, the film borrows elements from the previous animation feature, The Girl Without Hands; here it combines different styles and techniques, moving from realism to abstraction, from rotoscopy to simple figures. The question of free style is here important. "The context is realistic at the beginning, since the film is set nowadays, in a city. But it gradually deviates towards burlesque, or even magic. And the backgrounds will be rather pictorial, absolutely not naturalistic".
This is not the first collaboration between the two directors. Laudenbach was a co-writer's in Malta's live-action feature, Simple Women (2019, competing at Thessaloniki Film Festival). Their collaboration goes back at least to 2006, when Laudenbach became an actor cartoonist and animator for Malta's short film L' Isle.  They co-directed the short film Fox's Eyes (Les yeux du renard) in 2012. "Chicken for Linda is a true co-directed film. It was co-written and all the artistic choices are made in pair. It is an important dimension of the project, which will notably be able to give a very beautiful place to acting and direct sound, which will be rich and lively", the directors tell Zippy Frames.


Independent animation needs intelligent, stylistically alternative/abstract films for children, who should not be confined to the standard variety of US studio animation. Our hopes for Chicken for Linda! are set high -and so is our appetite.
Chicken for Linda!  is supported by France 3 Cinéma, Ciné+, Region Ile de France,Région Nouvelle Aquitaine and Région Hauts-de-France. Gebeka distributes the film in France. International Sales are handled by Charades. Film to be released in 2023.