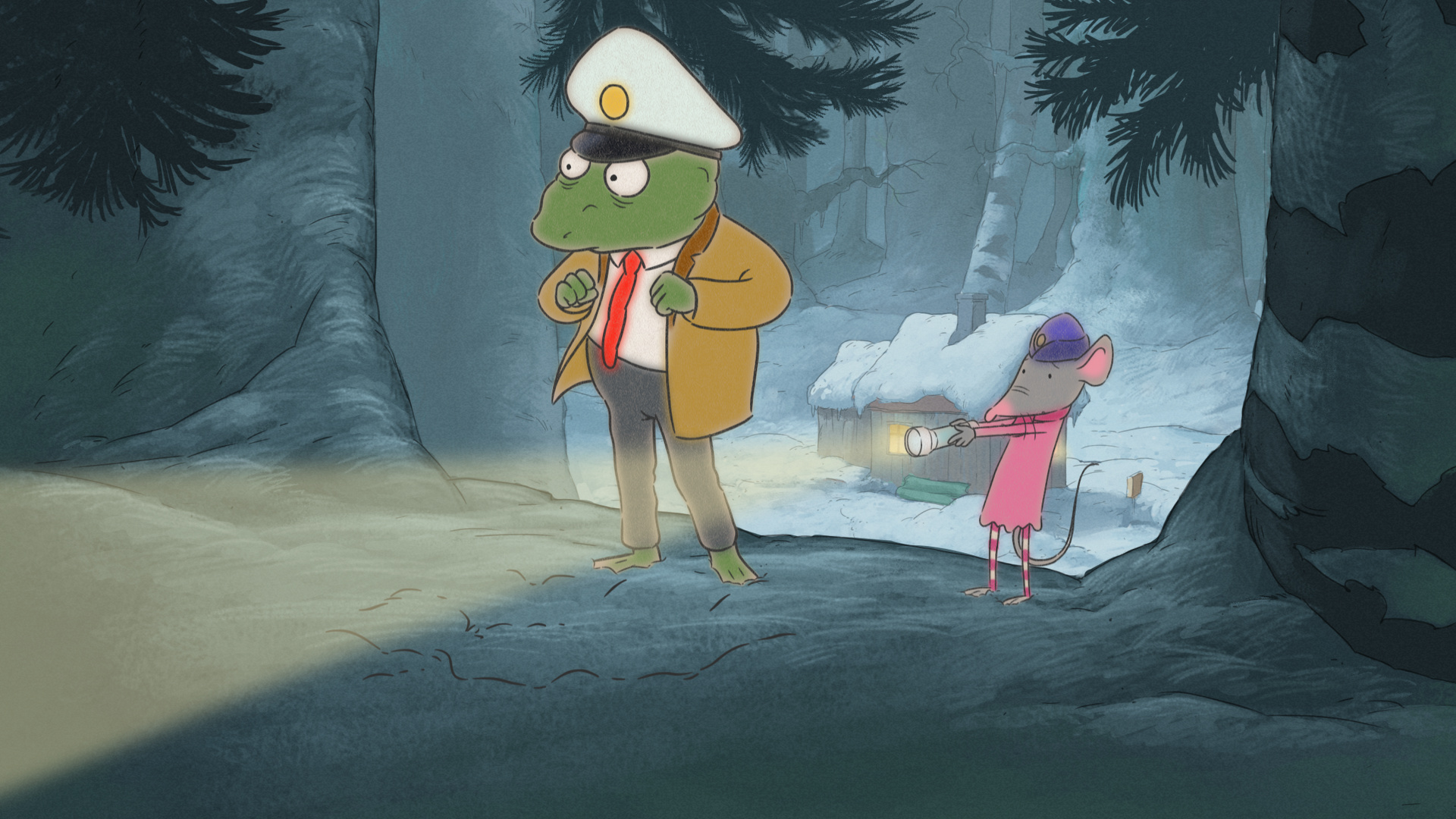 The 2D animation feature competes at the Generation section of this year's Berlin Film Festival. Director Linda Hambäck  talked to ZIppy Frames.
Gordon and Paddy (Gordon och Paddy) new animation feature and police story by Linda Hambäck is one of those rare feasts that European animation has always done; a subject-matter for kids but without princes and princesses, an insistence on hand-drawn animation, and a collaboration with other creative arts (here: books for children).
The forest's police chief Gordon is about to retire and he needs to find a new assistant. Paddy, a clever mouse with a great sense of smell seems to be the right candidate. Together they have to solve Gordon's last case – the mystery of squirrel's missing nuts. Could it be the fox that took them? Gordon and Paddy will soon find out. - Film Synopsis
Based on a well-known trilogy of books on Detective Gordon by Swedish author Ulf Nilsson and Dutch illustrator Gitte Spee, the film enjoys  a stellar voice cast, which includes Stellan Skarsgård (Breaking the Waves, Good Will Hunting, Mamma Mia, Borg/McEnroe), and Melinda Kinnaman (My Life As A Dog, Modus).
Produced and financed by LEE Film, Swedish Film institute, Film i Väst, Sveriges Television SVT,  and Nordisk Film& TV Fund, the film had its Swedish premiere on 22 December 2017 (via TriArt); however,  its international premiere takes place at the 68th Berlin Film Festival (Generation competitive Section, 15-25 Feb 2018).
Linda Hambäck is not unknown to Berlinale; back in 2011, she participated as a producer with director Jonas Odell and the short film Tussilago. Here, though, the material is clearly defined as kids' content.
'For children content, I do believe that they are one of the strongest festivals in the world, Hambäck tells ZF. 'I think it is so important put to focus and put content for children on the highest level. it's them who will rule the world one day'.
In many ways, Gordon and Paddy seems like a continuation of her 2014 short Tänk om..., which also deals with animal life. Both films are animated by Dockhus animation, a studio which has also worked for Joanna Rytel's Moms on Fire, and Niki Lindroth Von Bahr's The Burden) - with whom Linda Hambäck has worked with for the last 10 years. Both films relate to the animal life and the life of nature, which can be both magical and inquiring at the same time.
When I bike to work, which I do all the year around, even in the worst snowstorm, I love to have in my head the talk between two squirrels or a monologue with a spider. It just the magical thinking and playing – that is the treasure of my everyday work. Well, now in my next story I will need to have some humans in my head, but still not only humans, one Gorilla will be there as well – thankfully! - LH
The tone and pace of the original stories, and the fine character illustrations was almost love at first sight for Hambäck.
As there was three stories about to handle, me and the scriptwriter Janne Vierth talked a lot about what interested us the most, and then we added some more storyline regarding the Fox and the tales around her. Janne also brought out the story about the kids and their families with their backgrounds in the forest to make the storyline stronger - LH
Omitting some (unused) gun references from the book, the 62-minute feature still follows closely the content and the concept of the trilogy. With a miniscule budget of €2m, Gordon and Paddy didn't take that long from start to finish, at least for a European animated feature. Development and pre-production took 2 years - the film benefited at its early stages from the Creative Europe MEDIA (Single Slate Projects-  another year passed till the finished film appear. It has now been pre-sold to the Finnish Broadcasting channel YLE.  Les Film du Preau handles French distribution, while New Europe Film Sales is the world sales agent for the film. Linda Hambäck undertook the producer role in the film as well.
'The best thing of producing and directing is the total control – the worst thing of producing and directing is the responsibility of total control', Hambäck mentions. Breaking it down, this includes narrative, artistic direction, animation and more else besides.
Ola Larsson,  the Art Director and designer of the film, had the mission of bringing Gitte Spees wonderful world to the screen. Spees has used crayons, and Ola took her drawings to the big screen adding stronger colors and a fantastic touch of his artistic brushes. He also added wonderful backgrounds and depth with the forest of Gordon and Paddy. Each time you make an adaptation, it's so important for me that the material that comes out is very much related to the original story and illustration, but it also has its own touch. Both Ulf and Gitte have been very pleased with the result, and that is the best blessing - LH
Voice acting seemed to be relatively easy and fun experience.
I had worked with Stellan [Skarsgård] before in another film and I thought he would be perfect for Gordon. I sent him the script and he committed after one week, after that I asked Melinda. They are really my dream cast, together with Felix Herngren - who does Valdemar the rabbit so nicely as well.

When we go into the studio to do the recording, but also filming their movements and facial experience for the characters, they are all very much prepared for their roles. And, by that time, I usually have all the characters in my body: I have, for instance, printed all voices/dialogues to the animatic just for the timing. So, it's easy to listen, and direct small things here and there. We had so much fun together and they did a fantastic work to bring the characters to life -LH

Collaboration and direct consultation with Dockhus animation (based in Trollhättan, the Swedish film metropolis) was frequent during production for this mentorship story between an older and younger person that addresses pre-school children.
To be honest, I make films for my own will and sake, it just happens to be for a young audience. However I do use my kids and their friends as reference for certain things, for instance the Fox – how scary could I make her. We actually took down the sound effects of her in Gordon's dream, just not to make it too scary - LH
In the overwhelming flow of a particular look and feel of 3D computer animation features, Linda Hambäck is positive that 2D animation will indeed survive: 'The audience will have a need for a different kind of films. 2D animation is like poetry - it will outlast!'

Gordon and Paddy is directed by Linda Hambäck and produced by LEE Film / Film i Väst, with the support of Swedish Film institute, Sveriges Television SVT, and Nordisk Film& TV Fund. The film has already been pre-sold to YLE, and is distributed (Nordic countries) by TriArt, in France by Les Film du Preau; New Europe Film Sales is the film's world sales agent . It will have its international premiere during the 68th Berlin Film Festival (15-25 Feb 2018).