Reviews
Chico & Rita: the animated Casablanca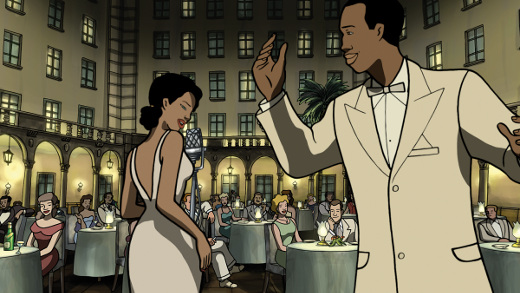 What would Casablanca be without "Play it again, Sam?" Chico and Rita by Fernando Trueba and Javier Mariscal directly references the famous film, and constructs a sumptuous and non-stop musical romance that could compete in its doom with a whole Nazi batallion.

  It is rare to start a critique with reference to soundtrack and his gifted arranger Bebo Valdes, but Chico and Rita does not stand alone without it. The animated film is really a process from the 40s big bands to Cuban jazz, Dizzie Gillespie and Chano Pozo, while it leaves much to be desired with the immortal Besame Mucho.

Chico and Rita are both musicians (a pianist and a singer) that stick to one another out of pure desire: they meet and separate, they can eat beans and be naked beside the piano, but can also hate and despise each other.

Their relationship incorporates a version of A star is born: Rita rises into Broadway and Hollywood stardom, whereas Chico struggles to find a job in bars and cafes. Their sporadic meetings are fuelled with anger, misunderstandings, love and despair: what more human can one ask for?
External circumstances (apart from the ubiquitous neon commercials in 40s Havana) are irrelevant: political situation and the Castro revolution only play a marginal role in a film that settles for 24-hour passion, with an impeccable rhythm of feeling that ranges from acceptance to rejection and then back to Las Vegas reconciliation.
The colorful animation has broad lines, but is always poignant, and can reveal variety in Chico's dreaming sequence.
Chico and Rita
is a triumph in elevating an otherwise ordinary story into a mesmerizing romance.

Vassilis Kroustallis
CREDITS:
Chico & Rita, 2011
Directors: Fernando Trueba - Javier Mariscal
Music: Bebo Valdés, featuring music by Thelonius Monk, Dizzie Gillespie
Running time: 94'


Read More About: