Reviews
Dilili In Paris (Dilili à Paris) Review: Defending Modernism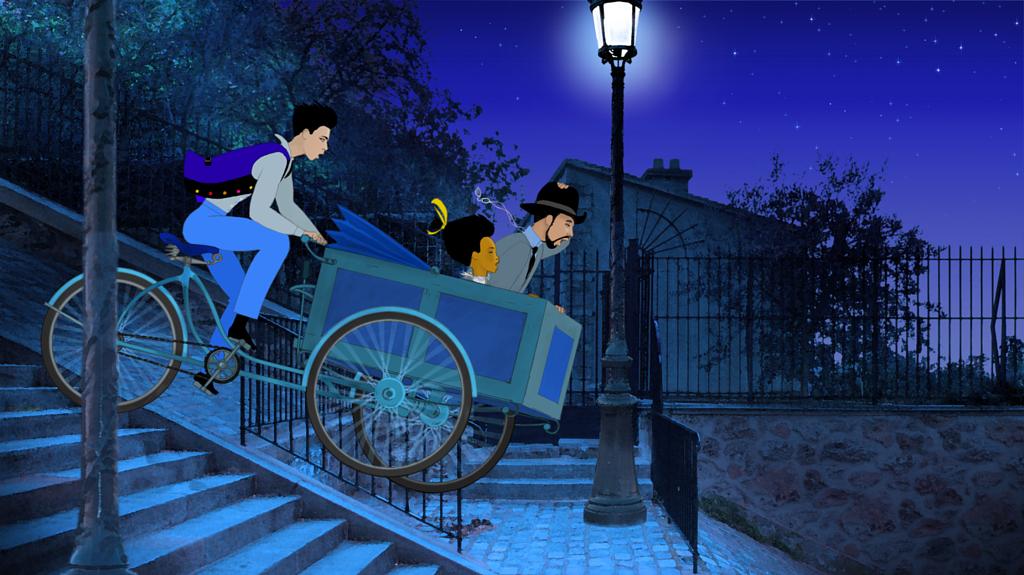 It would be easy to tell that Michel Ocelot comes (at last) to making a Paris-based (and a European-based) film after travelling in magic and wonder in Africa, Asia and so many worlds of princes and princesses. In reality, though, the new solid -but ultimately not completely satisfying- Belle Époque mystery of Dilili à Paris (Dilili in Paris).
Produced by Christophe Rossignon and Philip Boëffard of Nord-Ouest Films, in co-production with Studio O / Senator Film Produktion / Artémis Productions, with a backing support by Arte France Cinema, the film feels like a continuation of which has Michel Ocelot's ground-breaking Azur & Asmar (2006). Dilili herself (Prunelle Charles Ambron) is a young Kanak girl in Paris, which could easily pass as the twin sister of Kirikou, and possesses his determination and the curiosity of the other precocious princess in the Ocelot mythology, Azur & Asmar's Princess Chamsous.
Things are not easy for the yellow-ribboned Dilili, who will neither feel at home in her New Caledonian environment (people reproach her for her fair skin) nor in the Belle Époque Paris, where she can also become the subject of ridicule and exploitation, for corresponding skin reasons. Actually, the film itself starts with a Kirikou-like shot, only to reveal a cruel world of exploitation. Dilili's newly-found companion Orel (Enzo Ratsito), an older boy with a tricycle and a visage coming out of Azur and Asmar stories; Orel will help Dilili along the way, at the same time trying to investigate the mystery of young girls kidnappings in Paris.
Once more, Ocelot (who also wrote the script) is more than meticulous in period details -the director was granted access to most of the Paris' famous monuments and attractions. The story has Dilili and Orel joined with the famous French soprano Emma Calvé (Nathalie Dessay), a fairy who can sing better than the Disney fairies  (and dresses even more elegantly). What comes in the first and second part of the film is a "call to arms" of all signposts of Belle Époque Paris: (take  a breath) Renoir, Rodin, Monet, Degas, Camille Claudel, Toulouse-Lautrec, Picasso, Poiret, Valadon, Colette, Renan, Proust, Gide, Louise Michel, natole France. Debussy, Satie,  le Prince de Galles (Edouard VII), Pasteur, Eiffel, Marie Curie, Sarah Bernhardt. They all appear and have a (bigger or lesser) role to play in this salvation story. Without using the narrative post-mortem structure of Loving Vincent, Dilili in Paris, makes for an international whodunit where art is king.
There is more to that. Underneath the Parisian elegance, deep-seated hypocricy underlies, as well as the hatred against women who dare to stand out work out as a roller-coaster from the Montmartre hill to Orsay. The modern world, and especially the position of women into this world, needs to be defended against the Dark Ages of conservatism and Les Mâles-Maîtres (a nod to a futuristic Langian Metropolis, referenced here more than once).
That the army of the good should defend against the prejudice and injustice still remains an honest cause in this globalizing world; the anti-vaccinist movement should look closer  at the scene (dramatically well-placed) where Orel is beaten by a dog with rabies, and runs to his rescue. Shock, horror and finally treatment ( by Pasteur himself) makes more than a hundred academic articles to persuade even the infidels for vaccination.
Ocelot and MacGuff have perfected the aesthetics of 3D flat (and sometimes silhouette) appearance of characters since Azur and Asmar, and Dilili in Paris is no exception. Sculpted faces and the juxtaposition of dissonant yellows and blues make it the case that something extraordinary is about to take place.  Real photos (taken by the director himself over the years) are now here introduced and edited as the film's backgrounds, and they make for an eerie version of Belle Époque Paris, where everything is about to take place -as long as the characters act to that effect.
Structured in this Enlightenment/Modernist way, Dilili in Paris chooses not to succumb to neither the languid sensationalism of Woody Allen's Midnight in Paris nor the noir atmosphere of Jean-Loup Felicioli  and Alain Gagnol's A Cat in Paris (2010); so, the shortcomings of the script itself look the more evident when the cause itself wears out. Real drama (rather than an adventure series) has hard time to register in the film, where even Dilili's own back story of mixed origins is quickly resolved. Famous encounters won't function as more than awe-inspiring artistic exhibits, and Dilili becoming the unique viewpoint of the film won't leave space for more diverse, less than rationalistically perfected stories of women.

There are two jaw-dropping scenes in the film, which should become part of any film anthology. Girls and women covered in black dresses serve as household items for their employers, and need to walk on 'all-fours' to actually be able to survive. The cruelty those scenes exhibit when characters are choreographed to walk in perfect unison finally makes the case for modernism and justice to actually hurry up and correct this injustice. As is, Dilili in Paris won't completely fit the bill for its expressed purpose, but children and adults would enjoy it for its staunch defense of just causes and its more than loveable main character.

Dilili in Paris (Dilili à Paris) screened at the opening ceremony of the 2018 Annecy International Animation Film Festival. It will be releasead theatrically in France in 10 October 2018 by Mars Films. Wild Bunch handles international sales.

Vassilis Kroustallis
SIGN UP: Want to read more free articles like this? Sign up for Our Newsletter
Read More About: