Reviews
Fat, bald and short: A Fluid Drama of Shyness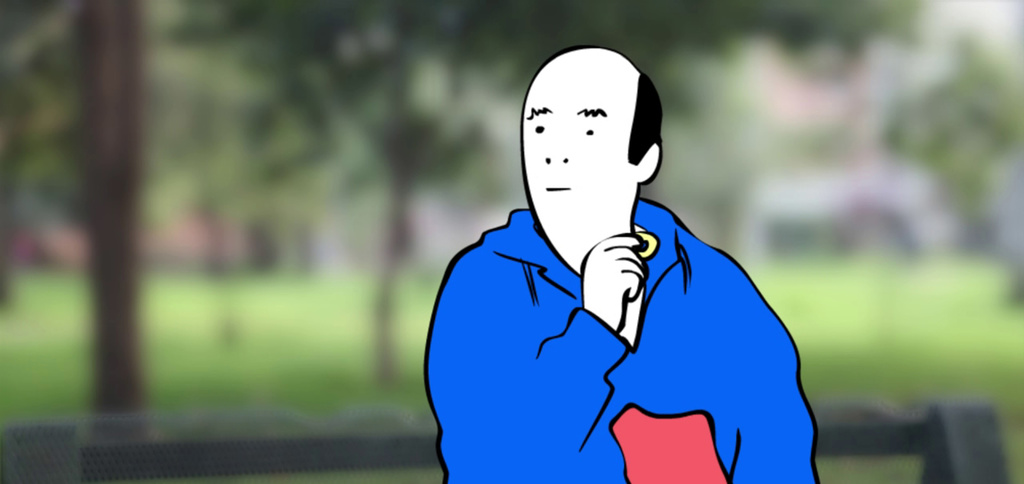 Fat, Bald and Short presents Antonio Farfán, a 46 year old man working in a notary's office who has always believed that his personal and professional failure is the inevitable result of his looks: he is bald, short and fat. The arrival of the new rotary (a spitting image of Antonio) suddenly makes the shy man open into experiences he had never thought of beforehand.
 The film uses rotoscope, 2D and 3D computer animation (especially in location design). It was presented in Chicago International Film Festival.
Fat, Bald and Short starts in media res. Antonio orders his lunch from a restaurant, but cannot make up his mind; worse, he cannot impose his will against the waiter's mumble.
The animated feature film by the newcomer Carlos Osuna presents the story of a person who "remains in silence even though he had a lot of things to say". Antonio (Alvaro Bayona) is capable in his working environment, whose respectability and credulity is not prize-worthy. His brother Bernardo needs Antonio as a lending hand, and Antonio, in need of any human connection whatsoever, silently complies.
He sometimes can cover office frauds by some of his colleagues, even though he finds this practice disagreeable. Still, Antonio can be isolated at an office party with nothing than food to console him. His only friend is his old neighbor Pedro (Julio Medina), who has his own temper when he thinks things get out of hand.
However, things change swiftly as well as the new Notary director, Mr. Enriques (Fernando Arevalo) a spitting image of Antonio, arrives. The monochrome surroundings are renovated and suddenly the colors look more warm -or, at least different. The insecure, hazy  bodily movements  and the sometimes dizzy editing in the first third of the film (which remind of a hand-held camera) suddenly subside -even though close shots and Antonio's expression of bewilderness and silent drama remain.
In a film where exterior scenes are absent, the environment (animated to look like photographed) only enhances Antonio's separation from the rest. Yet, the crucial moment for Antonio comes when a stranger proposes to hug him outside the street, as part of the free-hug movement. Antonio decides to participate in his self-advisory group, and even though he preposterously (one of the daring film moments)  unveils his own fantasies, he still learns.
He starts confronting his former colleague, as well as his brother, without feeling inadequate or simply incompetent. Growing trust from his lookalike boss that culminates in a warm buddy scene by the fire makes Antonio dare the final step. The discreet soundtrack by Alejandro Quintero and Leonardo Bohórquez highlights his own story.
Fat, Bald and Short is as fluid visually and narratively as its title would never imply. Almost lyrical and  kind in presenting Antonio's mishaps, it does not rest on dramatic scenes (yet Antonio has to learn that a sweater can cause great pain).
On the verge of being inconsequential and short of narrative surprises, Fat, Bald and Short is a genuine character portrait study: precise, poignant, warm and sometimes funny.
Vassilis Kroustallis
Read More About: