Reviews
Giovanni's Island Review: Whan A Train Bridges an Island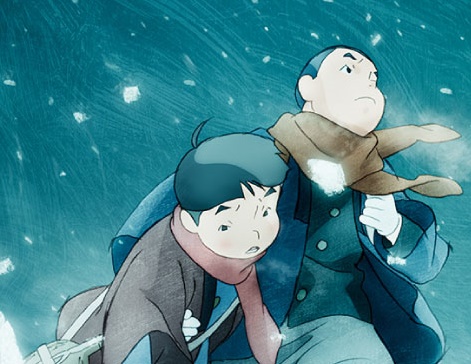 The inspiration comes from the harrowing classic Takahata film, Graves of the Fireflies, which also focuses on children in distress during the WWII and its Japan aftermath.
But Giovanni's Island (Giovanni no Shima, 2014) is more optimistic in its outlook of cooperation between former enemies, and more impressionistic in its visual qualities.
Produced by I.G. Production, the company responsible for A Letter to Momo, Mizuho Nishikubo tells the story of two boys, Junpei Senō (Kōta Yokoyama) and his little brother Kanta (Junya Taniai) in the remote island of Shikotan just after Japan has uncondtionally surrendered.
Their Westernized names Giovanni and Campanella are taken from the classic Japanese novel by Kenji Miyazawa, Night on the Galactic Railroad (1927). Both brothers adore the novel for its space-sweeping qualities, and its deployment of the magic train, which both have never seen in real life -and it would make them very confused when they finally enter a real one.
The fate of the island, which is now part of the Sakhalin Oblast and the Soviet States, makes life progressively worse for both of them. Their father Tatsuo (Masachika Ichimura) is the inspiring force to teach about country, duty and patriotism, even when the Soviet families begin to relocate to Junpei and Kanta's own house.   Still, their real joy of living is their uncle Hideo (Yūsuke Santamaria). Hideo is just the opposite of their father and sometimes even more likeable in his flaws. Jovial, inventive, a free-wheeling spirit but also a practitioner of black market when times call, Hideo is always there to help the kids.

The first love fling with the Russian Tanya (Polina Ilyushenko) comes in Junpei's life, and a kind of reconciliation seems possible even at the level of children who can sing alternatively Russian and Japanese songs between separating school classes. Yet, Junpei's and Kanta's own deportation far away from the island to a Soviet internment camp is imminent.

What keeps these brothers alive (in the subsequent absence of their father) is their beautiful constructed fantasies of intergalactic trains that connect and do not separate people. Sequences that distinguish themselves for their silhouette style, or vivid coloring translate their dreams to reality, far away from the frozen and snowy forests, which they have to transcend.
Junpei is the most responsible and timid of the two, leaving his brother Kanta to play the role of the carefree but tragic at the same time. Kanta's illness makes for a harrowing feel, but is developed for a too long time in the narrative.
Reconciliation and redemption comes many years after the war, when an older Junpei visits his fatherly land (a scene which comes at the beginning of the film).
Giovanni's Island works as an ensemble drama, with kids employing the ever-optimistic future, but with secondary roles also important and well-sketched.
Aerial shots make evident the universal aspect of reconciliation that Nishikubo wants to convey, but sometimes they become too distanced, unlike the close-ups of the weeping Kanta and Junpei. Music by Masashi Sada does a fine job progressing from Japanese to Russian tunes and then orchestral score.
It is an honest piece of film making, suitable for older kids because of its subject matter (but no violence here). At times, it uses more drama than it can handle, but the themes and situations it covers are worthy enough for kids and adults to relate to.
Vassilis Kroustallis
Read More About: