Reviews
My Love Affair with Marriage Review: My Brain Makes Me Feel (Like A Natural Woman)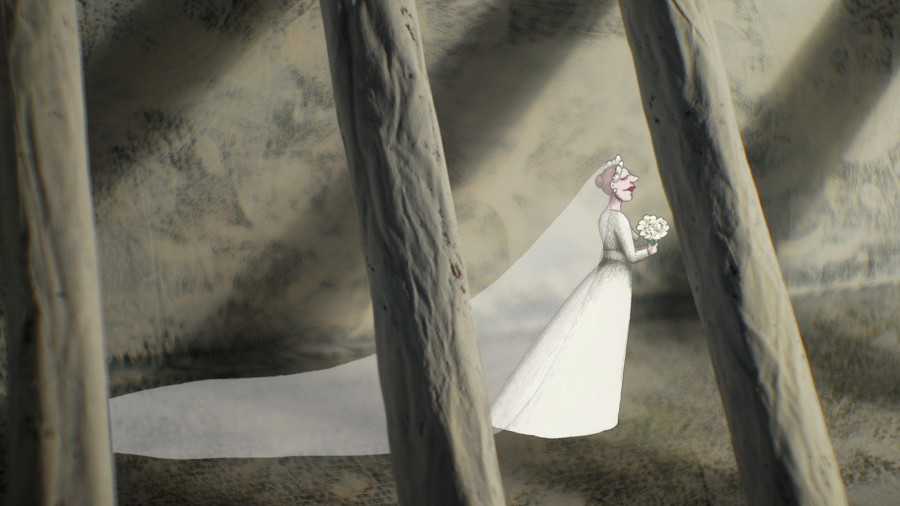 We used to know that gender inequalities were socially and culturally determined; with her breezy, jazzy and ultimately penetrating (or, perhaps more appropriately, immersive) sophomore feature 'My Love Affair with Marriage', Signe Baumane makes the daring move that those differences come hardwired into our own brains -which means a lot more work is needed to get rid of them.
As first-personal as her first feature, the 2014 depression comedy 'Rocks In My Pockets', here nevertheless the duo of Biology character (Michele Pawk) and Dagmara Dominczyk as Zelma (the main character) become the alter egos of the US/Latvian director. The biological musical thriller unfolds like 2D chapters in a book marked by physical sets -the sets offering enough space for the main character to live through, but too repressive for her in their own right.
The story starts from the very beginning, with Zelma as a little, 7-year-old girl in the former Soviet Union, who learns that to be a woman has to be something other than being herself. At the same time, Biology will narrate all biological intricacies (from conception to Zelma's birth) that have contributed to Zelma's current state. The two levels, the personal-psychological and the biological (with their own slightly distinct animated style) will carry us through the 107-minute film - a feast of independent animation production in itself, as well as a narrative complex miracle.
Using key stages in a woman's life, Signe Baumane will gracefully travel her character from childhood to puberty to University studies; the first flings and Zelma's artistic affections need to be sublimated to a marriage wish, here particularly internalized (oxytocin and dopamine will do the work for Zelma that usually friends and relatives do at other instances). Zelma is always accompanied by a fictional trio of Mythology Sirens (Trio Limonāde), the voice of external oppression in smooth voices. When Zelma decides to marry, first to the good-for-nothing Sergei (Cameron Monaghan), and then to the too-good-to-be-true Bo (Matthew Modine), she will patiently mimic all those chores that she has learnt: 'emulate-simulate' and 'men are sane, women are vain' are just too of those prescripts.
Baumane's character design is perfectly direct and at the same time opaque; there's no question that her characters have a lot of things to say, do and suffer simply because of the way they are made, with lines and facial characteristics that invite no ambiguity, no retreat from pain. Her message is also a direct one from the start, but also more potent for that reason. In the age of the post-post-feminist world, she reminds us of the basic oppression mechanism that still haunts women from childhood to their graveyard (especially, if they are too careless, as Zelma's friend, Darya).
Her mode of illustrating words into images easily associated with one another gives another direct, documentary aspect to the film; we are constantly reminded that this is not just Zelma's fate, but the fate of all women watching the film. Her animal symbolism (also in 'Rocks In My Pockets') also intensifies the roles women are expected to play.
Narrated psychology and biology aspects work admirably in the feature (which, nevertheless, could have benefited from a shorter running time). Yet, the music here makes all the difference -and elevates it from another authorial perspective to a jointly enjoyed experience (and plight). Kristian Sensini and his jazz-soul mid-tempo vocal arrangements (with a playful piano and wind and brass instruments -violin reserved for 'sober' sequences) make 'My Love Affair with Marriage' a staccato experience, and one that you cannot easily pass by; and, of course, make the bitter pill of Zelma's troubles perfectly palatable.
'My Love Affair with Marriage' goes back to the basics, and showcases, in a completely eloquent way, that both submissiveness and protectiveness towards men are a woman's recipe for disaster. At the same time, by adding neurobiology to the mix, it shows how complex, repetitive, non-linear, and, for the most part, unacknowledged this situation may be.  Even the primordial question of 'Madonna/pious wife vs. whore' dilemma (both aspects of submissive wife and sex work ethic are explored in the film) seems a question of destiny, or a rite of passage for all women -who still cannot self-define themselves. LGBT appreciation also is a tool to be learned here.
This is an admirably unequivocal, frank, and totally cherished feminist animation work, whose 2D animation (coupled with the physical sets here present) adds a theatrical musical aura that is totally familiar -even if it adds its own weight to the main character. Unmissable.
Vassilis Kroustallis
SIGN UP: Want to read more free articles like this? Sign up for Our Newsletter