Reviews
Tales of the night (Contes de la nuit) review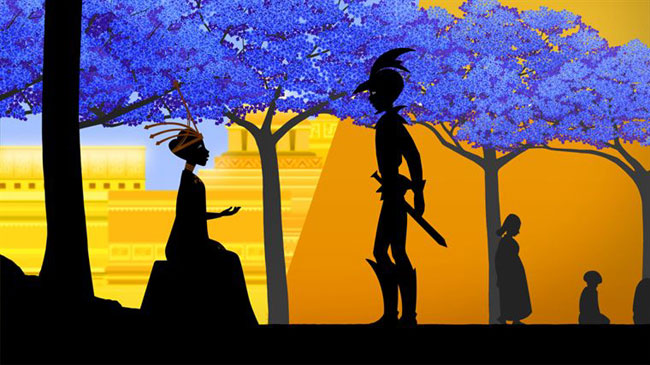 There is shortage of finess and elegant (but humorous) talk in Michel Ocelot's latest Tales of the Night (Contes de la Nuit). A set of six stories that range geographically from Tibet to Africa, the silhouetted characters reveal and continue some of the preoccupations in Ocelot's oeuvre: nature vs. civilisation, knowledge vs. belief and ignorance.
With respect to the Kirikou tradition, Tales of the Night center around an inquisitive young boy, either a prince werewolf or a young music man, who does not stop questioning and succeeding to reform long veneered traditions originating in South America (Golden city) or Africa (magic totem). However, the knowledge claim is not all that the aspiring young has. An ubiquitous love affair with a girl makes the young enter the magic adventure land, be unfaithful to his friends, be deceived -but succeed in the end.
The narrative arc is familiar enough, and its themes come from exotic fairytales that still obey the tripartite trial structure. That is, one should expect no strong dramatic points and no narrative twists (except apart from the horse story and the end of the deer story).
What compensates for the linear structure, though, is the humourous, sometimes irreverent talk (and strong voice acting from the cast), which makes these exotic themes close to ordinary life. A princess can be as mean as your hateful neighbor, and a crow as bad-mannered as his own spoilt child.
The visual sensation of Tales of the Night is calm, monochrome yet radiant in the choice of sulphur yellows and oranges. The spiral that surrounds the king in the land of the dead is impressive, and silhouettes drawn with no unnecessary face and body details make these stories look like an animated expression of a cultural archetype.
The Kirikou iconography (cave passages, wizard faces) is present in Tales of the Night, and there is sometimes the impression of deja vu. Even though Tales of the Night may look as a familiar pastime, it is peacefully enchanting nevertheless.
Vassilis Kroustallis
Read More About: