Reviews
Tehran Taboo Review: Not In Persepolis Anymore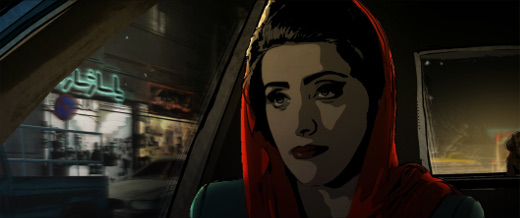 What would have happened if Marjane in Persepolis chose to live in present-day Tehran, and had no family support to rely on?
 Tehran Taboo, a German-Austrian production by Iranian expatriate Ali Soozandeh (production: Little Dream Entertainment, Coop99 Filmproduktion)  offers a kaleidoscopic view of a society that internalizes all state oppression without offering any safety valve to its citizens apart from harmless porn-watching.
Pari, a prostitute and a mother of a mute child (the prostitute character played by Elmira Rafizadeh with a warm, no-holds-barred resonance that Anna Magnani brought to her roles) wants to get a divorce from her husband, a drug addict and a jail convict.
He won't give her authorization for the divorce to face the Islamic Revolutionary Court, so Pari has to befriend the judge and become his mistress; in return, she gets to have a fine place in one of his apartments.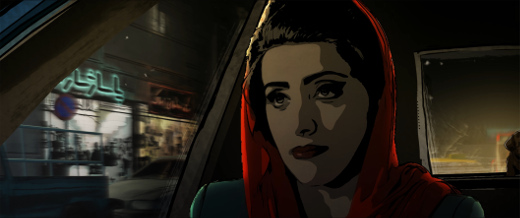 He befriends the shy but determined  Sara (Zara Amir Ebrahimi), whose husband and a bank clerk Mohsen (Alireza Bayram) won't let her get a job, while they're waiting for their first baby.  Sarah's in-laws tend to keep all conservative traditions, with the mother throwing cats out of her own place and the diabetic papa getting bad health for eating too many sweets and watching porn at home.
At the same time, the young musician Babak (Arash Marandi), who doesn't want to compromise his music with cheap party DJ assignments, gets into trouble with a date and a one-night stand with Donya (Negar Mona Alizadeh). Virginity is important for Donya's future husband, and everything needs to be done to be restored.
Soozandeh, who co-writes the script with Grit Kienzel, makes it prominent that these four people will meet and interact in every possible way, mostly to save themselves from and get support from codes long written but nowhere to be followed.
 For a film that is not overtly political, but lets us see in almost every scene Ayatollah Khomeini's portraits hanging on the wall, it is not difficult to guess how this will end up. No camaraderie between the troubled, but still a sense of getting away from the establishment, even if that involves leaving the country or flying from a high building.
The mute boy is our silent narrator and co-spectator, and he is introduced early on with a fellatio scene (by his mother to a car driver, him in the back seat) that suddenly makes animation a precious solution to what would certainly have caused a great headache to all cast and crew shooting the scene in Iran.
The expatriate Soozandeh here perfects the rotoscoping technique he used in The Green Wave: no Bob Sabiston fluidity, but shadows cover the clearly defined faces, expressions and body curves - and thighs, for that matter.
Using 3D computer animation for the backgrounds, Soozandeh presents a Tehran which is not devoted to the underground activities - the sun still shines in Tehran, after all.
Drugs here and (occasional) violence are not used as a social commentary, but as a means to go into the souls of characters who face themselves with a burden most of which they cannot handle.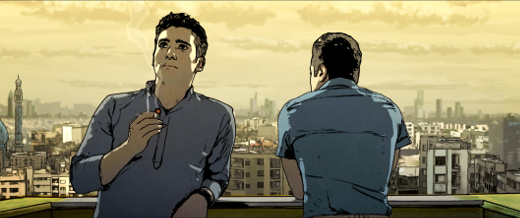 Pari is certainly the most capable one, getting for herself in all possible ways what the state's hypocrisy and moral corruption (bribery is a common practice here) can get her. The young musician Babak is no hero either, and even though he's ready to support Donya to her own troubles, he needs to think of his own future.
Sarah has more secrets to reveal as the film progresses, while some of the film's resolutions seem too far-fetched in an otherwise candid portrait of people entangled in state-imposed moral conflict.
This is a film made for adults, which perfectly captures dilemmas and character decisions without the need to become graphic (unless when really needed). Rotoscoping ambiguity (sometimes even characters tend to look more 'real', if only for a brief time) serves to emphasize that the only real taboo is to be capable of telling the truth to yourself.
 Vassilis Kroustallis
Excerpt 1:
Excerpt 2:
Read More About: