Reviews
Tito and The Birds Review: Joining Hands, Fly Over Walls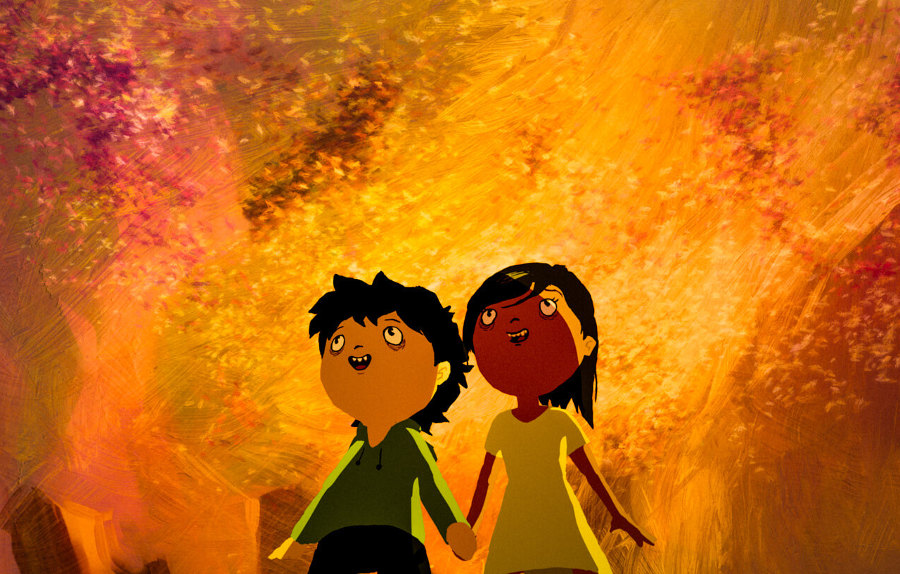 What if the inmate of Dr. Caligari suddenly met the Woman who feeds the birds in Mary Poppins, and they decided to join hands for a mission?

Tito and The Birds, a visually dazzling expressionistic story of acting together to avoid an authoritarian power, could not have been more contemporary. 7 years in the making by the film's primary creative force, Brazilian producer and director Gustavo Steinberg (in his first animated feature, here co-directed by André Catoto and Gabriel Bitar), Tito and the Birds by Bits Prods. comes at a time when Brazilian feature animation experiences a renaissance. Festival hits like Rio 2096: A Story of Love and Fury (dir. Luiz Bolognesi and the Oscar-nominated Boy and the World  (dir. Alê Abreu) have suddenly shown to the world that a social-conscious film with children and adult)  characters could actually be also fun to watch. Employing its own preferential connections (Daniel Greco, production supervisor and story editor for Rio 2096 here serves as an executive producer) is also released at a time when the newly elected Brazilian president, Jair Messias Bolsonaro has most prominently stated that joining hands with various minorities is the last thing he would do.

Without the abstraction of Boy and the World, and less history-encompassing than Rio 2096, fear and its manipulation by the authorities (mostly behind TV screens)  is the prominent theme in a the 73-minute film. The 10-year-old Tito, protruding teeth and jacket with earthly green colors, he is both shy and brave at the same time. His desire to help his father with an ornithologist machine that somehow will connect birds and people has some detrimental consequences, and leads to his father's absence. His overprotective mother Rosa, a combination of a neurotic Betty Boop with a Nicole Kidman posture, will only make things worse for him, relying on pills to face absence and fear. When an unusual epidemic breaks (the "Outbreak"), the TV host Alaor Souza seems more than willing to exploit mass fear for his own, very tangible profit. It is the job of Tito and his friends, the no-nonsense Sarah, the trustworthy but gullible Buiú and the spoiled but also eager to learn Téo to stop this from happening.


This is one film where artistic direction (Gabriel Bitar, Paulo Torinno, Vini Wolf) threatens to overtake even narrative itself. If you happen to be at Gustavo Steinberg's animated São Paulo, with its curved and bent backgrounds, its thick and daring oil painting brush strokes that give breath to the 2D digital character cut-outs, you are in a world where anything can happen. Staying away from the Night of The Living Dead territory, Tito and the Birds presents the metamorphosis of its characters in an almost compassionate way, as if sympathy and not revulsion is meant for our society members who can no longer perform as citizens. A friendlier, oval shape is the end state for those affected, in contrast with the angular shapes of the Alaor Souza family estate -even its hi-tech Dome Garden, which protects from disease, hides inside badly aligned skyscrapers.

Camerawork is also restless (but not frenetic), with its round-the-clock movements of front film credits reminding how time runs out for those in help.  A majestic scene of flying along with the pidgeons (those 'free and rejected birds') gives a feeling of well-deserved elation in a relatively leisurely scene sequence.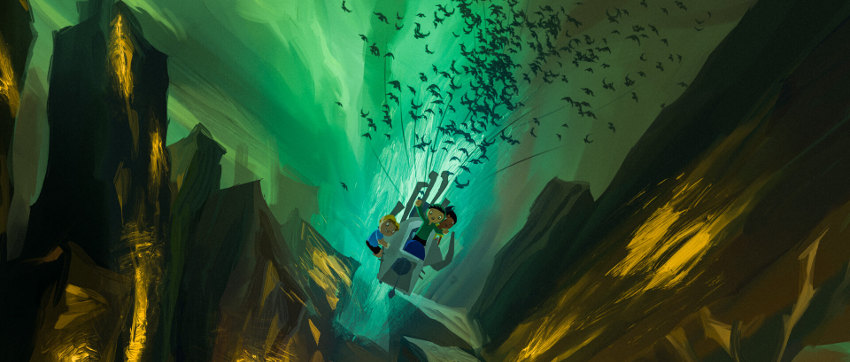 Tito, the central character, is curiously less interesting. Already overcoming his own fears from the start, he almost seems too eager to go into action, and gives the game away. Himself never really being morally tested, the film counts more on the supporting characters, Sarah, Buiú and Téo, and Tito's mother, with their own efforts and failures, to get audience engagement.
The music of Ruben Feffer (Boy and The World)  and Gustavo Kurlat supports the whole project throughout, with strings that can really work like arrows to hit your fear factor; ominous, but still ready to fly above the ground.

A welcome entry into the string of recent Brazilian animation successes, Tito and The Birds combines a breathtaking expressionism with a call for social action and a narrative which prioritizes team effort scenes than individual character fine-tuning. Time to start thinking about these walls of fear.

Vassilis Kroustallis
CREDITS:
Tito And the Birds
Production: Bits Prods. in association with NIP
Producer: Gustavo Steinberg
Executive producers: Daniel Greco, Felipe Sabino
Directors: Gabriel Bitar, André Catoto, Gustavo Steinberg
Screenplay:  Eduardo Benaim, Gustavo Steinberg
Editors: Vania Debs, Thiago Ozelami
Music: Ruben Feffer, Gustavo Kurlat
Art directors: Gabriel Bitar, Paulo Torinno, Vini Wolf
International sales: Indie Sales, Paris
Cast: (Portuguese): Pedro Henrique, Marina Serretiello, Matheus Solano, Enrico Cardoso, Denise Fraga, Matheus Nachtergaele
Tito and the Birds is released in the US (Shout! Studios) in New York City  (Jan 25, Quad Cinema NYC), with further openings in Los Angeles, San Francisco, San Diego, Philadelphia and Arizona  (Feb 1).
SIGN UP: Want to read more free articles like this? Sign up for Our Newsletter
Read More About: