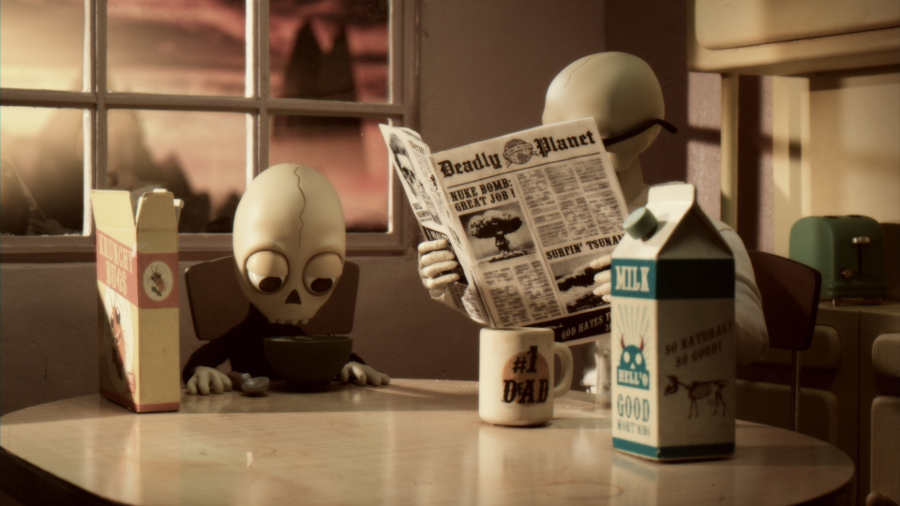 The Bucheon International Animation Festival has revealed its 2017 selection, with world premieres in its line-up.
The 19th Bucheon International Animation Film Festival (BIAF2017) has revealed part of official selections for the 2017 edition.
The festival chose 37 short films (international competition), 40 student films (graduation competition),  along with 16 TV& Commissioned Film and 11 Online films from over 1,530 submissions from 69 countries.
The festival's selection was carried out by the festival program director, Eugene Kim,  Lee Sung-gang (Director, My Beautiful Girl, Mari), Choi Equan (Director, Mama, Kim Kkobbi (Actress, The King of Pigs) Mari Kim (Artist, director of  K-Pop 2NE1 Music Video and Album artwork).
The selection shows the world premiere of the 13-minute film The Death, Dad & Son by the co-director of Persepolis, Viincent Paronnaud (Winshluss, in attendance with producer Perrine Capron) & Walgenwitz
The Death' son doesn't want to take back the family business. He has the secret dream to become a guardian angel, this will trigger a succession of collapses. His dad will have to get him out of this mess.
Another world premiere (and a second Sacrebleu film) is Eden by Julie Caty (also in attendance at BIAF) 
E and A are bored to death in the Garden of Eden. One night, they run off in God's cabriolet. Early in the morning, God notices their absence. Furious, he summons Dinosaur, his henchman, and sends him to get the fugitives.
The César-awarded  Céline Devaux presents her new animation/live-action film (another Sacrebleu film), You will be fine. 
Give it time. You'll get over it. Jean celebrates his birthday, gets drunk and recalls the dreadful weekend that led to his break-up with Mathilde.
Highly noted films: Nighthawk by  Spela Cadez,  Strange Case by Zbigniew Czapla, Manivald by Chintis Lundgren, Nothing Happens by Uri & Michelle Kranot,  the Oscar-nominated Pear cider and cigarettes by Robert Valley, and (TV competition) June by John Kahrs (Paperman).
View the full 2017 BIAF selection. Feature Selection will be announced by 11th September.
The festival gives away 22 awards in total (50,000, 000 KRW /approx. 44,000 USD). The 2017 BIAF poster is designed by Sébastien Laudenbach (The Girl Without Hands)

The 19th Bucheon International Animation Festival takes place 20-24 October 2017 (Bucheon, South Korea).