'Letter to A Pig', 'My Father's Damn Camera', 'Bye Bye Elida' in the Anibar Animation Festival 2022 Winners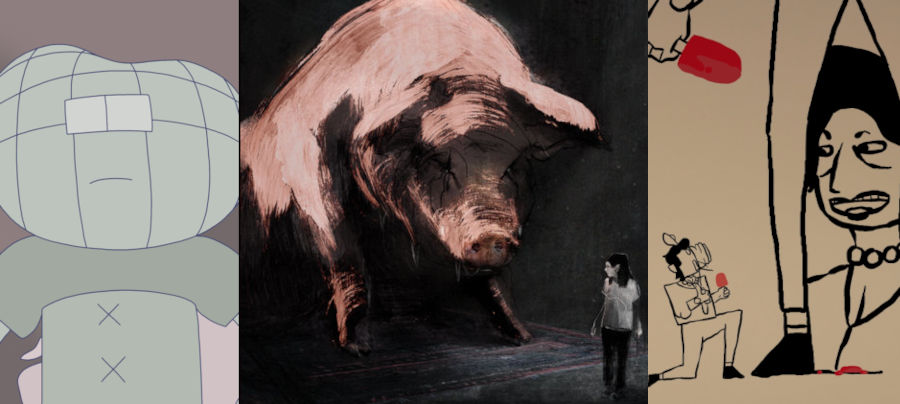 The 13th edition of the Kosovo Anibar Animation Festival crowned its winners on 19/7/2022. Anibar Festival had 7 competitive categories this year. A lot of familiar names and emerging talents were awarded.
International Competition
Jury: Andrijana Ružić., Olga Bobrowska, Mari Jaye Blanchard, Stefan Stratil, Steven Woloshen
Winner: 'Letter to A Pig' by Tal Kantor. 
A traumatic memory of a Holocaust survivor sends a young schoolgirl on an inner journey, searching for her own path as the boundary between animal and human nature blurs.
Jury Statement: "This is a film that takes an unconventional, personal perspective to a shared historical trauma that has crossed many generational lines. The Director skillfully uses an imaginative mixture of animation techniques to renew our discussions of the Holocaust even as our children face contemporary upheavals."

Special Mention: 'Sierra' by  Sander Joon.
The film talks about a father and his son who are losing the folkrace. In order to win, a boy turns himself into a car tire. Loosely inspired by the director's childhood, Sierra pulls us into the surreal car racing world.
Jury Statement:
"We loved the punchy sounds and simplified graphic style of this playful and snappy narrative as it serves up a surprisingly emotional performance with chaotic and unpredictable connections. The outwardly goofy plot surreptitiously speaks to the expectations between parents and their children and what we want from ourselves
." 
Feature Film Competition
Jury: Andrijana Ružić, Olga Bobrowska, Mari Jaye Blanchard, Stefan Stratil, Steven Woloshen

Winner:  "Bye-Bye Elida" by Titouan Bordeau.
Bye-Bye Elida takes place in vast plains. We discover several groups of characters going about their respective activities. Some try to feed themselves to survive, others build, travel or perform inexplicable rituals. The passage of time shows us that the actions of some, however positive or cruel, have an effect on the lives of others.
Jury Statement: 'Strange creatures and the surreal landscapes they inhabit come to life in this film through idiosyncratic rituals and a minimalistic rendered, graphic style. Moaning trees and crystalized bubble-gum are elements of a unique sound design that complements the humorous and absurd performances imbuing life in these characters.
Special mention: "BOB SPIT" directed by Cesar Cabral.
Jury Statement: "Excellent scriptwriting, unique characters, skillful costume creation, and well-researched truthfulness to 1970s' punk culture elevated this film on many levels. The ugliness was beautifully crafted, and the deft leaps between documentary and the Brazilian comic art it references combine to create an autonomous work of art."
Student Competition
Jury: Gala Frécon, Kate Jessop, Michaela Režová 

Winner: "Goodbye Jérôme!",  Gabrielle SELNET, Adam SILLARD and Chloé FARR.
Having just arrived in paradise, Jerome sets out to find his wife Maryline. In the course of his search, he sinks into a surreal and colourful world in which no one seems to be able to help him.
Jury statement: "Dazzled us with its playful mix of surreal humor and visual style. It showcased a strong direction of animation, sound and story, a highly competent accomplishment from the team that invites you to be part of Jerome's journey again and again".
Special Mention:  "The Upper Room", Alexander Gratzer.
Jury Statement: "We would like to give a special mention to a film that warmed our hearts with its empathetic depiction of the connecting of two worlds. A charming artistic approach, from which you can revisit your own family memories and contemplate intergenerational exchange"
Balkan Competition
Jury: Gala Frécon, Kate Jessop, Michaela Režová 
Winner: "My Father's Damn Camera!" by Milos Tomic.
A reckless boy in an almost desperate and troublesome way persistently seeks his father's attention – a photographer. Being confronted with his father's artistic chaos and his obsessive fascination with photography-life, on his path of growing up these elements eventually become essential for strengthening their father-son bond. 
Jury Statement: 
"We would like to give the best Balkan film award to a film that took us on a wild ride of discovery and personal family connections. This visually vivid film hypnotizes you until the end with its rich use of mixed media techniques."
Special mention: "Shpija", Flaka Kokolli.
Jury Statement: "We would like to give special mention to a film that utilizes strong use of visual metaphor to depict the concept of home in its widest sense. Its fluid animation style presents the themes of roots and cultural identity in a sensitive and engaging manner".
Animated Music Video
Jury: Alexis Shigeru Hunot, Edvin Susuri, Michaela Mihalyi 

Winner:  "Cimpoiasca"! Directed by Barbora Halířová.
Cimpoiasca is a music video that uses folklore motives to tell the story of a pure woman's friendship. With the help of schnapps and wild dances, these women manage to overcome a little nightmare. The film uses symbolism to interpret the rhythm of folkloric music in such an alluring approach.
Jury Statement: The way that this visual dance depicts the feeling of togetherness took us by the hand to join a path to a more joyful world. So let's dance to the winner, which is Cimpoiasca.
Special Mention: "Los colores del niño dios", by Santiago Pérez Rodríguez.
An animated punk journey through the Excel files of baby Jesus, the one in charge of bringing the Christmas gifts in Colombia. December is a frenetic feast consecrated to the hyper stimulation of the senses.
Jury Statement: The joyfulness and the energy of the animation goes perfectly with the music. It playfully conveys the consumerist side of an important celebration by referencing iconic imagery of our times. Because of the very punchy, colorful and punk way the film is done we give the honorable mention to Los colores del niño dios.
Special Mention: "SURL - Beside" by Yoon-kyeong YANG.
This video expressed love for the other person as a chair and visualized it as the chair is traveling.
Jury Statement: The perfect combination of elegant imagery and visual approach takes us in a dreamy world that depicts the longing of love. The film uses a metaphoric language that beautifully mixes the abstract and the narrative successfully using a wide diversity of styles. By each viewing the music video uncovers in front of us, layer by layer.
Human Rights Competition
Jury: Alexis Shigeru Hunot, Edvin Susuri, Michaela Mihalyi 
Winner: "Night" by Ahmad Saleh.
The dust of war keeps the eyes sleepless. Night brings peace and sleep to all the people in the broken town. Only the eyes of the mother of the missing child stay resilient. Night has to trick her into sleeping to save her soul.
Jury Statement: It is extremely difficult to depict such hard subjects in a poetic way. We were especially touched by the accomplishments of this film. It takes a very different path to portray the tragedy and terrors of war. It uses the night as a strong narrative point to let us feel the nightmarish atmosphere that surrounds the loss of life. 
Honorable Mention: "Lada, Ivan's sister" by Olesya Shchukina.
It's a documentary animation based on the real story of Lada, a transgender woman from Russia. She tells her and her brother Ivan's secret.

Jury Statement: The film has a strong and joyful visual language and storytelling. It very successfully proves that you can tackle a strong subject in a very heartwarming way. We were intrigued by this film by its qualities as well as we think that it is important to have movies that depict diversity, especially in the context of Russia today where the rights of LGBTQ+ are under threat every day.
Young Audience Competition

Best Young Audience Film; "Old Gramophone's Ghostly Tones"  by Zuzana Čupová, Martina Tomková and Kryštof Ulbert. This is a film about two burglars who don't actually want to steal, all they long for is dance! Their mean boss doesn't approve of this though and they have to break into an abandoned manor.
Special Mention: "The Big Tantrum", by Celia Tisserant, Arnaud Demuynck.
In this film, the main character Robert has not had a good day. He comes back from school in a bad mood and gets sent to his room by his Dad.
Special Mention: "Theo the WaterTower", by Jaimeen Desai.
"Every morning, Theo the water tower cries and disturbs the village's peace. Robert and his dog try to cheer him up by singing songs. But Theo is in no mood to sing and tries to escape, which leads him out of the village and into the city."

Special Mention: "My child" directed by Hyunjoo KIM.
"Though Mother does her best to bring her child up, her child who never grows up enough to survive will be left alone."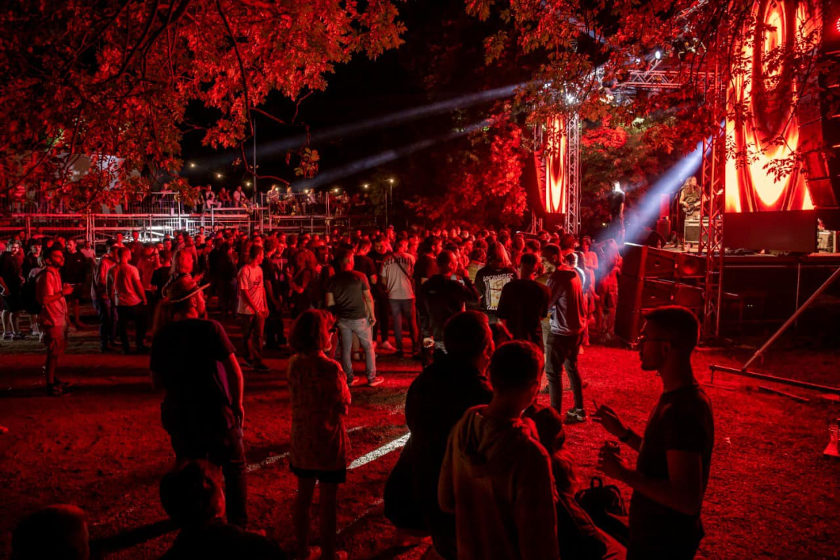 Anibar Festival 2022 rock event
The 13th edition of Anibar Animation Festival was held 14-19 July 2022.
SIGN UP: Want to read more free articles like this? Sign up for Our Newsletter