Anibar Crowdfunding: Cinema For the City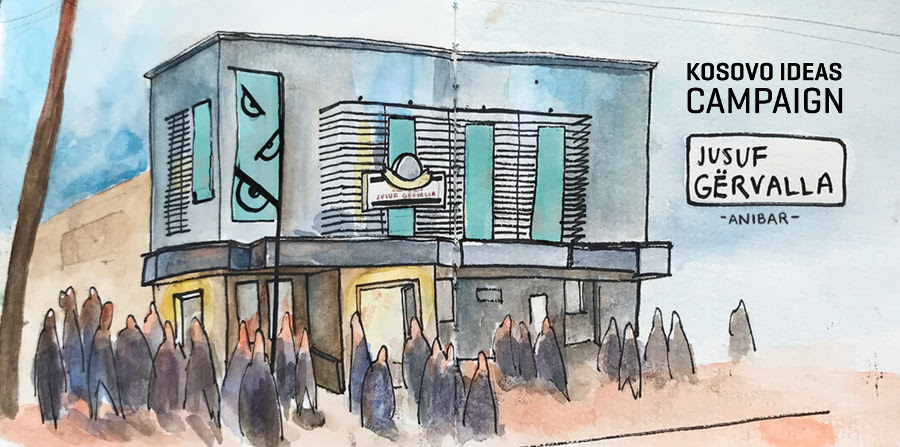 Anibar International Animation Festival, (founded in 2009), made Cinema Jusuf Gërvalla (constructed in 1955, National Cultural Heritage List in 2011)  its home in 2015. The festival  revitalized the building as a cultural venue after its abandonment in 1998, and hosted its August festival editions there, with an eye for the new, 11th festival edition (15-21 July 2019).
The municipality of Peja awarded Anibar a 15-year lease in December 2016 for the Jusuf Gërvalla Cinema. In 2017, The Kosovo Privatization Agency (KPA) placed the building under the liquidation process, which regularly results in privatization and demolition. Peja mobilized in defense of the cinema through a petition campaign which generated 6,000 signatures and secured the support of another 70 NGOs throughout Kosovo for its preservation. Anibar and the local community hosted events to increase media awareness, rally the citizens of Peja, and coordinate civil society organizations which resulted in the freezing of the process in court litigation.
Anibar has hosted local culture events, organizing concerts, and orchestrating film screenings. The next step in the Jusuf Gërvalla Cinema revival is to restore its cinemagraphic functions, as a further step towards retaining the collective memory and the identity of the cinema.
The festival is now starting the journey to crowdfund through Kosova Ideas. The amount collected through the campaign will help in the renovation of the cinema which will include basic infrastructural interventions and creating a space that will be better used and multi-functional. This campaign can provide the necessary assistance required to make the cinema an alternative place of film, art, culture and civil society by improving the social and cultural life of the citizens.
 The 11th edition of Anibar festival (Peja, Kosovo) will take place 15-21 July 2019.
SIGN UP: Want to read more free articles like this? Sign up for Our Newsletter
Read More About: