Anima Brussels 2023: The Industry Events to Attend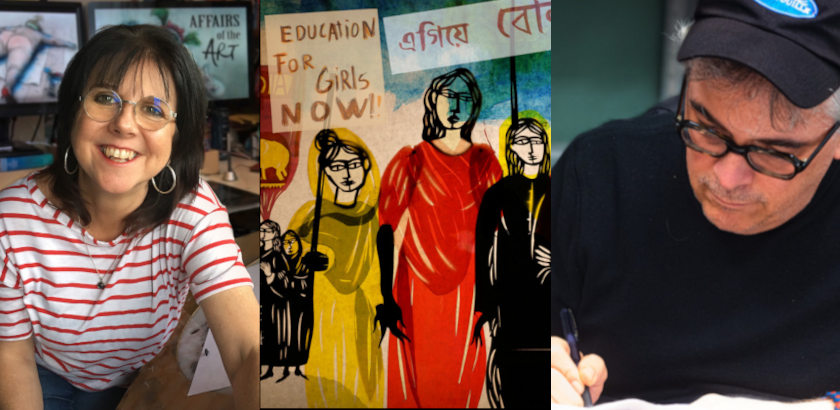 By its own strategic position, dedicated to the indie animation world but also enjoying the vibes of the general audience (plus the rich Belgian tradition in graphic arts), Anima Brussels Festival has always been in the happy place of the crossroads of animation talk -and this is where the most interesting discussions take place.
This year, and in its 2023 edition (17-26 February, Flagey, Brussels), we chart the major animation industry events to be showcased.


1. Work in Progress: Sultana's Dream (23 Feb, 17:00)
Isabel Herguera moves on with her first feature, 'Sultana's Dream', a self-reflexive work about a filmmaker looking for inspiration for her next film and a parallel story in early 20th century India. Both Herguera and scriptwriter Gianmarco Serra will talk about the hybrid technique project. This interesting project on the fear of not finding a place is a must-watch.
2. Joanna Quinn & Les Mills Masterclass (22 Feb, 13:30)
Joanna Quinn really knows how to reinvent herself in every public presentation of her work. Here with her indispensable writer and co-producer Les Mills, they will both talk on humor, gender, and 2D animation -in a 3h masterclass marathon. Really worth anyone's time.
3. Roundtable: Inclusive Storytelling (22 Feb, 10:30)
What do Signe Baumane (My Love Affair With Marriage), Mats Grorud (The Tower), Ada Güvenir (Would You Please?, As If It Could, filmmaker & visual artist), and Karla Puttemans (Head of Creation and Talent Development, Flanders Audiovisual Fund) have in common? They are all participants in the roundtable on inclusive storytelling (moderated by Allie Weis). Representation and inclusion are usually the modern keystones (and the first ones) for contemporary audiences to check, yet it's good if your script and project absorb them in an organic way. A really interesting addition.
4. A triple bill of Jim Capobianco-related events
A Jim Capobianco masterclass (25 Feb, 13:30) unveils a 2h event on the Oscar-nominated artist (for Pixar's 'Ratatouille'), who now prepares his new indie feature film 'The Inventor'. This much promising masterclass is actually a culmination of events that come earlier in the programme; a separate work-in-progress talk of the Leonardo Da Vinci-themed 'The Inventor' (24 Feb, 17:00) will give the details about this 2D/stop-motion project. And even earlier in the day (24 Feb, 14:30), a Foliascope production company presentation (responsible for both the upcoming film 'The Inventor', as well as the stop-motion 'No Dogs or Italians Allowed') with Ilan Urroz will follow.
5. Making of 'The Little Nicholas' (23 Feb, 14:30)
The Annecy-awarded 'Little Nicholas: As Happy As Can Be', the animated adaptation of Sempé's classic, will now feature Amandine Fredon (co-director with Benjamin Massoubre) to tell about this really popular film, but not much talked about. In French
6. Behind the scenes: 'Arcane' (21 Feb, 14:30)
The successful Netflix series, developed by the French animation studio Fortiche, is having its own spotlight.  Maximilien Ly (technical & fix animation supervisor) and Dimitri James (fix animation) will talk (in the presence of Jérôme Combe, co-founder of Fortiche Production) about the world adapted from the 'League of Legends' video game. In French, with simultaneous translation in English.
This is not everything. Career presentations, video games and VFX talks, Q&A with Belgian authors are also scheduled. Those industry events build a nice bulk of animation professional starter pack -necessary for everyone in the field.
Anima Festival takes place 17-26 February in Flagey, Brussels.
SIGN UP: Want to read more free articles like this? Sign up for Our Newsletter