Animafest Zagreb 2020 Student Film Competition: Playfulness and New Generation Humour

(Press Release)
Animafest's Student Film Competition is traditionally deemed one of the most playful and free programme segments of this prestigious festival. Inspiring up-and-coming animation celebrities not only to introduce themselves on the biggest stage, but also to acquaint the audience and fellow animators with the aesthetic, intellectual and emotional horizons of new generations, the Student Film Competition is absolutely uncompromising; the films in this section make the viewers roll on the floor laughing, dance frenziedly, cry sincerely, admire honestly or ponder deeply. In an extremely strong competition, among 900 entries from all over the world, the Animafest 2020 Student Film Competition selected 40 of them. All the screenings of the Student Film Competition are free of charge. The free screenings are sponsored by Zagrebačka banka.
The selection committee comprised of Daniel Šuljić, Katrin Novaković and Milivoj Popović decided to present the Best Animation School Award to the Polish School of Film, Television and Theatre in Łódź, saying in their statement that this institution surprised with the quality of their films, fearless leaps through media and techniques, as well as the choice of subject matter.
Three films from Łódź have been selected for the Student Film Competition (Portrait of a Woman by Natalia Durszewicz, The Little Soul by Barbara Rupik and Marbles by Natalia Spychala).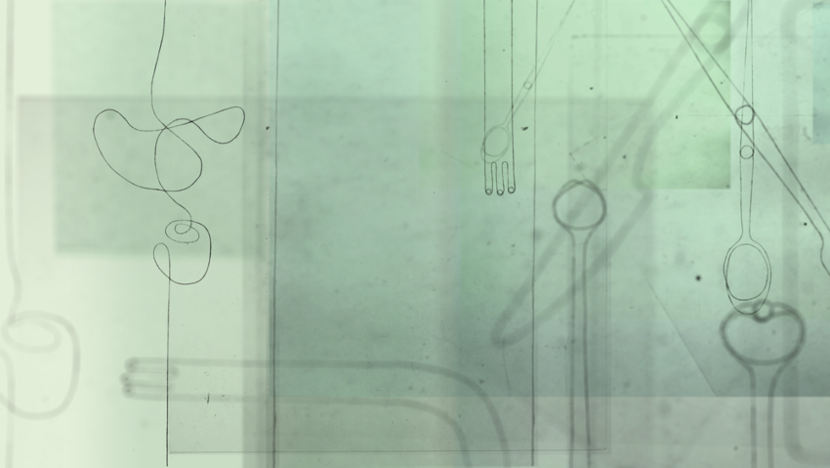 Marbles
This film school, established in 1948, in its curriculum and work encourages experimentation and freedom of expression, while simultaneously maintaining the quality of production and animation skill – says the statement for the award, also inviting the winner to curate a retrospective of finest works from their history at Animafest 2020.
Apart from Poland, the 2020 Student Film Competition includes most films from France (5, all of them from different institutions), USA (5), Germany (4), Hungary, United Kingdom and Czech Republic (3). There are also two Croatian films, both from the Academy of Fine Arts in Zagreb – Cockpera by Kata Gugić and I'm Not Feeling Very Well by Sunčana Brkulj.
Based on a poem by the Nobel Prize winning poet Wislawa Szymborska, inspired by strong women from the author's family and expressionist painting, the feminist film Portrait of a Woman by Natalia Durszewicz is made by in glass painting technique and CGI in shades of red to evoke lipstick, blood and rose petals. This s a 'portrait' of an unconscious, enslaved and humiliated woman conditioned by social expectations and stereotypes, but with a potential of awakening into freedom.
Cassie Shao's graduation film There Were Four of Us, inspired by an unusual dream and grandfather's death, is on the other hand more experiential and perceptive than narrative, and despite extremely bright colours and the death subject is more distanced than emotional, also technically very eclectic (2D and 3D computer animation, as well as painting on glass and sand on glass, pastels, live action segments etc., with particularly original characters), but this is what makes it fascinating and unique. Besides, it is definitely an eye candy of this year's student competition.
Pleasing to the eye, but in an ironic and challenging way is the German film Beauty by Pascal Schelbli, the winner of this year's Oscar in the student category. It earned the Academy Award by addressing the issue of ocean pollution with plastic and taking the viewers on an underwater journey across the world in which nature and plastic become one.
Another completely surreal eye candy, set in a future world as imagined by Moebius or Roland Topor, also with an environmental subtext, is the Hungarian The Wellspring and the Tower by Melinda Kádár. The Israeli The Shadow of the Sun by Ido Hartmann from the famous Bezalel Academy in Jerusalem is yet another eye candy of the Student Film Competition – a film about a man choosing a nomadic hermit lifestyle, whose abandoned family is trying to reconstruct an image of him.
The famous FAMU in Prague is bringing us SH_t HAPPENS by Michaela Michály and David Štumpf, a hand-drawn humorous etude on lust and the absurdity of modern-day lifestyle, screened at Venice Film Festival. It is a story about a responsible janitor, his yearning and unsatisfied wife and their animal/human neighbours, with a special role played by a drunk widower deer.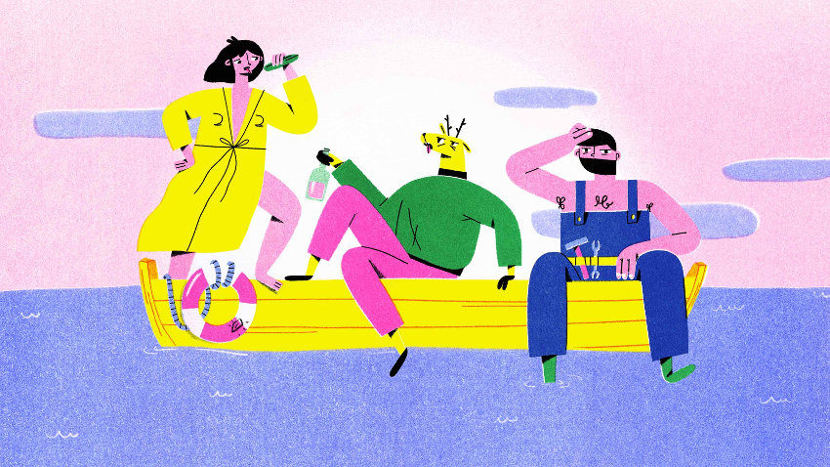 SH_T HAPPENS
This is also a loose adaptation of a Biblical story, ironically suited to a depiction of contemporary life; despite a hint of surrealism, craziness and garish colours, it is perceived as a classically narrated subversive comedy. Daughter by Daria Kashcheeva from the same institution is, in animation terms, a cinematographically innovative puppet film about the relationship between a single father and his daughter evolving on two time levels – in memory and in dreary hospital reality. Hand-held camera, as well as lack of background focus amazingly contribute to this quiet, emotional and skilfully directed film.
The Little Soul by Barbara Rupik is a macabre stop motion film screened in Cannes, a technically stunning work connecting the eschatological poetics with cadaveric, rotten colours, materials and bodies. A combination of claymation and oil on canvas, this repulsively attractive poetry or organic decomposition in motion is perhaps the most spiritual film of this year's Animafest, presenting plenty of films focusing on religious issues.
Blieschow by Christoph Sarow is yet another award favourite, a film of bright summer shades and very fluid animation whose transformations, occasionally illogical combinations and proportions, as well as associative lining of episodes from a boy's holidays at the grandparents' in the countryside, imitate childhood memory with its specific fears, pleasures, small traumas and accepting other behavioural patterns. Another summer film is One Slimy Story by Assile Blaibel – a miniature of pointless leisure of characters who, accompanied by equally pointless verses, dissolve in the sun.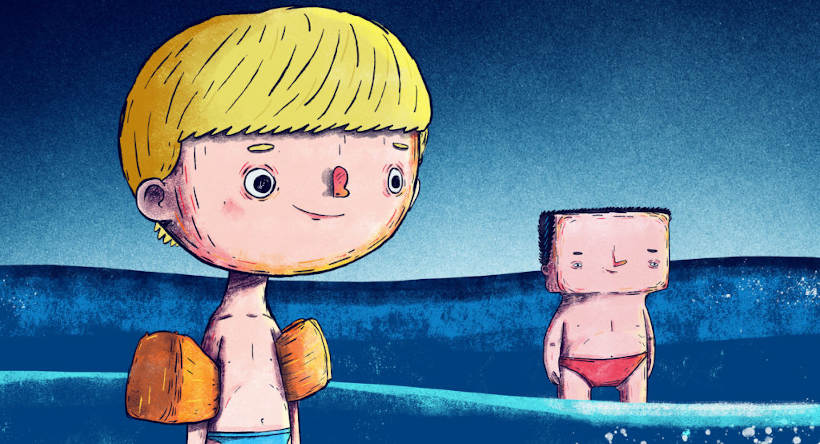 Blieschow
Created as a hint of drawing on paper, Airhead! by Gaspar Chabaud also borrows from surrealist poetics in its depiction of the imagination of a poor little bird exposed to math classes and a 'particularly complicated' bathtub task, while the rotoscopic documentary of minimalist set design about a girl struggling with anxiety and nightmares of drowning, Helfer by Anna Szöllősi, takes us on a therapy session which quickly abandons the logical world and sinks into an extremely symbolical fantasy. Finally, the Russian film Naked by Kirill Khachaturov is an extraordinary computer piece about a man passing through solid matter and a girl trying to get close to him, which can be equally taken as a work on alienation and a commentary on the omnipresent 3D design glitches.
Animafest Zagreb 2020 Student Competition also includes other subjects: from bullying and teenage pregnancy, to family and intergenerational films, films on friendship, love, greed and alienation, autobiographies and migrations, to fully experimental pieces. Comedies are quite colourful – from American sitcoms, to Monty Python absurdity, to stop motion slapstick.
The 30th World Festival of Animated Film – Animafest Zagreb 2020 takes place from 28 September to 3 October at SC Cinema, &TD Theatre, Kinoteka and many other venues around the city. 
SIGN UP: Want to read more free articles like this? Sign up for Our Newsletter
Read More About: