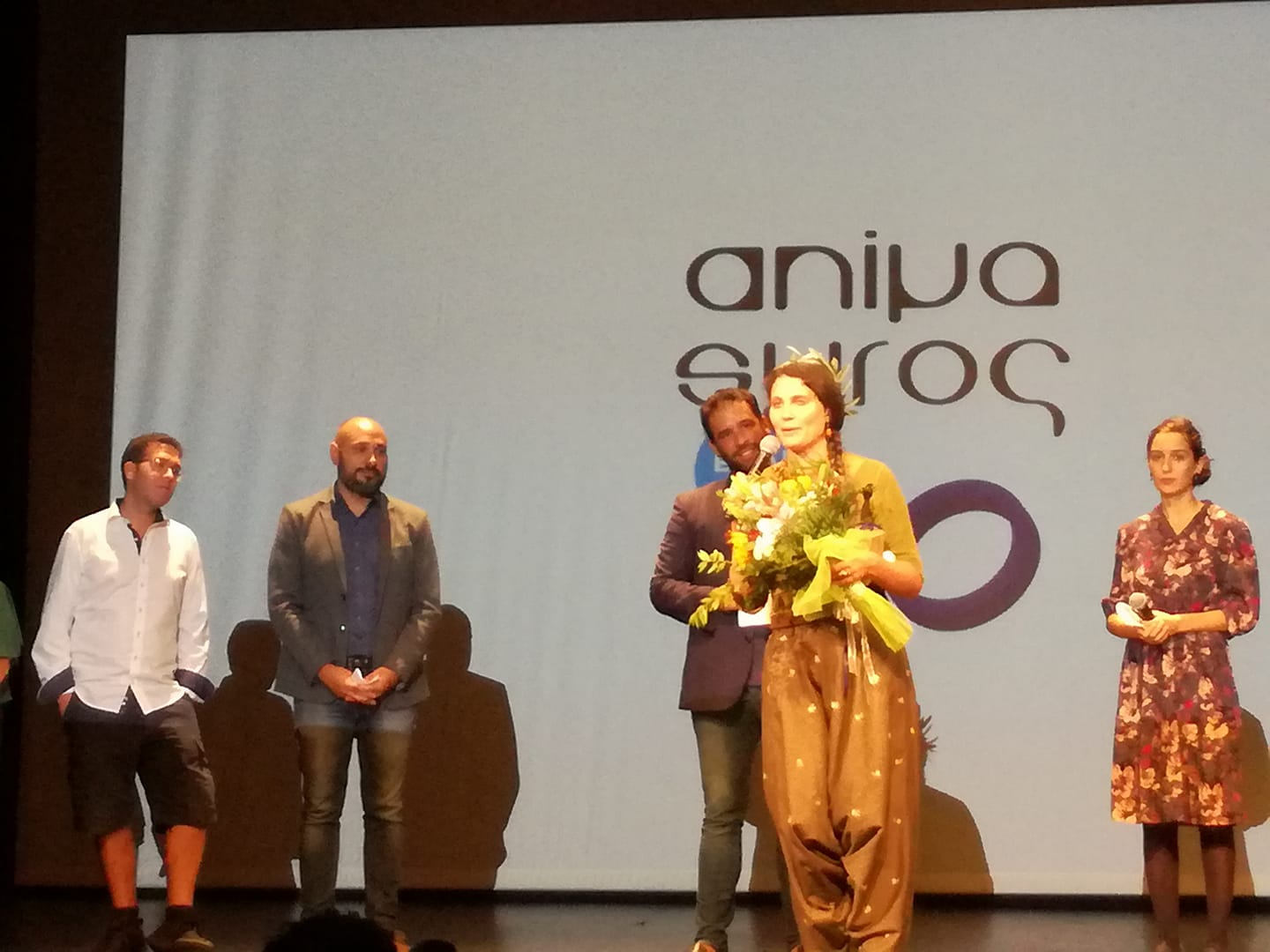 All the 2017 winners of the Greek festival at Syros.
In what seems to be an overturning of competition predictions,  the Papy3D production L' Ogre by Laurène Braibant took home the big prize of the 10th Animasyros festival. The gluttony-gone-wild film impressed the international jury (Tomm Moore, Nancy Denney- Phelps Yagos Antiochos, Alberto Vàzquez), which gave the film the Grand Animasyros prize (given to production member and director Sarah Van den Boom), for its social commentary which bear "no trace of didactisism or platitude".

Špela Čadež with her hypnotic and impressionistic nightmare of a drunk addict Nighthawk (and a clear festival stand-out) was relegated to a Special Mention, adding this to her 17-award-collection. The jury praised the film for both technique and film subject, "which raises deep issues and concerns". Even though jury decisions were unanimous, it seemed that a lot of deliberation and compromise took place- festival jury is a teamwork, after all.

Loving Vincent  (D. Kobiela, H. Welchman) won the Audience Award for Best Feature. The Annecy-awarded feature has been made partly in Greece (Studio Bauhaus), which accounts for its enhanced visibility within the Greek animation community. Another Greek victory  (and a award by 1,500 Euros by the Greek Film Center) was given to the stereoscopic (Annecy-selected) Aenigma by Aris Fatouros and Andonis Doussias for its innovation and "making surrealism again relevant in the 21st century".
In the student Competition, the jury (Erik Van Drunen, Carlo Vogele,  Myrto Lavda, Charalambos Margaritis) gave awards to two Polish films.  The funny black-and-white story O Matko! by Paulina Ziolkowska was given the First Prize. The prominent (but 'elegant', as described by the jury) sexuality expressed by Renata Gąsiorowska in her film Pussy was given the Special Mention for a Student Film.
In TV & Commissioned Films,  The Junction - Chilly Gonzales & Peaches by Patrick Doyon won the first prize, while the Special Mention was given to the UK studio Moth for the film Blue-CNN.
Animasyros celebrated its 10th edition with virility, comprehensiveness (a great number of guests and tributes, and educational workshops were being presented and prepared) and a clear view toward the future.
Bridging US and European independent animation, the festival was abound with both presentations about the status of US animation industry and its Greek repercussions  and the freshly-baked European animation plan.
With an added emphasis on the production side of the animation procedure (5 Greek animation projects were pitched in front of a packed room), and a constant emphasis on educational activities (no less than 7 educational workshops were being organized), the festival takes a close look to the creative and business environment that surrounds and supports the animation process.
The 10th AnimaSyros International Animation Festival and Agora took place 27 September - 1 October 2017 in Hermoupolis, Syros, Greece.