Animasyros 2010:The award goes to Twin Sisters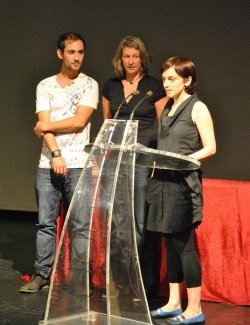 Two cunning twins (Les bessones del carrer de Ponent, by Marc Riba & Anna Solanas remain closed at home, but they keep making ointments, elixirs and poultice. Not sold in drugstores or chemist's shops.

Les bessones del carrer de Ponent/The twin girls of Sunset street  won the Grand Prize (jury members Anja Perl [DK], Dan Richards [UK], and Daphni Dragona [GR] for the exquisite realization of human violence.


Special jury mention to the Greek Nomint for the
The holy chicken of life and music
(2' 35'', digital animation). Holy Chicken is a magnificent beast, worshipped and exploited, in a tale of love and regret, art and science. Its non-linear narration of a very interesting idea was the rationale behind  its award.
Animasyros 3.0 comprised not only  the competitive program, but also workshops (from Dan Richards of Canterbury Anifest), educational events, such as the "Red Sign" workshop for kids (programmed by A. Dimitra, A. Tsikou & H. Depian), and a making of by Konstantinos Tiligadis (Ionian University, Greece) and his team
Read More About: