Annecy 2010: The awards
The Annecy Animation festival (France), which celebrated its 50 years, confirmed the predictions that the stop-motion animation of West Anderson, The Fantastic Mr Fox, would be this year's winner for feature-length animation.

The jury corroborated that the film -also Oscar nominated- was artistically (see visually) better than its rivals. So did the audience, who gave their vote to the George Clooney-voiced fox.

 Second prize (jury's prize) for Kerity, the fairytale that talks about other fairytale, with a monochromatic atmosphere and clear drawings. The boy who wants to save classic fairytales from disaster gained a few hearts.

The short-length films (and also the main prize of the Festival, Crystal d' Annecy) have Australia as the winner. The film  The Lost thing by Andrew Ruheman and Shaun Tan narrates the friendship of a child with a fantastic friend. Computer-animated, it shares the company responsible for Gorillaz and Coldplay videos.

Second prize (Jury Prize) for
Angry Man
of Norwegian Anita Killi (she also won the audience prize) about a deeply humanistic  family abuse story.
The director of Kirikou and
Azur and Asmar
, the French Michel Ocelot won the second prize in the tv animated films for his silhouette animation,
Dragons and Princesses
. .
The award ceremony in which the artistic director appears in shorts, and one of the winner receives the award barefoot (!) doesn't need to reconfirm its free-from-sobriety character.
At the Greek side, this was a first for the official participation of
The Village by Stelios Polychronakis
at Annecy's competitive programme.  See the full list of awards :
Short Length
Crystal d' Annecy
: The Lost thing (A. Ruhemann, Shaun Tann - Australia)
Jury prize: Angry Man (A. Kili -Norway)
Πρωτοεμφανιζόμενος σκηνοθέτης: Tom Haugomat, Bruno Mangyoku για την ταινία Jean-Francois (France)
Ex aequo special distinction - The Lipsett diaries (Καναδάς) - Don't go (Turkey)
FIPRESCI award: Miss remarkable and her career  (J. Rubin Dranger - Sweden)
  UNICEF award: Angry man (A. Killi - Norway)
Audience award: Angry Man (A. Killi - Norway)
Feature length films
:
1st prize: The Fantastic Mr Fox (Wes Anderson, Un. States)
Jury Prize: Kerity (Dominique Monféry, France-Italy)
Best soundtrack: Love and theft (Germany)
Audience award: The Fantastic Mr Fox
TV animation:
1st award : The little boy and the beast (J. Weiland, U. Heidschoetter - Germany)
Jury's prize: Dragons and princesses (M. Ocelot - France)
TV special award: The Gruffalo (J. Schuh, M. Lang - UK)
Graduation films:
1st prize: The Lighthouse keeper (David François, R. Hotin, J. Moreau, B. Rongron, G. Thierry, M. Vaillade - France)
2nd prize: Sauvage (P. Cabon - France)
Special mention: Lebensader (A. Steffen - Germany)

Educational films:
Sergio Basso, Giallo a Milano (Italy)
Advertising film
The Beatles, Rock Band (P. Candeland - UK/USA)
Best videoclip
Ηibi No Neiro (M. Kawamura, H. Kirkland, M. Nakamura, M. Nakamura - Japan)
Best film by a children's jury
Don't go (T. Akacic - Turkey)
Best studen film by a children's jury:
Kungfu Bunny 3 - Counterattack (Z.Li -China)
Youtube award:
Pop (B. Derriman - Australia)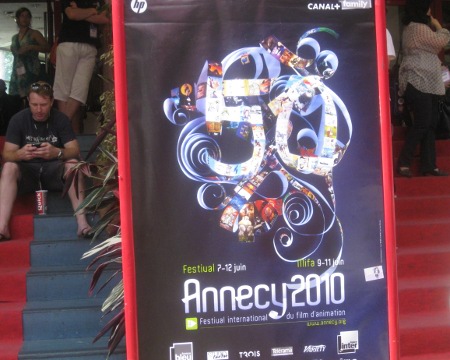 Read More About: