9 Annecy Special Prizes for 2022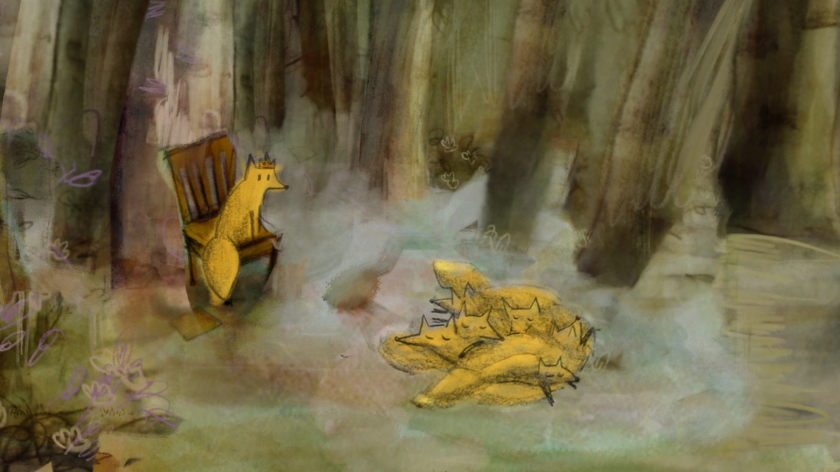 Swiss animation (a focus at this year's Annecy Festival) had its share at the awards, winning 3 out of the Special Prizes that were handed out in Bonlieu venue, during the 2022 Annecy Festival.
Marina Rosset won 2 prizes for her children's film 'The Queen of Foxes, while Noah Erni was given the YouTube award for his climate change comedy 'The Invention of Less'. ­

­The full list of awards:
­
FRANCE TV AWARD FOR A SHORT FILM
­Amok, Balázs Turai / Hungary, Romania (Boddah, Safe Frame)
After losing his fiancée and his good looks in a freak accident, Clyde must confront his inner demon.­

CANAL+ JUNIOR JURY AWARD
­La calesita, Augusto Schillaci / Argentina, US (Reel FX Animation)
A heartfelt story of the beloved Argentinian merry-go-round operators who have dedicated their lives to providing fun and happiness to children and their neighborhoods. This is a story of perseverance and community above individualism.
YOUNG AUDIENCE AWARD
The Queen of the Foxes (La Reine des renards), Marina Rosset / Switzerland (Marina Rosset Productions)
In the hopes of seeing their Queen smile again, a group of foxes rummages through the city's trash, searching for all the love letters that were never sent.
BEST ORIGINAL MUSIC AWARD FOR A SHORT FILM,SPONSORED BY THE SACEM
­The Queen of the Foxes (La Reine des renards), Rahel Zimmermann, Switzerland (Marina Rosset Productions)
­
BEST ORIGINAL MUSIC AWARD FOR A FEATURE FILM, SPONSORED BY THE SACEM
­Quantum Cowboys, Howe Gelb, Maciej Zielinksi, US (Fit Via VI, Swerve Pictures)
Two hapless drifters, Frank and Bruno, team up with Linde to recover her land and trek across 1870's Southern Arizona to find an elusive frontier musician. The complex quantum time theory is blended with philosophical musings about art as the way we understand our history and memories, with gunfights, horses, dance halls, cacti, and saloons
­
ANDRÉ-MARTIN AWARD FOR A FRENCH SHORT FILM
­Histoire pour 2 trompettes, Amandine Meyer/ France (MIYU Productions)
An initiatory and intimate story in which the author reveals, as a tale, the key stages of her development as a woman and artist.
FESTIVALS CONNEXION AWARD
Terra incognita, Pernille Kjaer, Adrian Dexter / Denmark, France (Ikki Films, Insolence Productions, Sun Creature)
Life on a mysterious island, inhabited by immortal beings who lead a pre-civilized life forgotten by time. What happens when they are visited by the outside world?
YOUTUBE AWARD
The Invention of Less, Noah Erni, Switzerland (Studio UUUH!)
Due to global warming, a young polar bear has to leave her home in summer 2031 and move to Zurich. She tries to make a living until she suddenly has an idea that will change the world for ever.
­
CITY OF ANNECY AWARD
Reparations, Wilson Borja / Colombia (Autobotika)
An exploration into the phenomenon of migration (forced and voluntary), through the fragmentation and modulation of a character: a chair.
­
Annecy International Animation Film Festival takes place from 13-18 June 2022.
­
SIGN UP: Want to read more free articles like this? Sign up for Our Newsletter