Meet the BIAF 2020 Juries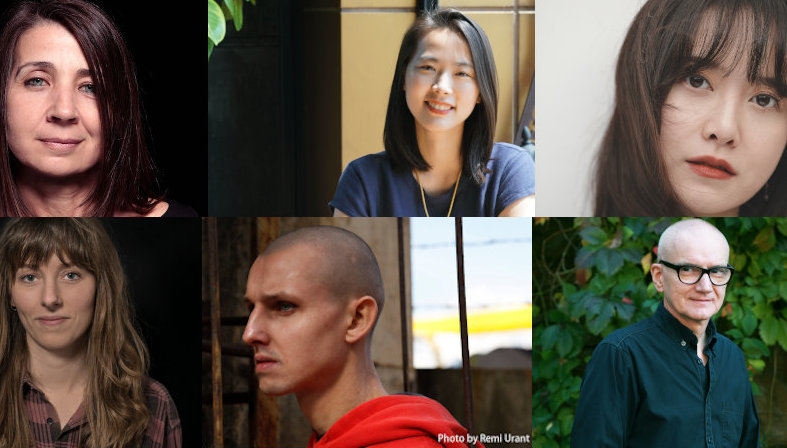 Anca Damian is this year's jury president at BIAF2020. Other Juries with Anca Damian have been announced for the 22nd edition of Bucheon International Animation Festival (BIAF2020), 23-27 October 2020.
With support and focus on 'Gender Equality', especially Jury President, three female juries of Feature Film, and the participation of 10 active directors and musicians as juries, BIAF2020 will present a much more dynamic award process.
Jury President Anca Damian won the Grand Prize and Audiences Prize for Feature Film at BIAF2019 with Marona's Fantastic Tale. She has previously won prestigious honors including the Annecy Cristal for Crulic – The Path to the Beyond (2011) and the Animafest Zagreb Grand Prix for The Magic Mountain (2015). She designs BIAF2020's visual identity, its Poster & Trailer.
Feature Film


Anca DAMIAN Majored in cinematography at the National University of Theatre and Film "I.L. Caragiale" Bucharest in Romania and obtained Ph.D. in visual arts and media. In 2008, DAMIAN made her feature debut Crossing Dates, and her second feature Crulic – The Path to Beyond (2011) won the Cristal at the Annecy International Animated Film Festival. The Magic Mountain (2015) won the Special Mention at the Karlovy Vary International Film Festival and the Grand Prize for Best Animated Feature at the Zagreb World Festival of Animated Films. Her recent film The Call (2018) was screened at world's leading international film festivals including Annecy International Animated Film Festival, Toronto International Film Festival, and Sundance Film Festival and won numerous awards. Marona's Fantastic Tale (2019) won the Festival Prize at the BIAF2019 and at ANIMA: The Brussels International Animation Film Festival.
KOO Hyesun Popular Actress, Artist and Film Director. Directed short film The Madonna (2008), short film You (2010), feature film Magic (2010) and 3D short film Fragments of Sweet Memories (2012). Director and Producer of feature film The Peach Tree (2012). Directed the drama portion of MBC Documentary Heo Nanseolheon (2013), feature film Daughter (2014), short film Mystery Pink (2018) and Deep Sleep (2018).
KIM Bora Her first feature film House of Hummingbird (2018) won the KNN Award (Audience Award) and the NETPAC Award at the Busan International Film Festival and Grand Prix of the Generation 14+ International Jury for the Best Film at the Berlin International Film Festival. Then received more than 50 domestic and international awards including the Best International Narrative Feature at the Tribeca Film Festival, Grand Jury Prize at the Seattle International Film Festival, Golden Tulip at the International Istanbul Film Festival, FIPRESCI Prize at the Jerusalem Film Festival, Best Screenplay at the Blue Dragon Film Awards. Currently working on a new film called Dogs Under the Carpet.
Short Film


Igor KOVALYOV is a Russian animator, director and educator, co-founder of Pilot —the first private animation studio in the Soviet Union. From 1991 to 2005 he worked at Klasky Csupo where he co-created Aaahh!!! Real Monsters (1994) and The Rugrats Movie (1998). He currently serves as a creative producer at Soyuzmultfilm. KOVALYOV is also known for his auteur films for which received multiple international awards, including three Grand Prizes at the Ottawa International Animation Festival.
Réka BUCSI received her BFA and MFA at MOME Budapest. Her graduation film Symphony no. 42 (2014) got shortlisted for the Oscars in 2014. Her films were screened in competition on various festival including Berlinale, SXSW and Sundance. Réka's debut film LOVE (2016) was nominated for Best Short Film at the European Film Awards. Her film Solar Walk (2018) won the Audi Short Film Award at the Berlinale 2018 and is now part of The Criterion Collection. She was the speaker at Pictoplasma, SVA Computer Arts NYC, Pratt Institute NYC, FMX Germany and a guest teacher at Calarts. Her clients include Cartoon Network, Adult Swim and FX Networks.
Tomek POPAKUL graduated in animation from the Łódź Film School. Parallelly, he studied scriptwriting for a year. He made a couple of short films – among them his graduation, multi-awarded film Ziegenort (2013) that screened at dozens of festivals around the world. He participated in Animation Artist in Residence Tokyo 2014 residency program organized by Japan Image Council (JAPIC) where he's made the film Black (2016). His latest short film Acid Rain (2019) won the Grand prize at BIAF2019, Animafest Zagreb, and Stuttgart Festival of Animated Film.
Graduation Film / TV&Commissioned Film / Korean Short Film
LEE Sunggang Started his career as a short animation film writer in 1995, and directed several short animation films such as Soul (1995), Lovers (1996), Umbrella (1997), and Ashes in the Thicket (1998). His first feature animation film, My Beautiful Girl, Mari (2002), won the Grand Prix for Best Feature Film at the Annecy International Animated Film Festival, and his short, O-nu-ri (2003), won the Special Award at the Animafest Zagreb. Since then, he directed live-action feature film Texture of Skin (2005), feature animation Yobi, The Five-Tailed Fox (2007), A Monster in the Reservoir (2012), Aksim (2014), and Kai (2016). Won the Special Award (Two Categories) at BIAF2019 with Princess Aya (2019).
SONG Siqi Director and animator from China. She studied Experimental Animation at California Institute of the Arts and China Central Academy of Fine Arts. Her animated short Sister (2018) premiered at Annecy International Animated Film Festival and was nominated for the 92nd Academy Award for Best Animated Short Film. SONG's most recent short film The Coin (2019) premiered at SXSW Film Festival and is currently showing at film festivals around the world.
Music Prize


PARK Chorong Since her debut as the leader of the girl group APINK in 2011, PARK has been writing lyrics and been active in variety shows, TV series, and film. In the first half of this year, APINK occupied various charts with their new song "Dumhdurum", and became 8-time winners for music programs. Beginning as the honorary ambassador of BIAF2017, PARK continues to have a special relationship with BIAF by hosting the press conference for the Academy Awards accreditation of BIAF and the performance of Bucheon Philharmonic Orchestra's Fantasia 2000 directed by Eric GOLDBERG of Disney in 2018.
SUNG Kiwan Leader of the Afro Asian fusion band TRESBONBON. Been active of 17 years as the band '3rd Line Butterfly' and won the three awards including Album of the Year at the Korean Music Awards in 2013. Since 2015, SUNG hosted "World Music Travel" at EBS FM for 4 years, and took charge of the music of films including Mr. Socrates (2005), and Radio Dayz (2008). In 1994, SUNG started his career as a poet by publishing a poem in the fall issue of "World Literature". He published poetry collection "Did You Go Shopping", "Story of Glass", "Your Text", and "Rieul" and prose collection "Rose-colored Slaughterhouse", and "Module". He won the 2015 Kim Hyeon Literature Prize in the poem division and translated "Asterix aux Jeux Olympiques" and "Miles Davis".
BIAF2020 runs 23-27 October 2020, Bucheon, South Korea 
SIGN UP: Want to read more free articles like this? Sign up for Our Newsletter
Read More About: