114 Animation Films for BIAF 2019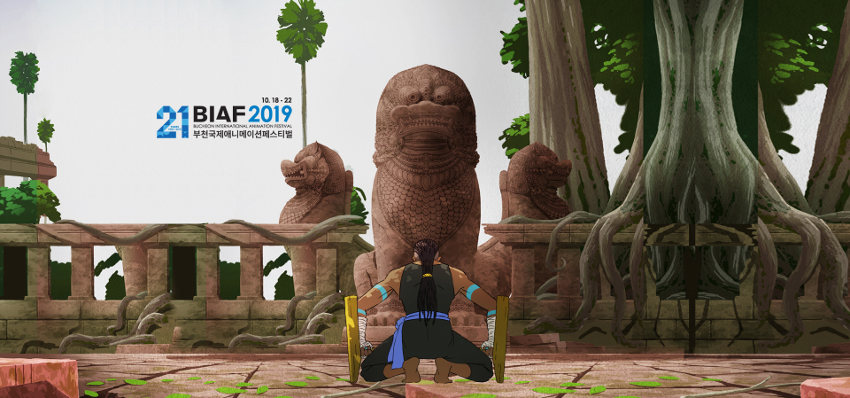 This year former BIAF Award winners such as Sébastien Laudenbach, Theodore Ushev, Nadja Andrasev, Chintis Lundgren, Song Siqi, Yutaro Kubo, Agnès Lecreux, Vincent Patar & Stéphane Aubier return with their new films.
32 Short, 41 Graduation and 14 TV&Commissioned films were selected along with 15 Korean films  and 12 Online films from over 2,443 submissions and 94 countries.
The festival's selection was carried out by Jang Seungwook (Director, The Angler)  Bryan Sungcheol Kim (Producer, The Dearest, A Monster in the Reservoir), Rhee Souewon (Critic, FIPRESCI), Yun Hyeji (Programmer) and BIAF program director, Eugene Kim.
Theodore Ushev (The Physics of Sorrow), Jeong Dahee (Movements), Agnès Patron (And Then The Bear) Luca Tóth (Mr. Mare), Anu-Laura Tuttelberg (Winter In the Rainforest) are among the festival highlights, in a competition that also includes the Annecy winner, Bruno Collet, with stop-motion Memorable. In the TV& Commissioned films category, check Sarah Saidan's Brazen, Britt Raes' Anibar teaser, and Roos Mattaar's Welder.
In the graduation category, Daughter by Daria Kashcheeva (Czech Republic),  Entropia by Flóra Anna  Buda (Hungary) and Heatwave by Fokion Xenos (check his interview with Zippy Frames) are some of the highlights.
Also: the selection has the world premiere of the Korean film Gaze by Ahn Yonghae. Juin, who is struggling with High-school violence, goes to school in a few days, but it is still a deliberate bullying and harassment.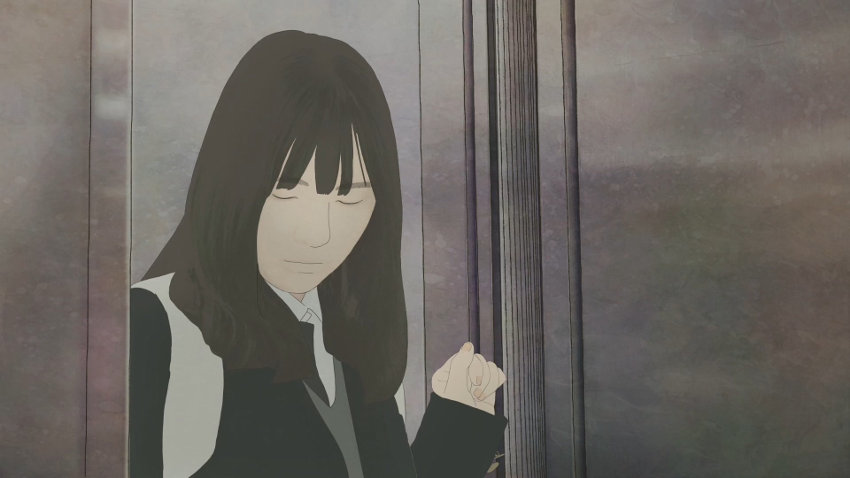 Another premiere selection is Shishigari by director Kiyotaka Oshiyama - lead animator at The Wind Rises and Evangelion: 2.0 You Can (Not) Advance.
A boy, who is coming of age, journeys into the mountains for his first hunt.  He must find the "Kuroshishi." The mountain is a world where life and death are divided by a paper-thin line. Sometimes, nature will show its fangs...
Konstantin Bronzit
returns (after We Can't Live Without Cosmos) with a new sequel (?)
He can't live without cosmos
.
This story is about mother and son. It is also about love and destiny.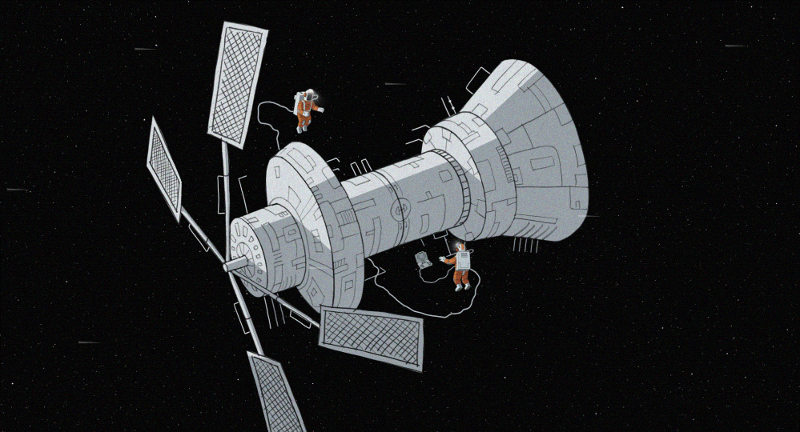 Kitwana's Journey
by
Ng'endo Mukii.
This is the story of a boy named Kitwana, A boy who laughed and played, and went to school, and did all the things that children do. One day Kitwana's life would change and not for the better, This however, no body knew.
The Physics of Sorrow, Theodore Ushev
Sometimes, the Apocalypse is a strictly personal affair… We are all immigrants, even if the only country we've left behind is childhood, abandoning it along with our collections of chewing-gum wrappers, toy cars, games, and pecks on the cheek. We don't truly feel at home until we open up our suitcase—this "time capsule" holding the hidden treasures of our youth.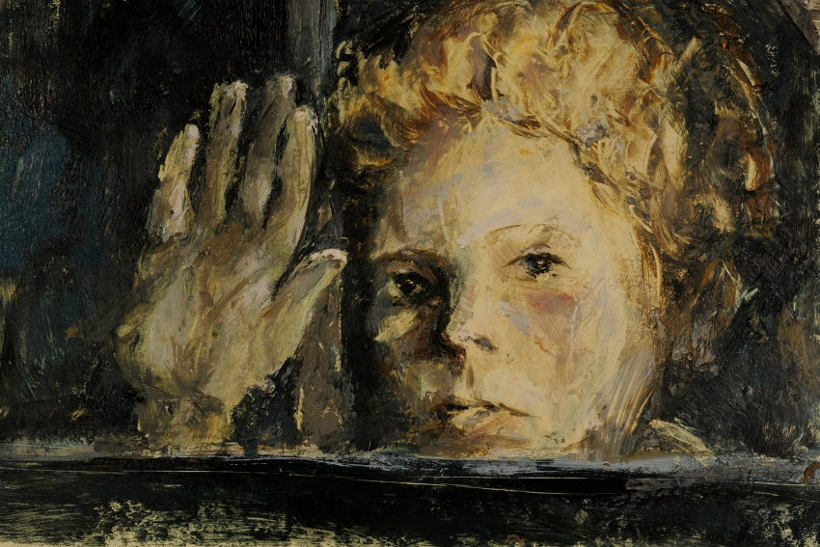 Melting Heart Cake, Benoît Chieux
To share her chocolate with her friend, Anna must cross a glacial forest. Said forest is haunted by a new resident, a terrifying bearded giant. All animals that cross his path disappear and, of course, the mole's route leads to him... but the leviathan has a warmer heart than it may seem.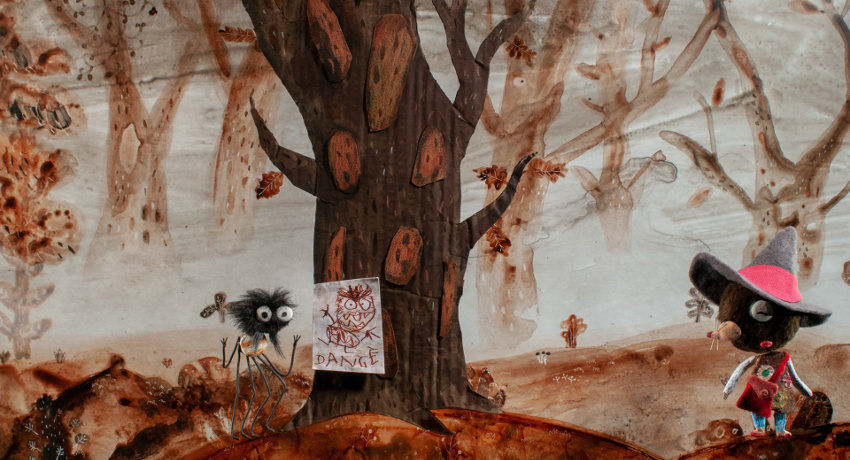 The Coin, Siqi Song
In Chinese New Year, finding the coin hidden inside of the dumplings means having a blessed year ahead. A young woman loses a jar on her journey to a new country, which contains the lucky coins she has been collecting growing up. Her new life begins with a search to find the coin.

The Official Selection: Short Film
1 Acid Rain, Tomek POPAKUL, Poland
2 And then the Bear, Agnès PATRON, France
3 Gaze , AHN Yonghae , South Korea
4 He Can't Live without Cosmos, Konstantin BRONZIT, Russia
5 Home Sweet Home, Chaitane CONVERSAT, France
6 Imbued Life, Ivana BOSNJAK, Thomas JOHNSON, Croatia
7 Kitwana's Journey, Ng'endo MUKII, Kenya
8 Knife Hanging from a Tree, NAM Jihee , USA,South Korea
9 Leaking Life, HAYASHI Shunsaku, Japan
10 Melting Heart Cake ,Benoît CHIEUX, France
11 Memorable, Bruno COLLET, France
12 Metamorphosis, Juan Fran JACINTO,, Carla PEREIRA, France,Spain
13 Movements , JEONG Dahee , South Korea
14 Mr. Mare, Luca TÓTH, Hungary
15 No Dragon Village , PARK Sehong , South Korea
16 No Objects, Moïa JOBIN-PARÉ, Canada
17 Piece of Meat ,Jerrold CHONG,, HUANG Junxiang, Singapore
18 Saigon sur Marne, Aude Ha LEPLÈGE, Belgium,France
19 SHISHIGARI, OSHIYAMA Kiyotaka , Japan
20 Sun Shower, ISHII Toshimasa, Japan
21 Symbiosis, Nadja ANDRASEV, Hungary France
22 Tadpole, Jean-Claude ROZEC, France
23 The Coin ,Siqi SONG, USA
24 The First Class, KIM Myungeun , South Korea
25 The Giraffe, Rosalie LONCIN, France
26 The Girl from the Other Side, KUBO Yutaro, MAIYA Satomi, Japan
27 The Phantom 52, Geoff MARSLETT, USA
28 The Physics of Sorrow , Theodore USHEV, Canada
29 The Procession, Pascal BLANCHET, Rodolphe SAINT-GELAIS, Canada
30 The Wheel Turns , KIM Sangjoon, South Korea,USA
31 Toomas beneath the Valley of the Wild Wolves, Chintis LUNDGREN, Draško IVEZIĆ, Estonia,Croatia
32 Winter in the Rainforest ,Anu-Laura TUTTELBERG, Lithuania,France

The Official Selection: Graduation Film
1 2.3 x2.6 x 3.2, Jiaqi WANG, UK
2 A Day in the Life, Anna LEE, USA
3 A Quack too Far, Melissa CULHANE, Ireland
4 Bitter Sweet Morning, Tyka BEUMERS, Netherlands
5 Blieschow, Christoph SAROW, Germany
6 Culture Broth, Léon MOH-CAH, UK
7 Daughter, Daria KASHCHEEVA, Czech Republic
8 Entropia, Flóra Anna BUDA, Hungary
9 Happy Ending , Eunju Ara CHOI, UK,South Korea
10 Heat Wave, Fokion XENOS, Greece,UK
11 Hedgehog, Vaibhav KESWANI, Jeanne , LAUREAU, Colombine MAJOU, Morgane MATTARD, Kaisa PIRTTINEN, Jongha YOON, France
12 Huilbui, Sanna de VRIES, Netherlands
13 Knitcromancer, Allison ROSSI, Ida ZHU, Becky SEAMANS,USA
14 Kukuru, Julia Gomes RODRIGUES, USA
15 Me and My Magnet and My Dead Friend, LIU Maoning, China
16 Memory of Blue, HIRAI Akane, YANAGIDA Ryosuke , YAMAGUCHI Mai , Japan
17 MOM -The Worst Punishment-,KIM Sukyoung, JO Kyeongwook , South Korea
18 No body, Haemin KO, UK
19 Nymphs of the Woods, Iulia MATEI UK
20 o28, Otalia CAUSSÉ, Geoffroy COLLIN, Louise GRARDEL, Antoine MARCHAND, Robin MERLE, Fabien MEYRAN France
21 Ode to Childhood, Luís VITAL, João MONTEIRO, Portugal
22 One Liner, Matthew LEE, UK
23 R.I.S.E Pathfinder, Chloe DUMOULIN, Clementine DUDREUILH, Alexandre FRUITET, Megane NOUSSE, Gabriel SEPULCHRE, France
24 Secret, Ysabel Congying LI, USA
25 Shattered, Suyoung JANG, USA,South Korea
26 Solar Plexus, David MCSHANE, UK
27 Stay One More Night, CHEN Yu-i , Taiwan
28 Sticks & Stones, Mark E LIM, Anna CONDE, Andrea WALKER, USA
29 Tell Me You Still Love Me, Rui Ting JI, Canada
30 The Beekeeper, Robyn CONROY, Ireland
31 The Fox & The Pigeon, Michelle CHUA, Aileen DEWHURST, Sharon GABRIELLA, Viktor IVANOVSKI, Sang LEE, Tyler PACANA, Sikyung Kevin SUNG, Morgan THOMPSON, Matt WALTON, Steven WANG, Chelsea van TOL, Canada
32 The Kite, Martin SMATANA, Czech Republic, Poland, Slovakia
33 The Little Soul, Barbara RUPIK, Poland
34 The Mitten, Sophie MARTIN, France
35 The Sea within the Room, HSUEH Fang-Yi , LIU Ya-Ching , Taiwan
36 The Switch, Josh BAUM, Brittany MARISCO, USA
37 Through the Eyes of You, Laura VAN DER ZEE, Netherlands
38 Two, Emre OKTEN, USA
39 When the Light Comes, Hang XU, UK
40 SWITCH , PARK Hyelin, South Korea
41 A Ghost is Sitting Next to You , YOON Shinjeong , South Korea

The Official Selection: TV&Commissioned Film
1 A Town Called Panic-The County Fair, Vincent PATAR, Stéphane AUBIER, Belgium,France
2 Aaaanibar, Britt RAES, Belgium
3 At The Kitchen Table: Stories of Migration and Resilience, Kate ANDERSON, Sonia, KNEEPKENS, Fan SISSOKO, UK
4 BAUM - Ici-bas, Sébastien LAUDENBACH, France
5 Brazen-Episode "Annette Kellerman", Mai NGUYEN, Sarah SAIDAN, France
6 DAVSS: The Monster,Katie STEED, UK
7 Dimitri et la Drôle de Surprise, Agnès Le CREUX, France,Belgium, Switzerland
8 Hello Jemima, Peter BAYNTON, UK
9 Ode, Shadi ADIB, Germany
10 Sherwood, Bruce CARTER, USA,New Zealand
11 The Beatles - Glass Onion, Alasdair BROTHERSTON, Jock MOONEY, UK
12 The Myth of Dragon's Mountain, Asghar SAFAR, Abbas Jalali YEKTA, Iran
13 We Will See Someday, HONG Nari , South Korea
14 Welder, Roos MATTAAR, UK
The Official Selection: Korean Film
1 Before I Leave, LEE Jimin , South Korea
2 Bermuda HA Hyewon, CHOI Jungyoon, CHOI Hyeyoung , South Korea
3 Bruise , KIM Seungjun , South Korea
4 GALAPAGOS, HUR Bumwook , South Korea
5 Gaze, AHN Yonghae , South Korea
6 Jesa , SONG Kyungwon , USA,South Korea
7 Knife Hanging from a tree, NAM Jihee , USA,South Korea
8 Le Mot, BAEK Miyoung , South Korea
9 Merry Cleaningmas, KIM Sol, KIM Jungin, LEE Jiwon , South Korea
10 Movements , JEONG Dahee , South Korea
11 No Dragon Village , PARK Sehong , South Korea
12 SAN, WOO Jin , South Korea
13 Snail Man, PARK Jaebeom ,South Korea
14 Somewhere, The Forest, HYUN Yujeong , South Korea
15 The First Class, KIM Myungeun, South Korea
The Official Selection: Online Film
1 A Poem in Bamboo, Xufei WU, Chun Yao CHANG, USA
2 Amaryllis, Wong Ying KWAN, Ng Wing KIU, Hong Kong
3 Grandpa's Favourite Origami, Yihan WANG, New Zealand,USA
4 Honey, HIRAI Kotono, Japan
5 Journey to the Beyond, YAMAGUCHI Mai Japan
6 Just a Small, KIM Nakyung, USA
7 KINCET SIDE, YOO HyoungJoon, USA
8 Light in Deep, DU Sunyoung, UK
9 Love at First Light, Cain, USA
10 Not Alone, Santos FILIPA, UK
11 Rapunzel, Juan Pablo MACHADO, France
12, Send a Heart, LIANG Ya-jyun , Taiwan
Feature and VR competition result will be announced soon.  BIAF2019 is scheduled to run October 18-22, 2019 (Bucheon, South Korea). Festival Website: www.biaf.or.kr
SIGN UP: Want to read more free articles like this? Sign up for Our Newsletter