Clermont-Ferrand Festival 2020: Animation Winners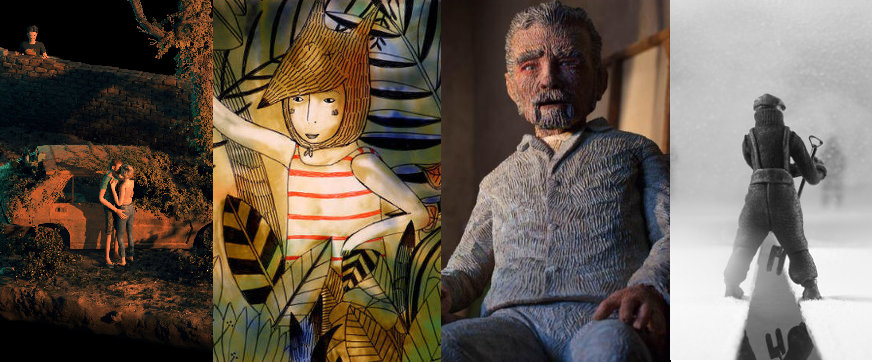 The festival's Best Animation Film Award went to Pulsión by Pedro Casavecchia (Argentina, France / 2019,  06'57).
The twisted story of a kid growing up in a dysfunctional family. This psychological thriller follows the character along a spiraling descent into madness, piecing together the portrait of a killer.
Special Jury Mention was given to Mascot by Leeha Kim, South Korea / 2019, 06'50.
A fox wants to become a city mascot and studies at the Mascot training academy. He lives in a tiny house, juggles with many part-time jobs, and has to take out a loan to finance plastic surgery.
The Coup de Coeur CANAL+ Family award was reserved for Opinci by 
Damian Groves
and
Anton Groves
(Romania, France / 2019, 17'53)
A record-breaking globetrotter and widowed father uses his extraordinary past to teach his young daughter lessons about life.
National French Competition:
Audience Prize was given to the Oscar-nominated Memorable by Bruno Collet:
Louis, a painter, and his wife Michelle have recently experienced some strange events. The universe around them seems to be changing. Slowly, furniture, objects, and people lose their realism. They come apart, sometimes they disintegrate.
The PROCIREP Short Film Producer award was awarded to Sheep, Wolf and A Cup of Tea by Marion Lacourt.
At night, while family members indulge in curious rituals before sleeping, a child calls forth a wolf from a box hidden under his bed. Strange sheep then besiege the door of his bedroom.
The Best French Speaking Animation - SACD Award was given to Traces by Hugo Frassetto and  Sophie Tavert Macian (France, Belgium / 2019, 13'00)
36,000 years ago, in the steep valleys of the Ardèche, once an animal was drawn it became hunted. As hunting season draws near, Karou, the tracker, and his apprentice enter the monumental cave to draw. Their ritual is disrupted by a cave lion.
Adrien Merigeau with Genius Loci won the Jury Special Mention:
One night, Reine, a young loner, sees the urban chaos as a mystical oneness that seems alive, like some sort of guide.
In the Lab competition, Soetkin Verstegen won the Special Jury Prize for her Freeze Frame:
Freeze frame: the most absurd technique since the invention of the moving image. Through an elaborate process of duplicating the same image over and over again, it creates the illusion of stillness. In this stop-motion film, identical figures try to perform the hopeless task of preserving blocks of ice, like archivists. The repetitive movements reanimate the animals captured inside the blocks.
Special Jury Mention went to Majia Gehrig for Average Happiness.
During a PowerPoint presentation, statistical diagrams break free from the straitjackets of their coordinates. A trip into the sensual world of statistics begins. Pie charts melt, arrow diagrams twist, scatter plots, bar graphs and stock market curves join in a collective climax.
The International Short Film Festival Clermont-Ferrrand took place 31 January - 8 February 2020.
SIGN UP: Want to read more free articles like this? Sign up for Our Newsletter