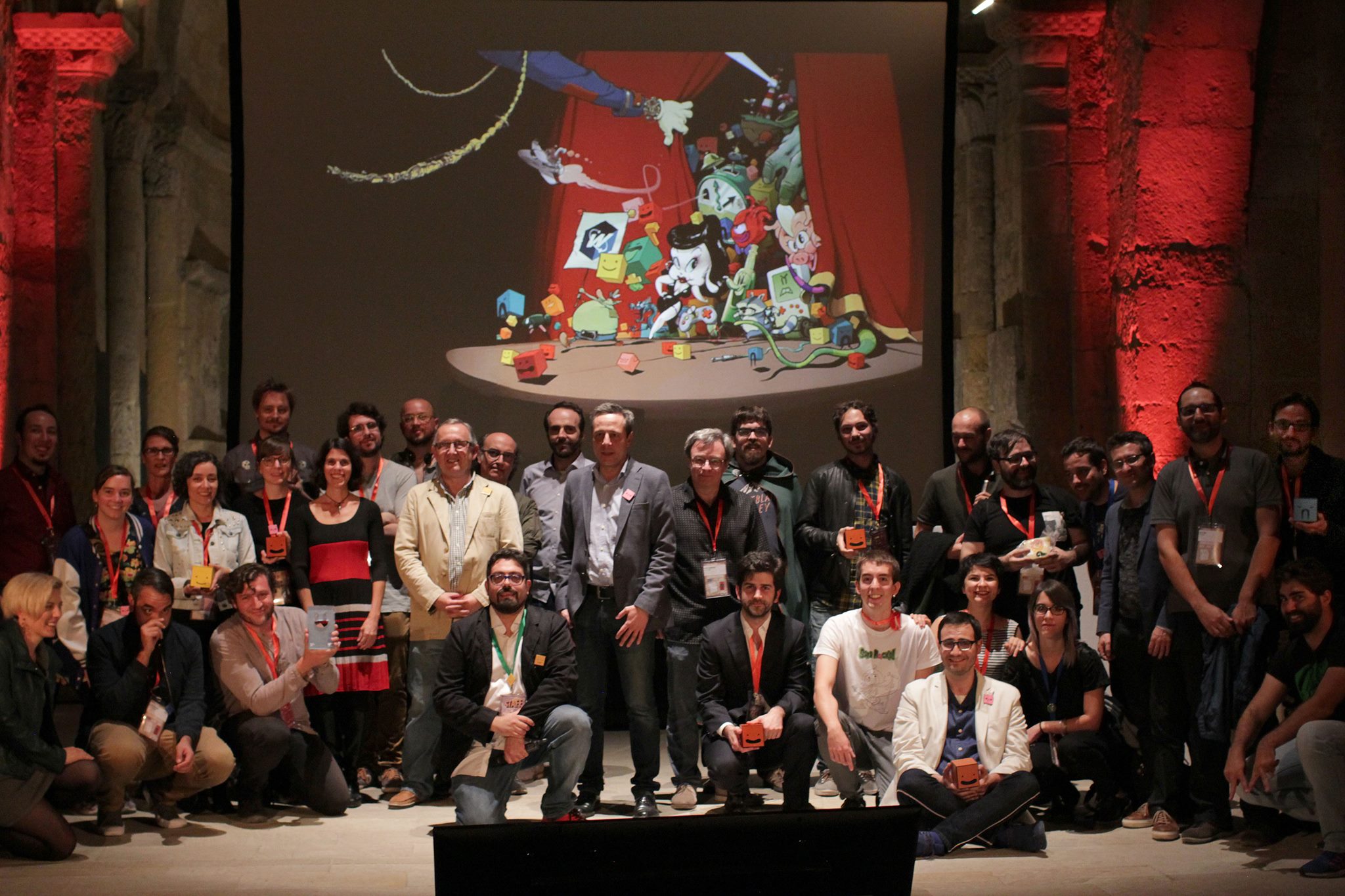 Vassilis Kroustallis reports from Segovia and the ninth edition of 3DWire.
Already in its ninth edition, 3DWire grows bigger and bigger. The festival and essential market for Spanish animation and video games has succeeded in bringing together both artists, producers, distributors and policy makers from both Spain and internationally.
The fact that its scope is clearly defined (Spain, Portugal and Latin America and Spanish-speaking countries) helps it distinguish from more global events, like Annecy's MIFA;  its convivial atmosphere (you cannot miss seeing anyone at the grand palaces and churches, where the events take place) makes networking friendlier, but still professional.
In the festival section of 3DWire, Negative Space by Max Porter  and Ru Kuwahata won the festival grand prize (Jury:   Barry O'Donoghue, Celia Bullwinkel, Bastien Dubois, Andrea Afanador).  Canada-Croatia-Estonia co-production Manivald  by Chintis Lundgren won the European Best Short Award.  Island by Robert Löbel and Max Mörti  received a special mention, and  Morning Cowboy by Fernando Pomares won the Jury Award for Best National Short (full list of winners).
But 3DWIre's soul still lies in the animation and video games market, where the energy, vitality and (sometimes) extravagance of the 159 projects selected.
In a welcome change of pace, SAM announced (after a homage to Phil TIppett) that he temporarily abandons clay animation (Vicenta, POS ESO)  for which he became famous in the independent circuit. His new short film project, Routine (still needs funding) presents dark, metallic, not at all colorful characters who have to obey or command the other, in a Kafkaesque civil service environment.
Alberto Vázquez (co-director and art director of the GKIDS distributed  Birdboy / Psiconautas: The Forgotten Children)  has two projects in parallel. The video game project Microbian  (also won an award at 3DWire) is a clever video game microbiology project from a guy who doesn't play video games -so, check it out.ib

His new feature-in-development film, Unicorn Wars is a re-working of his previous Unicorn Blood short, and budgeted at 2,2m Euros (a low budget for even a European animation feature, yet the previous Psiconautas matched quality with business frugality). It is self-described as "Bambi meets Apocalypse Now meets The Holy Bible", and independent animation circuit sees this as another attempt to break out from the ad nauseam repeated motto "animation is for children". The question is not about the production (even though co-producers are still needed), but about  what would make the right distribution for such a film.
Ignacio Ferreras (who did the exquisite Wrinkles) moved into Chinese co-production for his next feature Dragonkeeper;  scriptwriter Pablo Castrillo revealed transcultural nuances between the two countries (Spain and China) that need to be taken into account in an ahistorical story of a girl slave in China.
Isabel Herguera (Amore d'Inverno, Sailor's Grave) makes Sultana's Dream,  a highly interesting documentary animation feature project in 2D animation. Fascinated by the story and by its author, Rokeya Hossain, Inés embarks on a journey across India with the purpose of turning the story into a film.  said that film is a co-production between Spain, Portugal and Italy;  Chelo Loureiro, the film's producer, says the film crew is now in India, researching and developing film backgrounds.
Colombia was a guest country in 3DWire, and Carlos Smith (of Hierro Animacion) along with French IKKI films have crafted a feature in development L'Otra Forma, a creative project on conformism with a square mentality attribute.
The new Ibero-American Quirino Awards are under way, and festival director Jose Luis Farias wants to make them more than an award ceremony (6-7 April 2018).  The extent of 3DWire moved into Philippines as well, where Miguel Del Rosario (President, Animation Council of the Philippines), made clear that traditional animation (with almost 5,000 employees directly and indirectly involved in animation) is here to stay, when talents matter.
3DWire team have managed to gather support from high-profile companies and institutions, indispensable for an event devoted not only to animation, but also to video games and transmedia projects. But what really matters in the end is the professionals' support, and it seems that people like coming up again and again in Segovia -not a small feat, after all.
3DWire Animation, Video Games and New Media Festival and Market took place in Segovia, 5-8 October 2017. Professionals from 14 countries  (Germany, Argentina, Colombia, Denmark, Ecuador, United States, Estonia, Philippines, France, Japan, Ireland, Mexico, Portugal and United Kingdom) attending its ninth edition.