Ernest and Celestine, Wolf Children win at NYICFF 2013
The César-awarded French feature film, Ernest et Celestine (Renner/Patar/Aubier dir.) [info-trailer] won the Grand Prize Feature of the 2013 NYICFF. Mamoru Hosoda's (The Girl who Leapt Through Time, Summer Wars) new feature Wolf Children [info-trailer] won the Audience Award.
 Special jury award (best animated short) for the Encounters-awarded film I am Tom Moody (Ainslie Henderson, UK).
 NYICFF is an Academy®-qualifying festival, and  I am Tom Moody is now eligible for consideration for the Academy Awards® in the category of short animated film.
The awards were presented at the annual NYICFF Awards Ceremony this past Sunday, March 17 at the Directors Guild of America Theater in Manhattan.
The festival continues through 24th March.
Visit gkids.com and see all the awards (including awards for live-action films) and the festival jury below:
NYICFF AWARDS
Grand Prize Feature
Ernest & Celestine, Stéphane Aubier/Vincent Patar/Benjamin Renner, France, 2012, 79 min
Audience Award Features
Starry Starry Night, Tom Shu-yu Lin, Taiwan, 2011, 98 min
Wolf Children, Mamoru Hosoda, Japan, 2012, 117 min
Audience Award Features
Starry Starry Night, Tom Shu-yu Lin, Taiwan, 2011, 98 min
Wolf Children, Mamoru Hosoda, Japan, 2012, 117 min
Special Jury Awards
Best Animated Short – I Am Tom Moody, Ainslie Henderson, UK, 2012, 7 min
Best Live Action Short – The Runaway, Victor Carrey, Spain, 2011, 11 min
Audience Award Short Films
Grand Prize Short Film – Snack Attack, Andrew Cadelago, USA, 2012, 4.5 min
Ages 3-6 – The Little Bird and the Leaf, Lena von Döhren, Switzerland, 2011, 4 min
Audience Award, Ages 5-10 – Snack Attack, Andrew Cadelago, USA, 2012, 4.5 min
Audience Award, Ages 8-14 – The Vacuum Kid, Katharine Mahalic, USA, 2011, 10 min
Audience Award, Ages 12-18 - Song of the Spindle, Drew Christie, USA/Australia, 2011, 4 min
Parents Award - Lola, Franck Janin, France, 2011, 6.5 min
NYICFF 2013 JURY:
·  John Canemaker – Academy Award®-winning animator
·  Geena Davis – Academy Award®-winning actor (The Accidental Tourist, Thelma & Louise)
·  Tomm Moore – Academy Award® nominated animator/director (The Secret of Kells)
·  Lynne McVeigh – Associate Professor of Children's Media at NYU Tisch School of the Arts
·  Matthew Modine –Award-winning actor (Full Metal Jacket, The Dark Knight Rises)
·  Dana Points – Editor-in-Chief, Parents Magazine
·  Susan Sarandon – Academy Award®-winning actor (Dead Man Walking, Arbitrage)
·   James Schamus – Award-winning writer/producer (Brokeback Mountain, The Ice Storm)
·  Evan Shapiro – President, Participant Television
·   Christine Vachon – Award-winning producer (Boys Don't Cry, Mildred Pierce)
·   Gus Van Sant – Academy Award® nominated director (Milk, Good Will Hunting)
·  Taika Waititi – Academy Award® nominated writer/director (Two Cars One Night, Boy)
·   Jeffrey Wright – Award-winning actor (Basquiat, The Ides of March)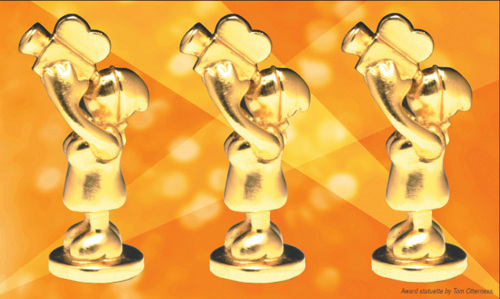 Read More About: