Fest Anca Welcomes Pritt and Olga Pärn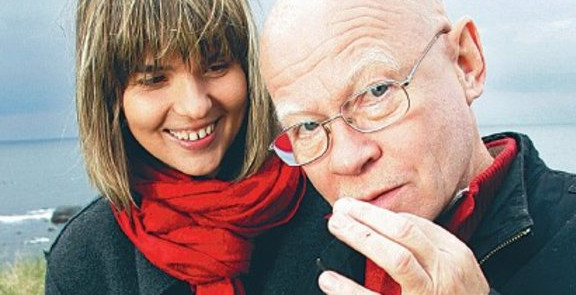 (photo: Toomas Huik, kultuur.postimees.ee)
The Fest Anča International Animation Festival  (24-28 June 2015) will once again open the summer vacation season by bringing the best international animated movies to Žilina. A special guest of this 8th edition of Fest Anča will be the Estonian animation couple Priit and Olga Pärn, who have received many awards.
In Pärns' hands, animated film stops being a cute and harmless medium and instead becomes a means of ironic reflection of the world. Some of the typical features are dark humour and experimenting with surrealism principles, as well as a combination of various animation techniques. That's why they have become an inspiration for filmmakers across the world.
Priit Pärn said for Homo Felix magazine in 2011: I′m not dreaming of huge fame in the sense that my movies should have twenty million viewers and I would get a lot of money. I am happy with what I′ve done until now. I know that anywhere I go in the world, people can watch my films and many of them enjoy it.
Priit Pärn has taught at film academies in Finland, Germany, Switzerland, Norway, Belgium, Netherlands, Spain, France and England. He is also a member of the European Film Academy.
Audiences at Fest Anča will have the opportunity to watch the best work by this Estonian animation couple, and learn some behind-the-scenes information about their movie-making process, as well as Priit Pärn's frequently surprising opinions on surrealistic art.
The competition of animated movies will again be the main highlight of the festival, as 1,143 motion pictures from 78 countries were submitted this year. The pre-selection jury will select the best and organize them into individual sections of the competition.
It is incredibly enriching to see the diversity of contemporary work from the whole world, various trends, and films from countries where you wouldn't even expect anyone to get the idea of making an animated motion picture. In my opinion, viewers can look forward to seeing many interesting films," says Maroš Brojo, program director of the festival, commenting on the ongoing pre-selection process.
As well as the Anča Slovak Award, where the winner receives an endowed prize of EUR 600 thanks to the cooperation with the Literary Fund, domestic films will also compete for the Anča D Award, a distribution prize awarded by the Film Europe Media Company.
Read More About: