Glas Animation 2021: Top Picks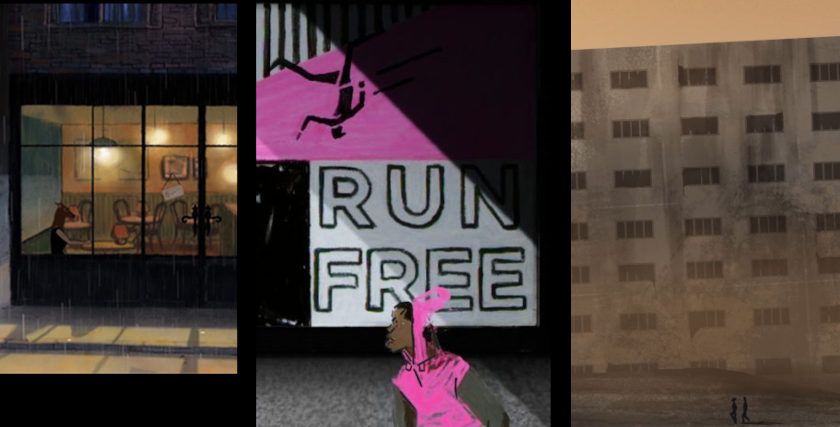 COMPETITION NO. 1
1. The Fire Next Time | Director: Renaldho Pelle, NFTS, 2019
This film is set on an urban high-rise estate, depicting the everyday lives of young people. Made using a stop-motion environment +2D animation characters made using paint on glass with a multiplane setup and deploying fresh use of concrete textures, the film has a refreshing aesthetic. A trio of black and mixed race teenagers, playfighting in an underpass are pursued by white police. Later, a riot ensues, with billowing smoke and angry shouts. One of the teenagers flees the riot, as flames consume the estate, and the teenager is seemingly flung from the towerblock.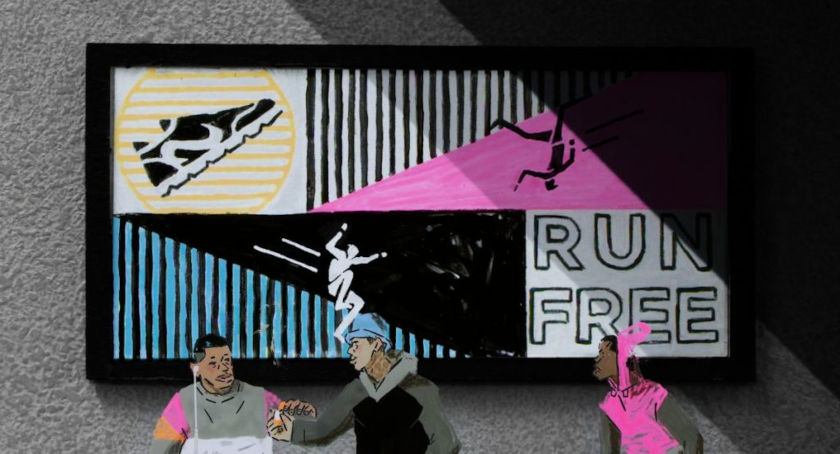 The Fire Next Time
In the Q&A as part of the festival, Pelle described how the two year process of making the film was informed by the developing cycle of racism and police violence against people of colour, and how and why riots may occur following negative cycles; he feels that it is essential that memories of recurring cycles are not buried, and he intends that his film suggests a memory of these events. Pelle described how he wanted the housing estate environments to be developed as utopias fallen to decay, through tactility and textural aspects: 'Essentially we were trying to look at the environment as a character in the film'.
2. Domo Dreams | Director: Jack Wedge, for Adult Swim Smalls
From Jack Wedge comes more vivid surreal weirdness, fusing dreamy strangeness, psychedelic spirals and an operatic cat called Domo. In the Q&A, Wedge explained how his ideas were greatly influenced by a family visit to Japan, which led him to start making animations about Domo. The films explore the cat's subconscious.
3. Southpaw | Kuricorder Quartet, animation by Sawako Kabuki, No date
A kind of paganistic dance that would feel at home in The Wickerman, involving a human-like creature whose face is in the top of its torso (no neck). A distinctive and humorous short!
4. Polka Dot Boy | Director: Sarina Nihei, Miyu Productions
A young boy, arms covered in large dots, visits the doctor's surgery. We see other characters, involved in torture and self-medication. A cult has gathered to worship their leader, with echoes of concentration camps in using ID number tattoos. A terror attack occurs as newspaper headlines reveal that a core of violence is consuming the city. Weird violence pervades the story, as the polka dot infection spreads to other children. This is an interesting film, with highly visceral and atmospheric foley.
5. Return to the Peach Blossom Wonderland | Directors: Yue Huang, Yuchao Luo and Haomin Peng, 2020
An interesting split-screen film, made with a sumptuous use of rotoscoped painting which results in a quite loose, digital-painterly feel.
COMPETITION NO. 2
1. Natural Selection | Director: Aleta Rajic, 2019
This very interesting Croatian production tells the story of Woman-Doe, a hybrid human deer. Daytimes she works as a museum exhibit, as a stuffed animal head. Her life is otherwise uneventful, until one night, troubled by weird dreams, she wakes up to find small horns growing out of her head.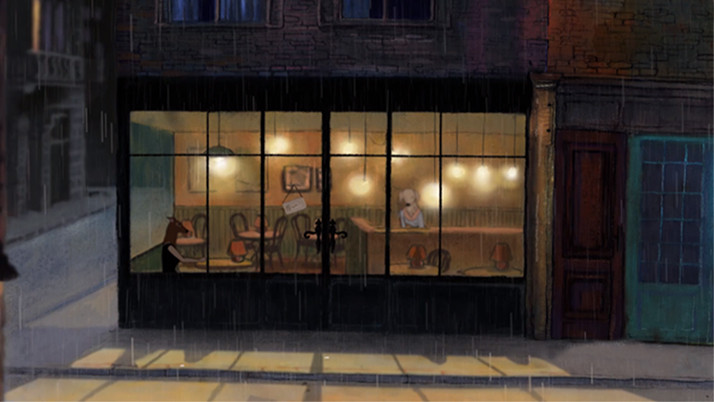 Natural Selection
The film is very sensual, and the anthropomorphism develops a sensual, sexual quality to the work, echoed in her nighttime attire and in a scene of mutual silent attraction with a young woman dancing in the rain; this can be viewed in the context of a current resurgence of interest in using anthropomorphic characters, to explore and question our animal selves and what boundaries separate us from Nature.
2. Crab | Director: Shiva Sadegh Asadi, 2020
A highly textural film, with a slightly disturbing overtone. A young boy wants to join his school theatre group, but the only role he is offered is to play a crab. With other children wearing weird masks and scored with a jarring soundtrack, there is a spooky element.
3. Hide | Director: Daniel Gray, 2019
Two little boys decide to play hide and seek. One of them finds the perfect hiding place, inside a small cupboard... but he never comes out. From the claustrophobic interior, he watches as years pass by without him. There is a strong sense of confinement, heightened by powerful use of composition and lighting.
4. KKUM | Director: Kang-min Kim, 2020
This inventive short features characters made from Styrofoam, and gently amusing body motion. The film explores how the protagonist's dreams have been shaped by his relationship with his mother. The tactile aspect of the character animation, due to the material and construction process, gives a very enjoyable sense of movement underpinned by humorous foley. Very inventive, and with a fun process of making beads of dripping sweat from pixel-like Styrofoam cut-outs.
COMPETITION 3
1. Naked | Director: Kirill Khachaturov, #Protocorba, 2019
A bleak, urban story: a man and woman get stuck in a high-rise lift. When they get out, the man goes to draw graffiti, whilst the woman visits her friend and they discuss mutual friends. The man's graffiti seems to have a magic quality, and it allows him to walk through walls, and he visits the two women. He continues drawing but turns the pen onto his own skin, scribbling across his face and torso. A sombre and unsettling film, deploying damaged environments to create an eerie atmosphere of social decay and strange powers.
2. Maalbeek| Director: Ismael Joffroy Chandoutis, 2020
A haunting evocation of the experience of an explosion at Maalbeek station and airport and the ensuing coma that occurred. As one image retreats into the distance to be overlapped and buried by the next image, there is a powerful sense of memories swirling and fading, burying one another, due to brain injury from the explosion.
US COMPETITION
1. The Midnight Sun | Director: Connor Radding, UCLA School of Theatre, Film and television, 2020
An atmospherically staged wilderness story. Starting with a child's game in a forest, then jumping forward in time with the child now grown up as a park lookout ranger who heads out to investigate signs of a fire in the forest. Great use of foley combined with deeply drenched colour helps to build a brooding environmental unease and mystery.
EXTRA PROGRAMS
Nick Cross Talk, with Sean Buckelew: Canadian animator Nick Cross has worked at range of major studios and is currently a producer for Netflix Animation. He has worked as prolific indie animator, most recently releasing The Clockwork Elves.
Cross gave a very interesting talk on his trajectory as an artist and animator, starting from when he was a child, wanting to be an artist, to becoming an independent animator alongside commercial work as a background artist. Having studied illustration at Sheridan College, Toronto, he got his first artist job at an Ottawa-based animation company. This led him to start making independent short films, and these eventually led him to art directing 'Over the Garden Wall'. The environments feature beautiful lighting and intricately painted textures. He recounted how he always wanted to bring this handmade, painterly quality into his commercial work.
Interestingly, Nick described his story development process, where he likes to just draw thumbnails, wondering what may happen in the narrative. He always starts with 'super scribbly, nonsensical storyboards', as they are only for his own use at this stage. This was a fun insight into the animator's process, with an interesting expansion on using Youtube and other platforms to release independent content, as a means of bypassing the need for commercial studio support and funding.
The Clockwork Elves is a great short film showing, combining paganistic tribes, weird magic, death and decay within a psychedelic trip. Very exciting filmmaking.
2. Reduction | Director: Reka Anna Szakaly, Budapest, 2020
This very interesting short film tells the story of two teenage girls who live together on a ruined beach in a post-apocalyptic world. Whilst they scavenge to survive, they also play together, revealing their ongoing need to behave as children. They stare out to sea, longing to reach the offshore island in the distance. One day, a strange creature arrives at the seashore, irreversibly changing the dynamic between the girls. One of them follows the creature to an abandoned, derelict building and befriends it.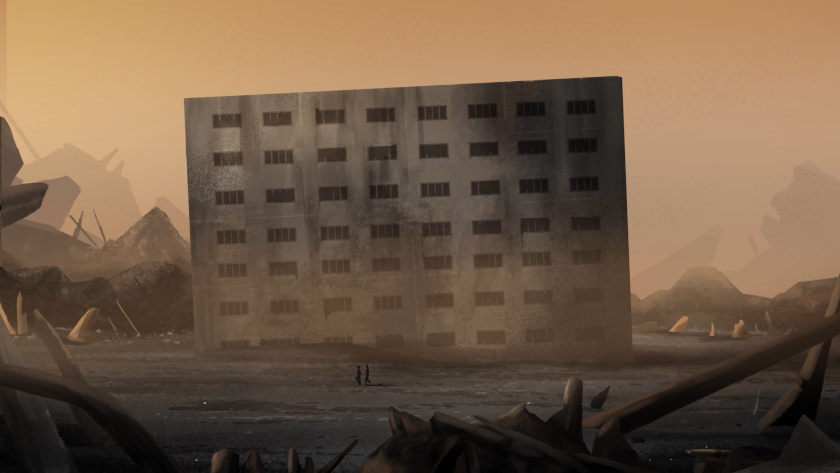 Reduction

The film is permeated by a melancholy atmosphere, through sound and texture, of loneliness in a ruined world. The world is strikingly imagined through wonky, collapsed buildings with bottles floating in the sea as a connection to a lost normality.
GLAS Animation Festival took place from 15 to 21 March 2021. 
SIGN UP: Want to read more free articles like this? Sign up for Our Newsletter