In the Distance, Pineapple Calamari Win Animasyros 8.0 Awards
 The neverending story of height existentialism In the Distance by Florian Grolig  (Germany) won the First Prize in the International Competition during Animasyros 8.0.
The international jury, comprised of Disney's executive producer Aliki Theofilopoulou, Slovenian animator Špela Čadež and film critic Poly Lykourgou  stated about the film:
As our world collapses, how long can we stay in the distance? The filmmaker bravely keeps the camera itself at a distance, which forces as to take a closer look to our own detachment from responsibility as citizens of the world.
 Special mention received the film My Home (Chez Moi) by Phuong Mai Nguyen (France, Papy3Dproductions), for its understated, yet deeply-moving look at complicated human relationships. The animation is sincere and powerful, communicating the story in a unique artistic way.
 In the feature competition, the Spanish horror satire Pos Eso by SAM took home another festival award, this time by the audience of Animasyros.
 The first prize in student Competition was given to the NFTS film, Pineapple Calamari by Kasia Nalewajka, for the unique, quirky, humorous way of narrating a story that explores the dynamics of friendship. What a marvel that it takes a horse to show us how to be human.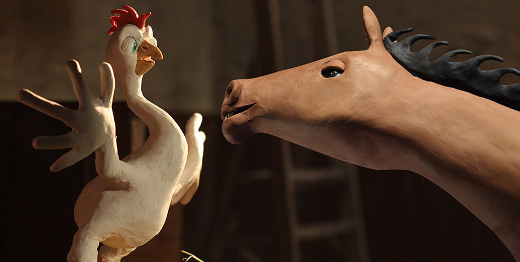 Pineapple Calamari, Kasia Nalewajka
 Special mention was given to Veronica Ling and Ivan's Need, for its daring, fresh aesthetic used to communicate the visceral experience of sexuality in a way that combines whimsy with unapologetic sensuality.
 Animasyros 8.0, which took place in Hermoupolis (Syros, Greece) from 24 to 27 September 2015 was not just competition.
 Review the whole programme in the official festival page.
Read More About: