Kids Kino Industry Talks: Creating Outstanding Stories at ITFS and Animation Production Days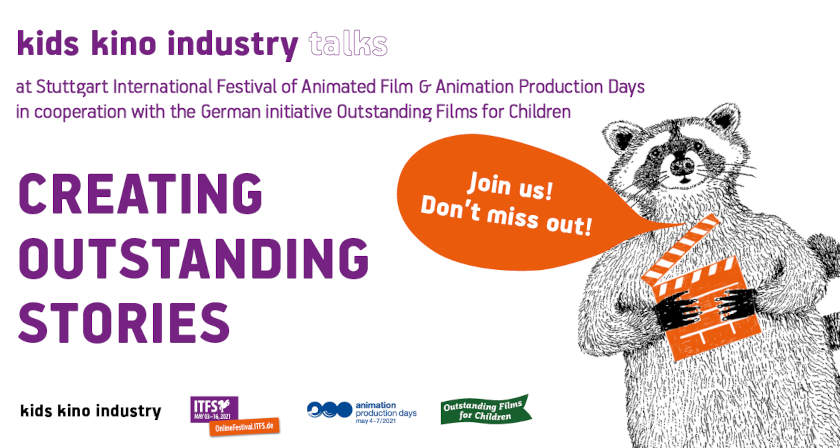 Kids Kino Industry, international co-production forum joined forces with Stuttgart International Festival of Animated Film, Animation Production Days and German initiative "Outstanding Films for Children".  special edition of the KKI Talks titled "Creating Outstanding Stories".
On 3 May the creators of the ambitious animated project "The Last Whale Singer"will talk about the project. "The Last Whale Singer" is an animated feature film project by Telescope Animation Studios that tells the epic story of a teenage humpback whale who must face his fears and summon a mystical song to save the oceans from destruction by a monstrous creature.
The film is due to release in 2024 and was the first animated project funded by the German initiative "Outstanding Films for Children" that specializes in the financing of original children's films and is backed by public broadcasters, regional and national film funders and representatives of the film business and politicians.
In the webinar Reza Memari (Director & Writer) and Maite Woköck (Producer) the CEOs of Telescope Animation Studios will share their insights and findings on the development and financing of this ambitious project, which in addition to the feature film also includes a TV series and a game. Reza is an award-winning animation writer and director with a background in games development, publishing and marketing. Maite has a strong track-record in developing, financing and producing commercially and critically acclaimed animated feature films and series.
With Telescope Animation Studios (founded 2018) they want to create story universes for world-wide audiences and gamers and produce interconnected films, series, games and XR experiences
utilizing the real-time technology Unreal Engine by Epic Games.
The talk will be moderated by Prof. Lilian Klages.
The participation in this session is free of charge. The event will be held in English.
SIGN UP: Want to read more free articles like this? Sign up for Our Newsletter
Read More About: