All juries have been announced for the 21st edition of Bucheon International Animation Festival (BIAF2019), 18-22 October 2019.
The 21st Bucheon International Animation Festival (BIAF2019), 18-22 October 2019, Bucheon, South Korea, has announced its impressive line-up of jury members (7 awarded directors and 2 acclaimed producers) in the three competitive sections (feature film/ short film/ tv, graduation & korean short Film).

Feature Film


Denis DO | Director | France
Denis Do is a director born in Paris in 1985. He has a passion for images and drawing, and graduated in 2009 from the Gobelins school of images. The Ribbon, the graduation film he co-directed that is about a love story during the Chinese Cultural Revolution, reinforced his desire for cinema. Funan, a family story set during the Khmer Rouge period, and inspired by his own mother's journey, is his first feature film. His stories, set at a human scale, are inspired by his triple Franco-Sino-Cambodian culture and are intimate and strong. They anchor the small story in the big one through a sober and realistic staging.

ITAZU Yoshimi|Director|Japan
Born in Japan in 1980, Itazu began his professional career at the young age of 18 joining Studio Gallop. As an animator, he has worked with directors such as Satoshi Kon (Paprika), Hayao Miyazaki(The Wind Rises) and Mitsuo Iso(Denno Coil). He made his debut as character designer and lead animator in a feature film with Keiichi Hara's Annecy-winning Miss Hokusai(2015). His first directorial effort was the Fukushima disaster-themed short Pigtails(2015), which won 24 awards. In 2017, he directed his first TV series, Welcome to the Ballroom.

YOON Gaeun | Director |South Korea
Won Grand Prix at the Clermont-Ferrand International Short Film Festival for Guest and Crystal Bear for the Best Short Film in the Competition Generation Kplus at the Berlin International Film Festival for Sprout. Yoon's feature debut The World of Us has been selected for the Generation Section at the Berlin International Film Festival, and received Best Screenplay at the Baeksang Arts Awards, and Best New Director at the Blue Dragon Film Awards. Yoon's second feature The House of Us is released in theaters with absolute support from critics and the audience.

Short Film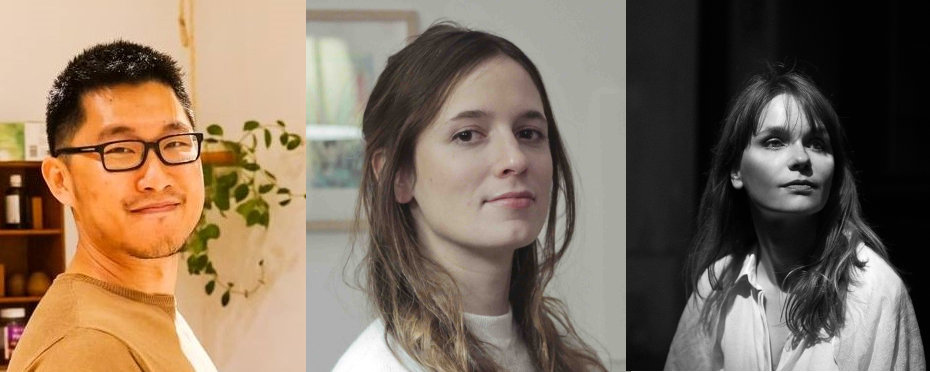 LEE Minkyu |Director|USA, South Korea
Director of short film Adam and Dog (2011), the film was nominated for Best Animated Short Film for the 85th Academy Awards and won Best Animated Short at the 39th Annie Awards.  Visual Development Artist on Disney's Wreck-it Ralph(2012), Frozen(2013), Big Hero 6(2014), and Moana(2016). Lead animator of Dear Basketball(2017) Oscar winning short by Glean Keane. Storyboard artist on Netflix's Upcoming Over the Moon.

Céline Devaux | Director | France
Céline Devaux is a filmmaker and illustrator born in 1987. After studying literature and history, she entered the École nationale des arts décoratifs in Paris. Her final project, the film The Life and Death of the Illustrious Grigori Yefimovich Rasputin won Clermont-Ferrand International Short Film Festival and the Angers Festival Premiers plans. Her second short film, Sunday Lunch (Le repas dominical) was selected for official competition at the 2015 Cannes Film Festival and has since won numerous awards, including the César award for best animated short film in 2016. Her most recent film, You will be fine, won the award for best short film at the Venice Film Festival in September 2017 and has been regularly shown at festivals since.

Anna BUDANOVA |Director|Russia
In 2013, Anna Budanova directed her first short, The Wound, which received more than 20 international awards, including the Special Jury Award at Annecy. In 2015, her project Among the Black Waves was selected by the Japan Image Council for its artists-in-residence programme in Tokyo. The premiere of the film took place at the 69th Locarno Film Festival. And was in Oscar short list. Anna, who was one of four directors of the Four Seasons project live performance in 2017.

Graduation Film / TV&Commissioned Film / Korean Short Film



Agnė ADOMĖNĖ|Producer|Lithuania
Agnė Adomėnė focuses on developing and producing short artistic animated films. In 2012, she founded the production company Art Shot. Her first completed film Ragnarok, by Urtė and Johan Oettinger, received an award from the Lithuanian Film Academy and selected for many festivals. One of her latest projects The Juggler by Skirmanta Jakaitė. won the Baltic Pitching Forum, selected for the Euro Connection in Clermont-Ferrand and Annecy2019 Short Competition. Agnė is one of the founders of the Lithuanian Animation Association, a member of the European Animation Awards and the Lithuanian Film Academy.

Sébastien ONOMO |Producer|France
Sébastien Onomo is a French film producer who trained at the National Audiovisual Institute. He produces at Films d'Ici and at the heart of the company Special Touch Studios that he co-founded, of which he is the chairman. He is co-chairman of a Francophone focus group for Unifrance since 2017, expert advisor for the NAI, La Fémis, & GOBELINS, l'école de l'image and is member of various commissions and juries. Among the twenty or so TV and cinema films he has produced, we can note Le Gang des Antillais by Jean-Claude Barny and Funan by Denis Do, winner of the Cristal for a Feature Film at Annecy 2018.

JANG Nari |Director|South Korea
Graduated School of Film, TV & Multimedia at Korea National University of Arts. Received BFA(2012) and MA(2016) in Animation. My Father's Room(2016) received various awards including – Graduation Film Grand Prize at the Bucheon International Animation Festival(BIAF2017), Special Mention at the Discretion of the Student Competition Jury at the Zagreb International Animation Festival(2017), and Best Student Short Film at the Belgium Brussels Animation Film Festival.

BIAF2019 is scheduled to run 18-22 October 2019, Bucheon, South Korea.