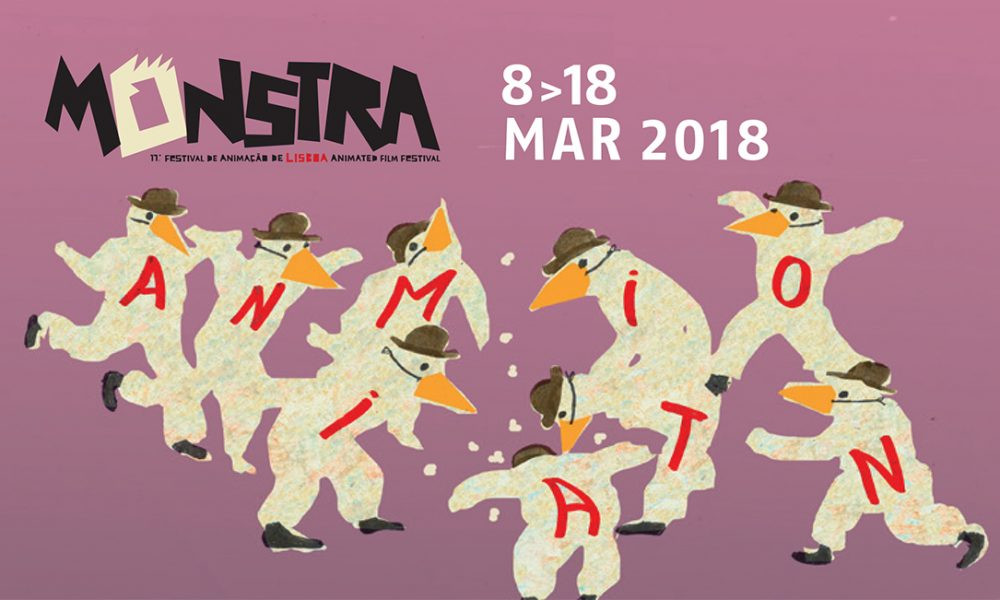 Vassilis Kroustallis reports from the Lisbon and the 18th edition of Monstra Festival.
A local Lisbon newspaper recently warned about "Portuguese dinosaurs" coming to town. The week that Guillermo Del Toro won the Academy Award for The Shape of Water and the week of Monstra festival, these two were my first bets of what the content would intend. Alas, it was about bad politics again.
Even though my own visit was short (and many things were inadvertently missed and cannot be here reported), it is safe to assume that the politics of storytelling featured widely during the (not so sunny) Lisbon-based festival. Monstra has expanded regarding its timeline in the way of Anima Festival with a screening schedule of 11 days overall. This seems inevitable for a festival that takes place in a crowded capital, and different audiences (including the successful school visits of Monstrinha) parade during festival days at São Jorge cinema. Still, artistic director Fernando Garlito has carefully assembled an array of masterclasses to keep professionals satisfied and energized during the lazy Lisbon afternoon. This year, the theme that eventually emerged was storytelling.
It might be almost naive to talk about storytelling within an animation film community, but the current developments in experimental animation (and the dodged insistence of US studios to offer only one single formula of script in their animated features) made the subject quite pressing. The Robert Altman, fragmented-fragmented figure of independent animation, Paul Driessen, was present to talk about his own method. Split-screen technique (exemplified in On Land,  At Sea And In The air and Cat Meets Dog) won't always imply the same thing, but always tells you that there are at least two sides to be taken care of, in a more democratic way. Choose reality vs. fantasy, one story vs. another story, and make the whole more complex than the sum of its parts.
Driessen's famously elliptical drawing style is supplemented by a very rich (and biting) storytelling device , which finds its cocky apotheosis in his new scatological short (co-directed by Toon Loonders, 10 animators present), The Origin of Sound .
Priit and Olga Pärn  (who also took care of Monstra's 2018 visual identity) will equally reject the Aristotelian, three-act story structure, but they know how to infuse their films with drawing elements, where each drawing line matters for a specific story aspect. Working with line drawings, but animating in sand  (though not in the silhouette version of Caroline Leaf), films like Divers in the Rain and especially Pilots on their Way Home benefit from their earthy, grainy feel -leaving also room for fantasy and invention along the way.
Estonia, which celebrates its 100 years of nationhood, was the focus country of Monstra Festival for 2018, and Nukufilm (along with a big exhibition) and Joonisfilm studios were invited. The Estonian / UK / Belgium / Irish co-production Captain Morten and the Spider Queen  (dir. Kaspar Jancis) is eagerly awaited this spring, which again features a non-completely orthodox (but very interesting) way of storytelling).
Priit Tender had to resort to being a documentarian to expand on the story of The Maggot Feeder, based on a Chukchi (the Eastmost peninsula of Asia) fairy tale. Starting as a anthropological and psychological study, the film quickly evolved to issues of politics representation of the indigenous Chukchi people - especially, regarding its ending. Yes, animation can be political in more ways than one.
Moving to competition, the jury decision for short films (Izabela Plucinska, Kaspar Jancis, Paul Driessen, Péter Vácz, Ricardo Sérgio) was balanced between traditional storytelling and more quirky versions. The Oscar-nominated Negative Space by Max Porter and Ru Kuwahata won the Grand Prix, while Special Mentions were given to L' Ogre (Laurène Braibant), Manivald (Chintis Lundgren, and Grandpa Walrus (Lucrèce Andreae).
Other festival standouts include the subversive media representation (in stop-motion) Hi, Stranger by Kirsten Lepore (US), the impressive lighting and sound atmosphere of Dusan Kastelic's The Box, and the curiously overlooked Letting Go (Ülo Pikkov).
This was the festival that Cartoon Saloon's The Breadwinner didn't win the award for best feature (it won the Audience Award); the prize went to  the Italian Cinderella the Cat (Ivan Capiello, Marino Guarnieri, Alessandro Rak, Dario Sansone), with a nod to the Chinese dissident film Have a Nice Day (Liu Jian) - feature film jury: Andrea Basílio, Mauro Carraro, Priit Tender, Takashi Namiki, Tó Trips.
The ever-contemporary story of Penelope by Heta Jäälinoja (Estonia, Finland) won the Student Award for Best Film, one of the best student films of the festival indeed (jury: Thomas Renoldner, Pedro Vergani, Ricardo Blanco).
Matt Abbiss won in the Supershorts competition (jury: Vassilis C. Karamitsanis, Catherine Verhelst, José Chaíça) for his elegy on black, in a competition where Anne Eijsbouts made the also interesting Neil Gaiman adaptation Hate for Sale.
The interesting line-up of Monstra Festival certainly has to be supplemented by a much-needed Meet the directors section, which would surely add to the value of the films themselves, whereas more interesting stuff (such as a Thomas Renoldner retrospective, or a Greek animation tribute) were in place during the festival days.
Portuguese animation has become a small power force in recent years, with production companies such as Animais Avpl, Animanostra, Bando a Parte, Sardina em Lata, specializing in animation shorts with international appeal. Portuguese directors seem to know to explore dramatic tensions in a medium different than live-action dramatic conflicts.
This is certainly the case with the film that won the Best Portuguese short (jury: Priit Pärn, Olivier Catherin, João Paulo Cotrim) Marta Monteiro's haunting adaptation of Anton Chekhov's story, Sleepy, which details a servant's accumulating exhaustion with having to handle a crying baby.
Drop by Drop  (dir. Laura Gonçalves, Alexandra Ramires (Xá) and Surprise (dir. Paulo Patrício) go on the documentarian route, and they are equally powerful. It's always nice to see a new Pedro Serrazina film, and Living Between Light and Darkness is a solid (and vertical) sand animation film -originally an installation assignment.  Joana Toste in Taxes and Taxis plays delightfully with the economic crisis, and Ratio Between Two Volumes (Catarina Sobral), The Voyage (João Filipe Horta Monteiro, Luis Daniel David Vital, Ricardo Jorge Aguiar Livramento) and The Sounds from the Drawers (Vitor Huga Rocha) are entries that could travel well in the festival circuit. Vasco Sá & David Doutel's much-awaited Agouro will have its premiere in June (Animafest Zagreb and Annecy Festival).
So, indeed there are many ways of storytelling unveiled in this year's Monstra festival, which attracts international guests from the independent animation community, brings fine programming choices (and liquors), handles organizational issues while catering for a very varied audience -ranging from schools to general audience to animation professional. Let's bring the dinosaurs again next year.
The full list of 2018 Montra Festival awards.
 Vassilis Kroustallis